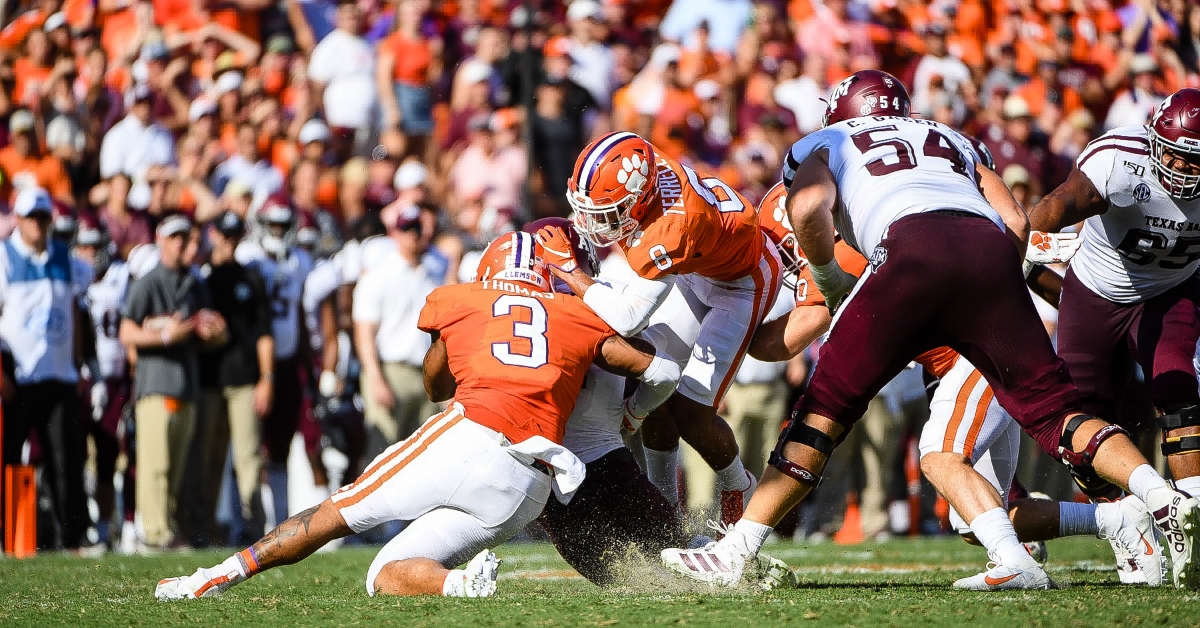 | | |
| --- | --- |
| Clemson extends lead at No. 1 in AP Poll | |
---
| | | |
| --- | --- | --- |
| Sunday, September 8, 2019, 2:09 PM | | |
Clemson continued to add to its point total as the No. 1 in the Associated Press Top 25.
The Tigers (1,544 points; 56 first-place votes) lead Alabama (1,489; 6 first-place votes), Georgia (1,385) and LSU (1,336) and Oklahoma (1,315).
Clemson is one of only three teams nationally with a pair of wins over Power 5 conference teams already (UNC and Hawaii the others).
The 24-10 win over former No. 12 Texas A&M was one of the top victories on the weekend, along with LSU's 45-38 win at former No. 9 Texas.
Clemson is joined by Virginia from the ACC, which debuted at No. 25.
Today's AP Poll marks the 62nd consecutive poll in which Clemson has appeared in the Top 10, moving into the Top 10 (and a tie for ninth) for the longest such streak in AP Poll history. (Active streaks denoted with asterisks below) pic.twitter.com/H9P19V8pAP

— Ross Taylor (@ClemsonFBRoss) September 8, 2019
AP Top 25 - Sept. 8
1 Clemson (2-0) 1 ACC 1,544 (56 1st place)
2 Alabama (1-0) 2 SEC 1,489 (6)
3 Georgia (2-0) 3 SEC 1,385
4 LSU (2-0) 6 SEC 1,336
5 Oklahoma (2-0) 4 Big 12 1,315
6 Ohio State (2-0) 5 Big Ten 1,291
7 Notre Dame (1-0) 8 IA Independents 1,072
8 Auburn (2-0) 10 SEC 1,056
9 Florida (1-0) 11 SEC 997
10 Michigan (1-0) 7 Big Ten 936
11 Utah (2-0) 13 Pac-12 905
12 Texas (1-1) 9 Big 12 877
13 Penn State (2-0) 15 Big Ten 781
14 Wisconsin (2-0) 17 Big Ten 714
15 Oregon (1-1) 16 Pac-12 677
16 Texas A&M (1-0) 12 SEC 643
17 UCF (1-0) 18 American Athletic 544
18 Michigan State (1-0) 19 Big Ten 495
19 Iowa (1-0) 20 Big Ten 473
20 Washington State (2-0) 22 Pac-12 343
21 Maryland (1-0) Big Ten 207
22 Boise State (2-0) 24 Mountain West 164
23 Washington (1-0) 14 Pac-12 161
24 USC (1-0) Pac-12 137
25 Virginia (2-0) ACC 122
Others receiving votes:
Iowa State 96, California 95, Mississippi State 73, TCU 66, North Carolina 48, Army 42, Colorado 21, Oklahoma State 20, Memphis 12, Arizona State 4, Boston College 2, Kentucky 2, Appalachian State 2, Syracuse 2, Minnesota 1