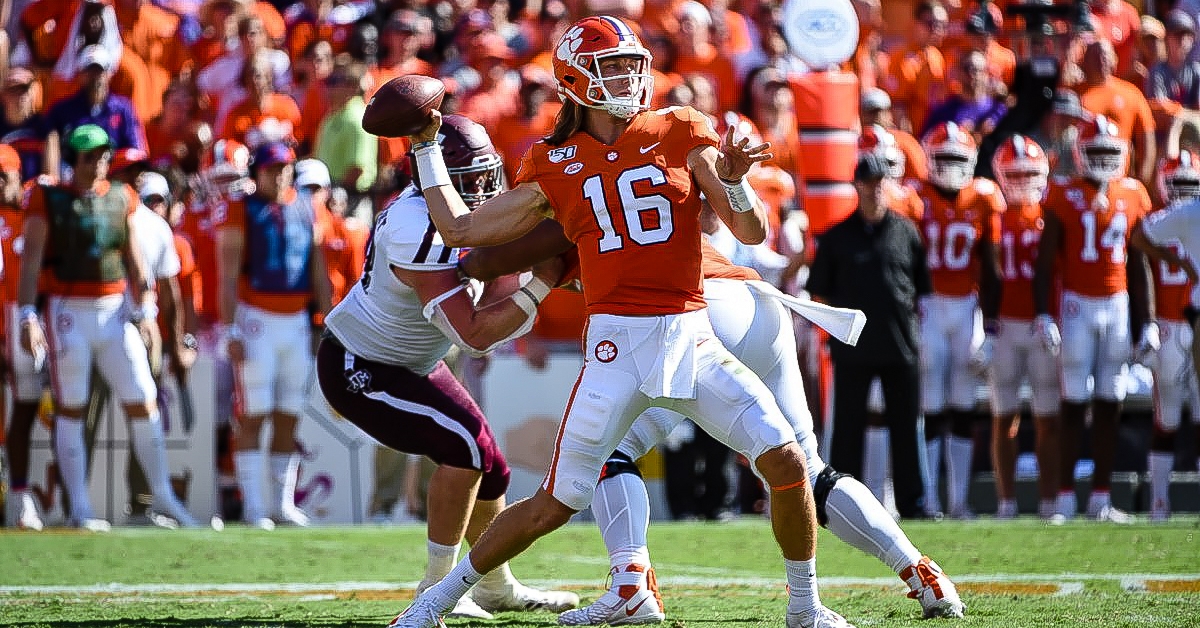 | | |
| --- | --- |
| Clemson-Texas A&M with impressive TV ratings | |
---
| | | |
| --- | --- | --- |
| Sunday, September 8, 2019, 7:05 PM | | |
College football fans' affinity for games on ABC and ESPN continues, as week 2 resulted in ABC airing the two highest-rated games of the season (LSU at Texas and Texas A&M at Clemson) on any network while simultaneously delivering near record-ratings among early season games in their timeslots. The fan response buoyed ABC to deliver its highest-rated tripleheader in more than two years. On ESPN, College GameDay Built by The Home Depot increased its ratings year-over-year and the network aired its best Pac-12 finale game window in nearly two years.
LSU-Texas Delivers 190% Year-Over-Year Increase for ABC's Saturday Night Football
ABC's Saturday Night Football featuring LSU at Texas (7:30 p.m. ET) delivered very strong 5.8 overnight, easily becoming the highest-rated game of the season on any network and earning a 190% year-over-year rating increase in the timeslot. The rating for the Tigers' victory rewrites the premier franchise's top list, as the SEC-Big 12 showdown represents SNF's fourth-best September rating since 2011 and, excluding record-setting opening weekend Florida-State-Alabama and Notre Dame-Texas games in 2017 and 2016, respectively, the Tigers-Longhorns matchup rank second in that time period.
Texas A&M at Clemson: An Afternoon Class of its Own
Texas A&M at Clemson (3:30 p.m.) generated a 4.7 overnight, up 124% year-over-year from the same timeslot last season. Among September games in the 3:30 p.m. window, the rating for the Tigers' victory is the network's best, excluding Kickoff Weekend. Overall, it is one of ABC's top 10 late afternoon games in the past 15 seasons.
ABC Airs Best Tripleheader in Multiple Years
The results yesterday drove ABC to air its best tripleheader since Kickoff Weekend in 2017, which include the aforementioned record-setting Florida State-Alabama game. This week, ABC averaged a 4.5 throughout its tripleheader, a 125% increase over last season's week 2 tripleheader. Cincinnati at Ohio State (noon) began the day this year, earning a 2.6 overnight and delivering a 37% increase year-over-year despite the Buckeyes jumping up to a 28-0 first half lead, cruising to a 42-0 victory.
Delivering in Every Game Window
For the second week in a row, ESPN's networks, cumulatively, were the highest-rated networks among any media company in the noon game window. In that window, ESPN's networks combined to deliver a 4.3 overnight across its four games.
ESPN and ABC Air Highest-Rated Games of the Season
ESPN and ABC continues to televise the highest-rated game of the season, now having aired the top six:
Rank Game Rating Network Date
1 LSU-Texas 5.8 ABC Sat, Sept. 7
2 Texas A&M-Clemson 4.7 ABC Sat, Sept. 7
3 Oregon-Auburn 4.4 ABC Sat, Aug. 31
4 Miami-Florida 4.1 ESPN Sat, Aug. 24
5 Notre Dame-Louisville 3.7 ESPN Mon, Sept. 2
6 Houston-Oklahoma 3.6 ABC Sun, Sept. 1