| | |
| --- | --- |
| Clemson-St. John's starters, broadcast info | |
---
| | |
| --- | --- |
| Sunday, June 3, 2018 9:42 AM | |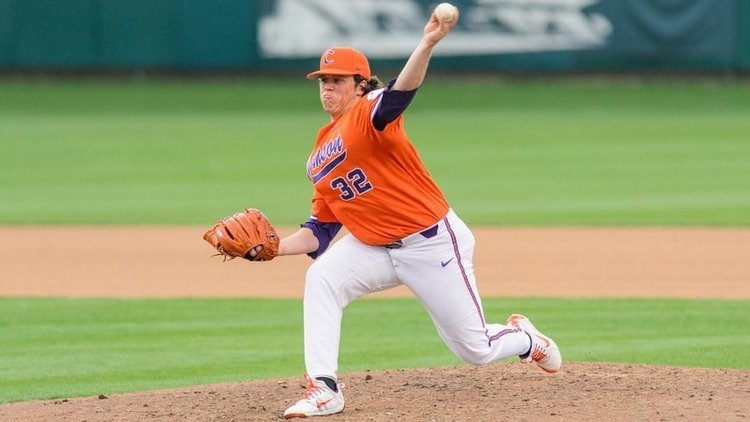 Clemson starts play Sunday with a noon elimination game matchup with St. John's.
The Tigers will throw left-handed starter Jacob Hennessy. He is making his first start since May 11 after an injury held him out the last two weekends. He went 4-3 with a 3.65 ERA as the Tigers' Friday starter this season.
Clemson will face a third-straight left-handed starter this weekend in Red Storm southpaw Jeff Belge (6-3, 2.51). He threw eight scoreless innings with nine strikeouts and only two hits allowed to clinch a Big East conference title last Sunday.
The game is listed as an online-only ESPN3 broadcast.
St. John's recovered from a Friday loss to Vanderbilt with an 11-5 win over Morehead State on Saturday to stay alive. They are the designated home team for this game.
The winner of the Sunday afternoon and Sunday night (if the team facing elimination wins) games would be the home team for their next games respectively, per the NCAA.
For the first time since April 24, Kier Meredith is in the starting lineup for #Clemson's game against St. John's. It's the first matchup since the two played in the 2007 Myrtle Beach Regional (3-2 Tiger win).

LINEUPS ---> pic.twitter.com/KwLBlMjFFe

— Clemson Baseball (@ClemsonBaseball) June 3, 2018
Starters & stats & streaming for our #ClemsonRegional game against St. John's:

??: https://t.co/wc97mwa0q2
???: https://t.co/36tJmPtF8H
??: https://t.co/mXEoSqLvnD#Clemson pic.twitter.com/Ob9Ys3Z8Px

— Clemson Baseball (@ClemsonBaseball) June 3, 2018
Clemson-St. John's setup
• Noon at Clemson, S.C. (Doug Kingsmore Stadium)
• Audio (Radio) - Charleston, S.C. (WQSC - 98.5 FM), Clemson, S.C. (WCCP - 105.5 FM), Columbia, S.C. (WZMJ - 93.1 FM), Greenville, S.C. (WORD - 950 AM & 97.1 FM, WYRD - 1330 AM & 97.7 FM), Newberry, S.C. (WKDK - 1240 AM), Union, S.C. (WBCU - 1460 AM & 103.5 FM)
• Audio (Internet) - ClemsonTigers.com, TuneIn
• Starting Pitchers - LHP Jacob Hennessy (CU) vs. LHP Jeff Belge (SJU)