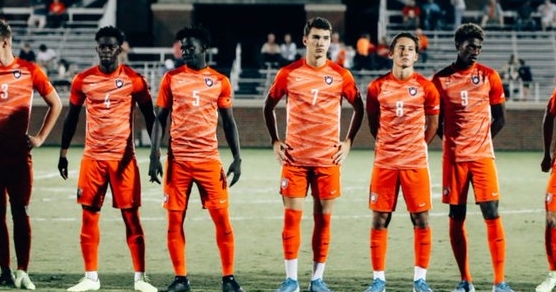 | | |
| --- | --- |
| Clemson Men's Soccer signs eight to 2020 roster | |
---
| | | |
| --- | --- | --- |
| Thursday, December 19, 2019, 9:06 AM | | |
Clemson, S.C. – Eight players are set to join the Clemson men's soccer program ahead of the 2020 season, with seven joining the team as freshmen and one joining as a graduate transfer. The eight incoming players feature two goalkeepers, three midfielders and three defenders. Tanner Tessmann and Seth Wilson have recently represented the United States as members of U.S. Soccer's youth teams. Ben Erkens and Brandon Parrish have earned Gatorade Boys Soccer Players of the Year honors, garnering the accolade for South Carolina and Tennessee, respectively. A brief bio for each player is listed below.
BEN ERKENS • Defender • CESA ECNL U19 • Greenville, S.C.
An elite defender from Greenville, S.C., Erkens currently plays club soccer for CESA ECNL U19… Named the Gatorade South Carolina Boys Soccer Player of the Year in 2018-2019… Member of U.S. Youth Soccer Region III Olympic Development Program… Named TDS Spring All-American in 2019… Named an Allstate All-American in 2019… Was a First Team All-State 5A selection in 2019… Named Player of the Year for Region I 5A… Signed with Greenville Triumph SC in September of 2019 as an academy player… Has accumulated 36 goals and 49 assists in three years at Wade Hampton HS… 24 goals and 19 assists came during Erkens' junior season.
Head Coach Mike Noonan on Erkens…
"We always try to get the best player in the state in every position, and we got one of the best in the state in Ben. He is a local kid and can play a lot of different positions. Ben is an excellent student with high character. He is someone we are excited to have on the team."
JOSH HALLENBERGER • Midfielder • Houston Dynamo • San Antonio, Texas.
An elite midfielder joining the Tigers as a product of the Houston Dynamo Academy… As a member of the U-16/17 team made 25 starts and recorded six goals in the 2018-19 season… Currently plays as a part of the U-18/19 squad, already having made seven starts and eight appearances… Has not played for his high school.
Noonan on Hallenberger…
"Josh is a very active attacking winger and is a player who we have had on our radar for a long time. He was a highly sought-after player and someone we are excited to have contribute to our team."
CALLUM JOHNSON • Midfielder • Boston College • New York, N.Y.
Callum Johnson joins Clemson's program after three seasons at Boston College, serving as an integral piece to the Eagles' midfield. A native of New York, N.Y., Johnson made 52 appearances and earned 28 starts in three years with the Eagles. In his three years, Johnson contributed eight goals and 10 assists for his side, with four of his goals serving as game-winners. Johnson is a product of the New York Red Bulls academy system and was named Boston College's Male Sophomore Scholar-Athlete of the Year in 2016.
Noonan on Johnson…
"We expect for Callum to have an immediate impact. He is a person with very high character and having played against him, we think he is someone who is going to add a lot of value on and off the field. He is an excellent student and person."
TREVOR MANION • Goalkeeper • Penn Fusion SA • Phoenixville, Pa.
A member of the Penn Fusion SA… Named the 2019 Daily Times Boys Soccer Player of the Year… Named the All-Delaware County Player of the Year… Named to the First Team All Delaware County in 2018 and 2019… First Team All Inter Ac in 2019… Second Team All Inter Ac in 2018… Registered 21 clean sheets for Episcopal Academy.
Noonan on Manion…
"Trevor came to our camp and we as a staff were really impressed. He is a great student and has the intangibles that are inherent to someone who is going to work and push others in his position. When I see Trevor, he reminds me of Andrew Tarbell."
BRANDON PARRISH • Defender • Darlington Academy • Jackson, Tenn.
A top-class defender from Jackson, Tenn… Was named Tennessee Gatorade Boys Soccer Player of the Year in 2019… Named a TDS Spring All-American for his play during the 2019 high school season… Two-time District 12-AA Player of the Year… Named an All-State selection for Class-AA… Selected for, and played in, the Allstate Cup… Plays club soccer for Darlington Academy… Contributed 38 goals and 11 assists this past season… Recorded six hat-tricks while at Fairview HS during the 2019 season…Has accumulated 68 career goals and 40 assists while at Fairview HS.
Noonan on Parrish…
"Brandon is a prototypical box-to-box defender. He has somewhat been flying under the radar during recruiting, but we think he is a fine addition to the program. He can come in and immediately compete for playing time during his freshman season."
TITUS SANDY JR. • Defender • Charlotte Soccer Academy • Matthews, N.C.
Titus Sandy Jr. is set to join Clemson from David W Butler High School… Member of the Charlotte Soccer Academy… Has earned seven appearance and six starts for his Academy club during the 2019-2020 season… Has logged over 60 appearances for his Academy side over the past three seasons.
Noonan on Sandy Jr…
"We have seen Titus in person, as he has attended our camp in years past. He is a mold of the type of player we like to bring in. He is a person of high character and is an excellent soccer player. Titus is a very good athlete who we think has a very bright future."
TANNER TESSMANN • Midfielder • FC Dallas • Birmingham, Ala.
An outstanding midfielder ranked as the ninth-best midfielder and 23rd best overall player by Top Drawer Soccer… they also call him the third-best overall player in his region… named to the United Soccer Coaches Association All-American team on Nov. 27, 2019… has played the last four years for the FC Dallas Academy within the United States Soccer Development Academy… never played high school soccer… in his four years with FC Dallas, has played 67 matches with 55 starts… has scored 25 goals… still has the second half of this season to play, his season with FC Dallas will not end until June… so far this year has five goals in 10 matches… had eight goals in 26 matches in 2018-19, and 11 goals in 28 matches in 2017-18… in 2018-19 won Golden Ball, meaning he was the most outstanding player in USSDA Postseason competition… All-Region midfielder according to US Soccer Academy for 2018-19.
Noonan on Tessmann…
"Tanner has a love for soccer. He has played at a high level and is one of the top recruits in the country. He has shown great promise in both programs and it will be fun doing both."
*Tessmann will suit up for the Tigers in both soccer and football. He will be a placekicker for the University's football team.
SETH WILSON • Goalkeeper • FC Dallas • Frisco, Texas
One of the most coveted goalkeepers in the country… Recently made debut appearance as a member of the U.S. U-17 team in the 2019 Nike International Friendlies… Plays as a member of the FC Dallas Academy.
Noonan on Wilson...
"Seth adds great depth to the GK position and will immediately compete. Every time we get to watch him, and each time he competes with the USA, he keeps getting better. He is a player with a very high upward trajectory."