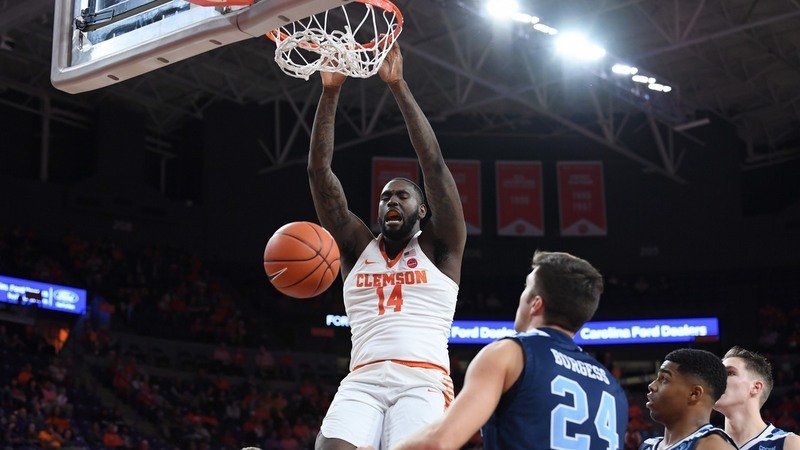 | | |
| --- | --- |
| Clemson Basketball moves up in latest AP Top 25 poll | |
---
| | | |
| --- | --- | --- |
| Monday, November 12, 2018, 12:42 PM | | |
Clemson Basketball won two games easily last week by defeating The Citadel and North Carolina Central.
With those two victories, the Tigers moved up three spots in the latest AP Top 25 poll to No. 19 overall.
Other ACC teams included in the poll were No. 1 Duke, No. 4 Virginia, No. 7 North Carolina, No. 14 Florida State, No. 15 Syracuse, and No. 16 Virginia Tech.
The AP Top 25 Poll
1 Duke (48) 2-0 1,606 4
2 Kansas (14) 1-0 1,571 1
3 Gonzaga 2-0 1,478 3
4 Virginia (2) 2-0 1,326 5
5 Tennessee (1) 2-0 1,306 6
6 Nevada 2-0 1,277 7
7 North Carolina 2-0 1,260 8
8 Villanova 2-0 1,139 9
9 Auburn 2-0 1,132 11
10 Kentucky 1-1 1,054 2
11 Michigan State 1-1 919 10
12 Kansas State 1-0 892 12
13 Oregon 2-0 739 14
14 Florida State 2-0 731 17
15 Syracuse 2-0 673 16
16 Virginia Tech 1-0 664 15
17 Miss State 2-0 549 18
18 Michigan 2-0 486 19
19 Clemson 2-0 350 22
20 UCLA 2-0 340 21
21 TCU 2-0 323 20
22 LSU 2-0 248 23
23 Purdue 2-0 218 24
24 Marquette 2-0 155 -
25 Buffalo 2-0 154 -