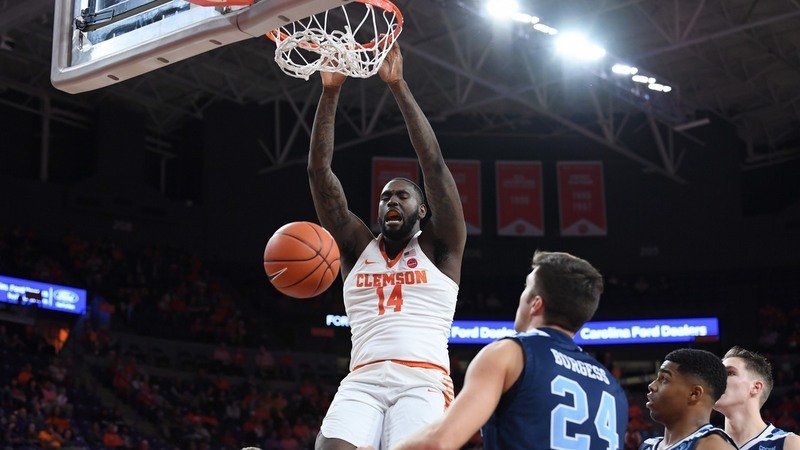 | | |
| --- | --- |
| Clemson Basketball moves up in latest AP Poll | |
---
| | | |
| --- | --- | --- |
| Tuesday, November 20, 2018, 10:57 AM | | |
Clemson Basketball is looking very solid again in 2018.
No. 16 Clemson improved to 4-0 on the season by holding on late in a 72-69 win over Akron (3-1) to start the Cayman Islands Classic on Monday.
ACC teams included in the newly released latest AP poll were No. 1 Duke, No. 4 Virginia, No. 7 North Carolina, No. 13 Virginia Tech, No. 14 Florida State, and No. 16 Clemson.
The AP Top 25 Poll
1 Duke (53) 3-0 1564 1
2 Kansas (7) 3-0 1510 2
3 Gonzaga 3-0 1437 3
4 Virginia (2) 3-0 1299 4
5 Tennessee (1) 3-0 1281 5
6 Nevada 3-0 1253 6
7 North Carolina 4-0 1246 7
8 Auburn 3-0 1123 9
9 Michigan 5-0 1021 18
10 Kentucky 3-1 980 10
11 Michigan State 3-1 937 11
12 Kansas State 4-0 889 12
13 Virginia Tech 4-0 849 16
14 Florida State 2-0 794 14
15 Mississippi State 3-0 619 17
16 Clemson 3-0 462 19
17 UCLA 3-0 430 20
18 TCU 3-0 388 21
19 LSU 4-0 358 22
20 Iowa 4-0 354 NR
21 Oregon 3-1 325 13
22 Buffalo 3-0 240 25
23 Ohio State 4-0 222 NR
24 Purdue 4-1 199 23
25 Wisconsin 3-0 150 NR