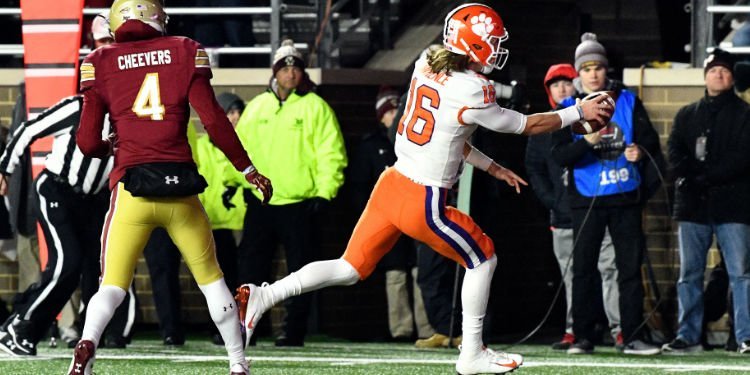 | | |
| --- | --- |
| Clemson-BC deliver huge TV ratings | |
---
| | | |
| --- | --- | --- |
| Sunday, November 11, 2018, 6:20 PM | | |
ABC and ESPN aired college football's two highest-rated prime-time games in week 11, continuing a season-long trend of leading the way in the coveted Saturday night timeslot. The prime-time success capped a week which also saw ABC's telecast of the annual Bedlam game featuring Oklahoma State-Oklahoma increase its national rating year-over-year and set multi-year highs in local Oklahoma markets and ESPN/ESPN2 combine to air the nine highest-rated cable games.
ABC's Saturday Night Football Delivers Sport's Highest-Rated Primetime Game; ESPN Tops Two Broadcast Networks in Same Timeslot
ABC's Saturday Night Football featuring Clemson at Boston College (8 p.m. ET) was college football's highest-rated prime-time game in week 11, followed by ESPN's telecast of Auburn at Georgia (7 p.m.). Now, 11 weeks into the season, ABC or ESPN has aired the sport's highest-rated prime-time game in nine of those weeks and the two networks have combined to air the two highest-rated primetime games in multiple weeks.
In week 11, ABC topped the broadcast competition by 18% and 44% respectively, while notably, ESPN also topped the same two broadcast networks by 5% and 28%. The Tigers' victory on ABC delivered a 2.6 rating, while the Bulldogs' win on ESPN earned a 2.3 rating.
Oklahoma State-Oklahoma Up Big Year-Over-Year; Late Drama Earns Highest Peak Rating in the Sport
Oklahoma State at Oklahoma's annual Bedlam matchup (3:30 p.m.) resulted in ABC increasing its own audience by 36% from the same game window last year (Iowa at Wisconsin) and delivered a 76% increase from last year's Bedlam game which aired on a competitor's network. The down-to-the-wire Sooners' victory finished with a 3.0 overnight and earned the sport's highest peak audience of week 11 on any network. The rating jumped to a 5.1 overnight when the Cowboys' scored a touchdown with one minute to go in the fourth quarter, but failed to convert a two point conversion which would have given them the lead (7:15 – 7:30 p.m. ET).
Oklahoma City and Tulsa Markets Earn Multi-Year Rating Highs
Oklahoma City and Tulsa were the two highest-rated markets for Bedlam, with both delivering multi-year highs for regular season college football games on ESPN networks:
Oklahoma City finished with a 34.7 local rating, the market's best since 2013 on an ESPN network
Tulsa registered a 33.3 local rating, the market's highest since 2015 on an ESPN network
ESPN/ESPN2 Lead the Way Amongst Cable Competition; Air Sport's Highest-Rated Cable Games and Earn Highest Rating in Multiple Windows
Week 11 also continued the trend of ESPN and ESPN2 leading the way amongst cable competition, as noted by the two networks airing the nine highest-rated games on cable. The two networks also combined to increase their year-over-year rating in multiple game windows.
ESPN began Saturday increasing its rating by 18% year-over-year, as South Carolina at Florida (noon) carried the momentum that began on Friday night when ESPN2 delivered increases of 20% and 67%, respectively, for its Louisville at Syracuse (7 p.m.) and Fresno State at Boise State (10:30 p.m.) matchups. ESPN's rating for the Gators' victory finished at a 1.3 overnight.