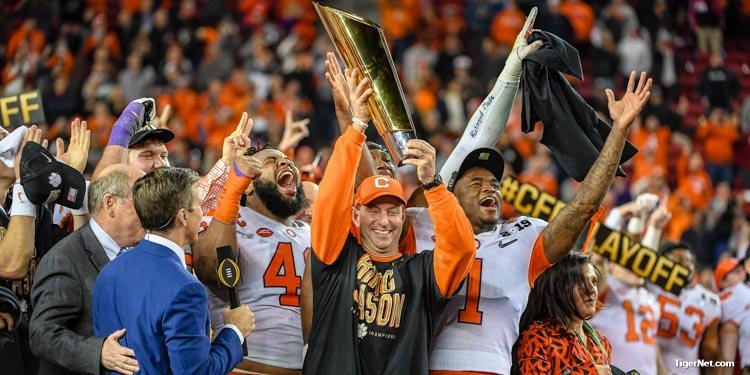 | | |
| --- | --- |
| Clemson-Alabama delivers massive TV ratings | |
---
| | | |
| --- | --- | --- |
| Tuesday, January 8, 2019, 11:33 AM | | |
The College Football Playoff National Championship between Alabama-Clemson on January 7, 2019 (8 p.m. ET) – which featured College Football Playoff's largest margin of victory for its final game ever (28 points) – delivered cable's highest overnight in 12 months (January 8, 2018 – January 7, 2019), as Clemson's victory earned a 14.6 overnight across ESPN's presentation*. The CFP National Championship rating peaked at a 16.2 overnight in the first half when the Tigers extended their lead to 15 points.
Rating Followed Similar Pace of Last Alabama-Clemson CFP National Championship through Three Quarters
Through three quarters (8:15-11:15 p.m.), last night's rating tracked similarly to Clemson and Alabama's most recent CFP National Championship game in January 2017, despite Clemson extending its lead to 28 points in the third quarter. In the 2017 game, the Tigers trailed by 10 points entering the third quarter before coming back and winning in the final seconds of the game. Last night, the Tigers achieved the largest margin of victory for any college football national championship game since 2005**.
This Season's College Football Playoff Delivers Cable's Three Best Overnights in Last 12 Months
Clemson's victory concludes a 10-day period in which the College Football Playoff on ESPN delivered cable's three best overnights in the past 12 months (January 8, 2018 – January 7, 2019), despite an average margin of victory of 22 points in the three games. As a result, this season continued the trend of the College Football Playoff delivering top cable ratings each year, as this year's CFP games join last year's three games in delivering six of the last seven highest cable overnights.
New Year's Six + CFP National Championship Generates Stronger Ratings than Second Year of System, Matches Third Year
This season's New Year's Six plus the CFP National Championship averaged a 9.0 overnight, up 8% from the second year of the CFP era and matching the third year of the system – both years, like this season, in which the CFP Semifinals were not played on New Year's Day. Those previous two years also featured an Alabama-Clemson CFP National Championship game.
Birmingham is No. 1 Local Market
Birmingham led the way among local markets, with an impressive 56.6 overnight. The top 10 markets:
Rank Market Rating
1 Birmingham 56.6
2 Greenville 36.9
3 New Orleans 28.6
4 Atlanta 25.5
5 Knoxville 25.4
6 Nashville 24.3
7 Charlotte 23.4
8 Columbus, OH 23.2
9 Jacksonville 22.2
10 Tulsa 20.8