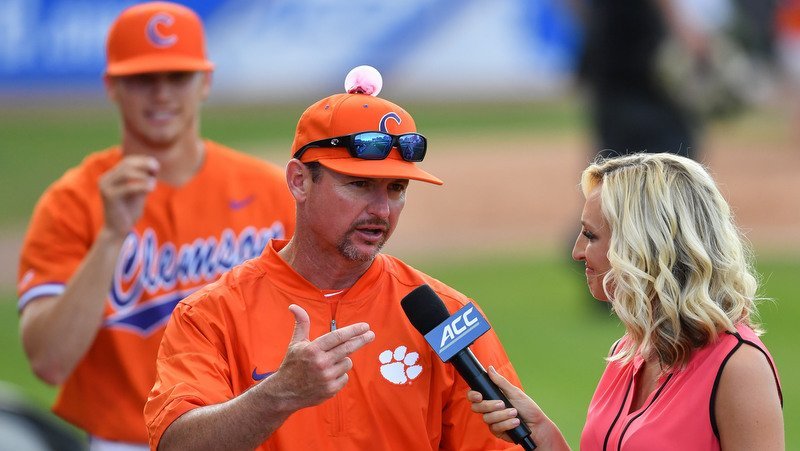 | | |
| --- | --- |
| Clemson 2019 baseball broadcast schedule | |
---
| | | |
| --- | --- | --- |
| Wednesday, February 13, 2019, 4:00 PM | | |
CLEMSON, S.C. - Tiger baseball announced that all 33 regular-season home games are available via live video on television or ACC Network Extra in the 2019 season. The regular-season finale on Saturday, May 18 against Wake Forest at Doug Kingsmore Stadium is available on television on RSN. The other 32 regular-season home games are available online on ACC Network Extra.
Two regular-season road games are televised, the April 14 game at Florida State on ESPN2 and April 16 game at Georgia on SEC Network. Clemson's games against South Carolina in Greenville and Columbia are available online on SEC Network+. Non-conference road games at Furman (SoCon Digital Network) and Gardner-Webb (ESPN+) as well as all 15 road ACC games (ACC Network Extra) are also available online, meaning at least 53 of the 56 regular-season games are on some form of live video in 2019. The full schedule is available below.
--------------------------------------------------------------
Clemson Tigers Network (CTN) announced that it is broadcasting all regular-season Clemson baseball games in 2019 (affilliates in link). The network also carries all postseason contests. Live audio for all Tiger baseball games is available at ClemsonTigers.com.
All radio broadcasts begin 30 minutes prior to the start of each contest and have comments and strategies from head coach Monte Lee. The games are subject to be available solely online at ClemsonTigers.com based on schedule conflicts with Clemson basketball games.