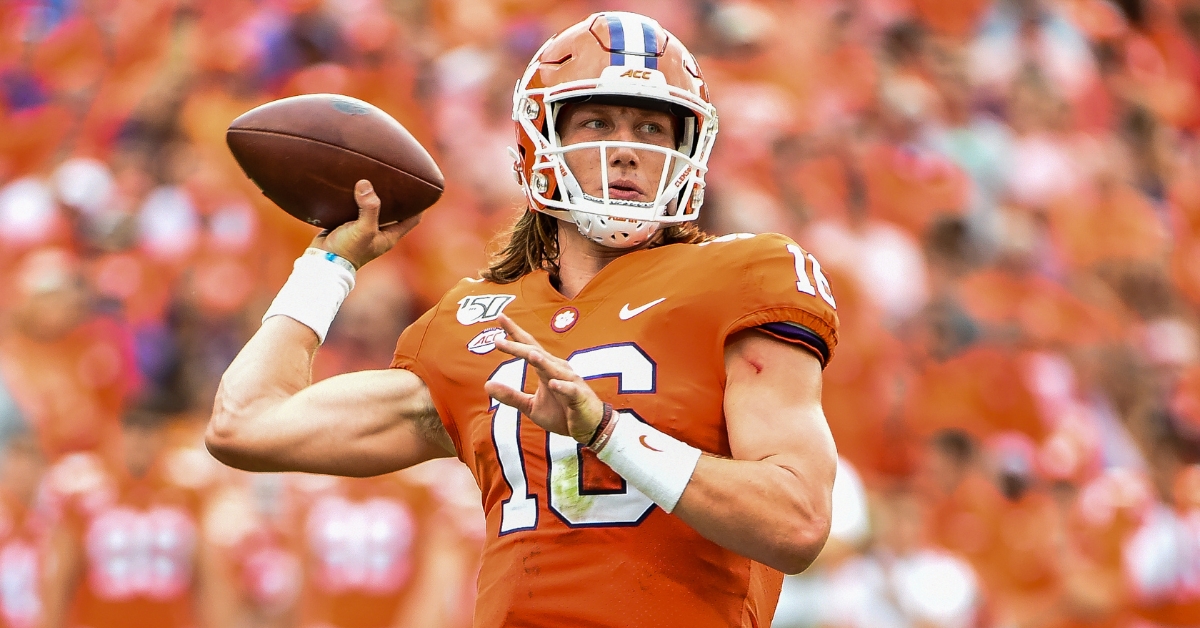 | | |
| --- | --- |
| Advanced outlook: Clemson-Louisville projections | |
---
| | | |
| --- | --- | --- |
| Thursday, October 17, 2019, 9:39 AM | | |
Louisville earned its way into putting some stakes on Saturday's contest hosting Clemson with the upset of No. 19 Wake Forest last week.
New coach Scott Satterfield's Cardinals were picked last in the Atlantic Division by a wide margin preseason -- but they stand at 2-1 in ACC play after back-to-back conference victories to keep division-destiny in their hands.
On the other side this week, Clemson seeks to erase a bad taste from its mouth from its last road trip at North Carolina -- another situation where they were heavily-favored versus an early surprise in the ACC.
Here's how they shape up by the metrics:
| Efficiency ranks | Offense | Defense | Special teams |
| --- | --- | --- | --- |
| CU SP+ ranks (No. 8 overall) | 19 | 7 | 82 |
| LOU SP+ ranks (No. 57 overall) | 20 | 91 | 46 |
| CU ESPN ranks (No. 5 overall) | 10 | 2 | 105 |
| LOU ESPN ranks (No. 42 overall) | 19 | 78 | 24 |
(SP+ is a metric from ESPN's Bill Connelly, formerly of Football Outsiders and SB Nation, that combines ratings for the five factors of efficiency, explosiveness, field position, finishing drives and turnovers. ESPN's Football Power Index-based metric has similar statistical factors weighing together).
The one-sentence summary on Louisville is the offense is vastly-improved and the defense needs some work.
The Cardinals are at least 40 spots better in the national rankings in a number of offensive categories, with the biggest improvement in total (108th to 16th) and scoring offense (121st to 24th) and passing efficiency (121st to 9th). Louisville ranked next-to-last in the ACC in yards per play last season (5.31) and now leads the conference in the same stat (6.95).
While the early success is impressive, their best performances came versus teams ranked in the lower-tier in defensive efficiency with Wake Forest (80th per ESPN; 88th in total defense) and Boston College (101st per ESPN; 121st in total defense). Louisville brings a top-25 rushing attack to the table thanks to some dual-threats at QB and a solid 1-2 running back punch, but pressed into traditional running situations, they rank 101st in power success rate* (61.5) and 123rd overall in runs stuffed at the line of scrimmage (25.3).
Similar to the matchup last week for Clemson, the Cardinals QBs have been efficient passing versus Power 5 opponents -- averaging 11.6 yards per attempt, with a 64.4 completion rate, 187.5 QB rating and 8 TDs to 2 INTs. Clemson counters by allowing just 5.6 yards per attempt, a 51.7 completion rate, 99.99 QB rating and 5 TDs to 7 INTs in the same stat. And it's another mismatch when it comes to pressure, where Louisville ranks 105th in sack rate (8.5) up against a Tigers defense rated 4th there (13.3). On standard downs#, Louisville ranks 124th in sack rate (10.8) versus a Clemson defense rated No. 1 in the category (15.5).
On the special teams front, a Clemson kickoff team led by BT Potter will need to come up clutch -- currently No. 5 in average yards allowed with only nine returns surrendered all season (14.56 yards per; 7th-best with 31 touchbacks) up against a Louisville return unit that racked up 230 yards and a TD last week and rate fourth nationally (30.46 yards per).
On defense, Louisville ranks 120th in yards (584.3) and 96th in yards per play allowed (6.87) versus Power 5 opponents. They meet a Clemson offense that got back into a groove last week and ranks 10th in yards (503.2) and 12th in yards per play (6.8) in the same category.
Clemson opened as a 21-point favorite and that line has moved up to 24 points this week. ESPN's SP+ is taking the other side to cover the number for a third-straight week, taking Clemson by a projected 39-21 score. TeamRankings.com is around the same track, projecting a 20-point spread, while FEI likes Clemson just over the number (25 points).
Overall, Satterfield has made marked improvements in effort and execution and that makes this an interesting game, meeting a Clemson team looking on track to leave no doubt for a number of reasons.
| Metrics outlook | Prediction |
| --- | --- |
| SP+ projection | 85% Clemson (Tigers by 18) |
| ESPN FPI | 93.4% Clemson |
| FEI | 89.9% Clemson (Tigers by 24.9) |
* Percentage of runs on third or fourth down, two yards or less to go, that achieved a first down or touchdown.
# Passing downs are designated as second down with 8 or more yards to go or third/fourth down with five or more yards to go. All other situations are standard downs.
(QB split stats per CFBStats.com)