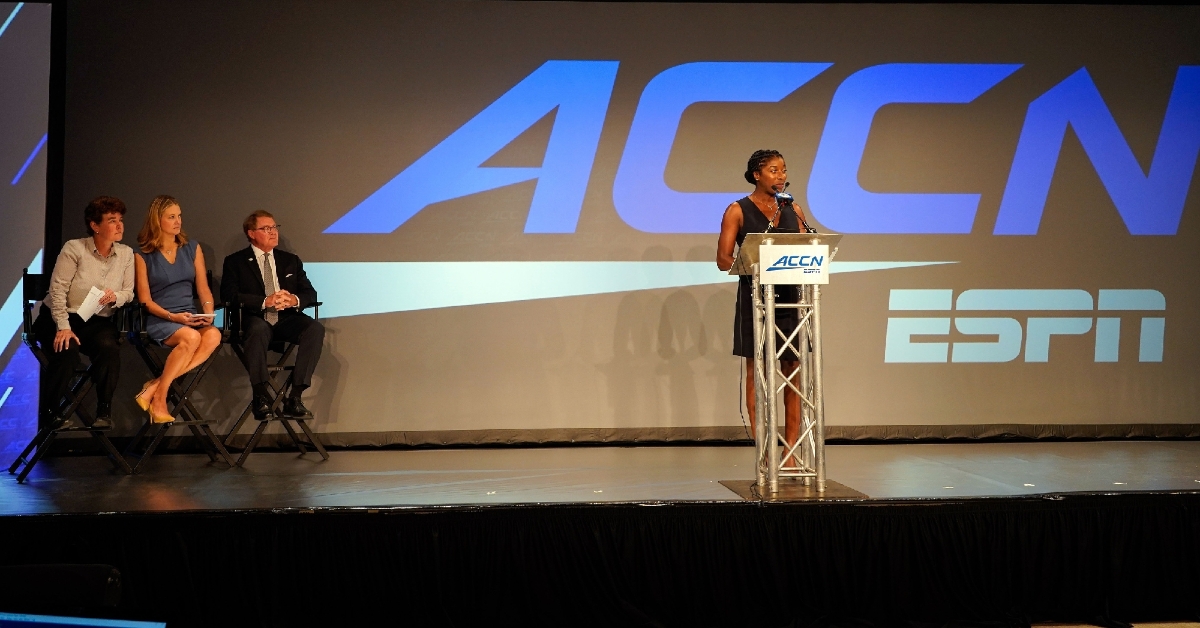 | | |
| --- | --- |
| ACC Network adds basketball on-air personalities | |
---
| | | |
| --- | --- | --- |
| Thursday, October 24, 2019, 6:17 PM | | |
ACC Network (ACCN), the new 24/7 national platform dedicated to ACC sports, adds four vibrant personalities to its already dynamic men's basketball on-air roster, and unveils its signature basketball studio show along with coverage plans for the network's debut season.
Joining the ACCN team are two familiar ESPN personalities in Cory Alexander and Malcolm Huckaby, who have been at ESPN for a combined 17 years. Dan Bonner brings 42 years of basketball analyst experience to ACCN, while newcomer Luke Hancock offers a fresh perspective (announcer bios included below).
Signature Programming
Nothing But Net
Nothing But Net, ACCN's signature basketball show, will air on Sunday evenings throughout the basketball season. The show will preview the week's slate of basketball games and recap the action from the previous week while keeping fans up to date on all things ACC. Nothing But Net will premiere on Sunday, Oct. 27, with a special two-hour season preview episode at 8 p.m. ET. The season preview show will cover both men's and women's basketball programs from all 15 ACC intuitions, and will incorporate interviews from a variety of head coaches, including Syracuse's Jim Boeheim and Florida State's Leonard Hamilton.
ACCN on Location
The 2019-20 men's basketball season will open strong on ACCN with four high-profile matchups on November 5 and 6, including Syracuse hosting reigning NCAA Champion Virginia on Nov. 6 at 9 p.m. Nothing But Net will be live at the Dome for pre-game, halftime and postgame coverage of the ACC's season openers. Kelsey Riggs will host the hour-long pre-game show beginning at 6 p.m. and will be joined by Cory Alexander, Carlos Boozer and Jordan Cornette.
All ACC will take its studio show on the road two days later on Nov. 8, making a stop at Cameron Indoor Stadium for Duke's home opener against Colorado State. Boozer and Cornette will join their The Huddle counterparts, Jac Collinsworth, EJ Manuel, Eric Mac Lain and Mark Richt on set at Yoh Plaza from 9-10 p.m.
ACC Basketball on ACCN
Always Rising
"Always Rising" is the theme for ACC Basketball on ACCN this season to reflect on the conference's championship heritage and leadership position. The ACC has a rich history of winning championships and for having a multitude of banner-worthy moments every season. Through a cinematic production approach, the "Always Rising" campaign captures, highlights and promotes these moments that separate the ACC from its competition. 77 Ventures was the creative agency for the campaign.
Season Schedule
ACCN will exclusively air 110 regular-season men's basketball games in its debut season, including 68 conference matchups. Four high-profile conference games on November 5 and 6 highlight the opening week of the season. Leading off, Georgia Tech will play at NC State, and Miami will host Louisville on November 5. The following day, along with Virginia at Syracuse, North Carolina hosts Notre Dame. The Cavaliers will meet the Tar Heels on either Saturday, Dec. 7, or Sunday, Dec. 8, for another notable early season conference matchup on the new network. Additionally, ACCN will televise the first round of the 2020 New York Life ACC Men's Basketball Tournament on Tuesday, March 10, live from the Greensboro Coliseum in Greensboro, N.C. The complete game schedule is available here.
Unbelievable: Virginia's Improbable Path to a Title to Premiere on Wednesday, Oct. 30
One of the most extraordinary seasons in college basketball history will be chronicled with Unbelievable: Virginia's Improbable Path to a Title, the story of the Virginia men's basketball team's incredible run to the 2019 NCAA Championship. The one-hour documentary will premiere at 8 p.m., on Wednesday, Oct. 30, exclusively on ACC Network.
ACCN Basketball Announcer Bios
Cory Alexander
Former Virginia All-American and NBA first-round draft pick, Alexander has been with ESPN since 2009 serving as a men's college and high school basketball analyst. The Waynesboro, Va., native played eight seasons in the NBA with San Antonio, Denver, Orlando and Charlotte following his graduation from UVA in 1995. Alexander was a four-year letterwinner at Virginia, helping the Cavaliers to the Elite Eight in 1995. He ranks eighth in UVA history with 401 assists and 24th on its all-time scoring list with 1,286 points. Alexander was a McDonald's All-American and Parade First Team All-American in 1991 at Oak Hill Academy (Va.).
Dan Bonner
A 1975 Virginia basketball team captain and college basketball analyst since 1977, Bonner began his television career in 1980 working as part of the C.D. Chesley company's broadcasts of ACC basketball. Over the past 39 years, the Pittsburgh, Pa., native has served as a college basketball analyst for a variety of networks including ESPN, CBS Sports, FOX Sports and Big Ten Network. He has covered 34 NCAA Tournaments, and was an analyst for FOX Sports South's coverage of the ACC Baseball Championship from 1999-2015. Prior to a career in broadcasting, Bonner was the head coach of the Virginia women's basketball team from 1975-77.
Luke Hancock
The 2013 Final Four Most Outstanding Player and NCAA Champion Hancock was a small forward for Louisville during the 2012-14 seasons after transferring from George Mason in 2011. The Roanoke, Va., native was integral to the Cardinals national championship run as he scored 20 points in the national semifinal against Wichita State and 22 points in the national final against Michigan. He was the first reserve in NCAA Tournament history to be named the MOP. Hancock played professional basketball for the Memphis Grizzles and in Athens, Greece, before becoming a financial advisor with Clearpath Financial in Louisville. Hancock currently serves as co-host of The Drive on Tuesdays and Wednesdays on ESPN Louisville.
Malcolm Huckaby
Former Boston College standout guard, ACC Basketball Legend and Bristol, Conn., native Huckaby has been with ESPN as a men's college basketball analyst since 2012. Huckaby played in 126 games at BC, including 106 as a starter. He helped the Eagles earn two trips to the National Invitation Tournament (1992-93), followed by a memorable run to the NCAA Elite Eight in 1994. Huckaby scored 1,316 career points and still ranks 20th on BC's all-time scoring list. He played professionally in Europe for five years and was a member of the Miami Heat in 1996. Along with his role with ACCN, Huckaby is also the vice president of investments at Capital Securities Management in the greater Boston area.