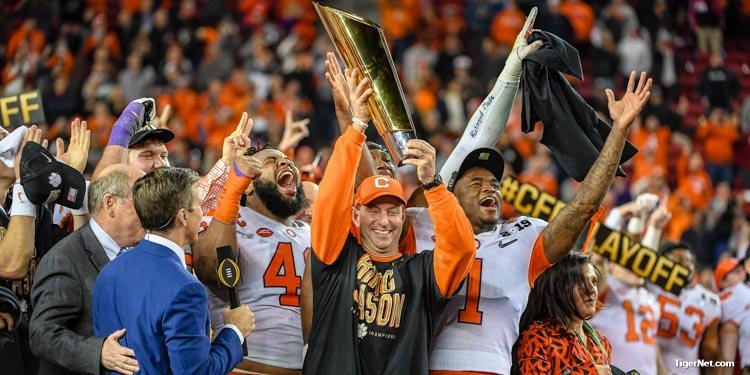 | | |
| --- | --- |
| 2019 Clemson-Alabama title game had massive TV ratings | |
---
| | | |
| --- | --- | --- |
| Tuesday, January 29, 2019, 11:25 AM | | |
The year's College Football Playoff National Championship featuring Alabama and Clemson (January 7, 2019) averaged nearly 27 million viewers and is the most-watched of their three head-to-head CFP National Championship games based on final Nielsen reporting, which now includes out-of-home viewing and computer/mobile streaming.
The final Nielsen total live audience is 26,979,000 viewers for the Tigers' 44-16 victory in the fifth CFP National Championship, up 3% and 2% from the Nielsen final reported audience for the second (January 11, 2016) and third (January 9, 2017) CFP National Championship games, respectively. This season's championship audience also surpassed the previous two matchups despite Clemson's decisive 28-point victory, which was the largest margin of victory for any college football national championship game since 2005*.
Out-of-Home Viewing Adds 1.3 Million Viewers to CFP National Championship Audience; Computer/Mobile Streaming an Additional 400K
Nielsen out-of-home reporting added 1.3 million viewers to the previously reported audience of 25,280,000, which accounted for ESPN's MegaCast** and a portion of the streaming audience. Further Nielsen reporting of mobile and computer streaming contributed another 399,000 viewers, resulting in nearly 27 million viewers for the game.
Among Most-Watched Cable Telecasts All-Time
The 2019 CFP National Championship was already a top 10 most-watched cable telecast based on the initial Nielsen reporting. With the new measured audience, the game ranks as the No. 7 most-watched cable telecast ever. All five CFP National Championship games rank in the top 10.
New Year's Six the Most Watched Among Years When CFP Semifinals Fall Outside of New Year's Day
This season's New Year's Six is the most watched among years when the CFP Semifinals were not played on New Year's Day. The final Nielsen total live audience for the six games was 14,922,000, up 26% and 1%, from the Nielsen final reported audience for the second and third years of the New Year's Six. The final Nielsen reported audience for the CFP Semifinal featuring Oklahoma vs. Alabama (December 29, 2018) is 20,911,000 viewers and Notre Dame vs. Clemson (December 29, 2018) is 18,830,000 viewers.