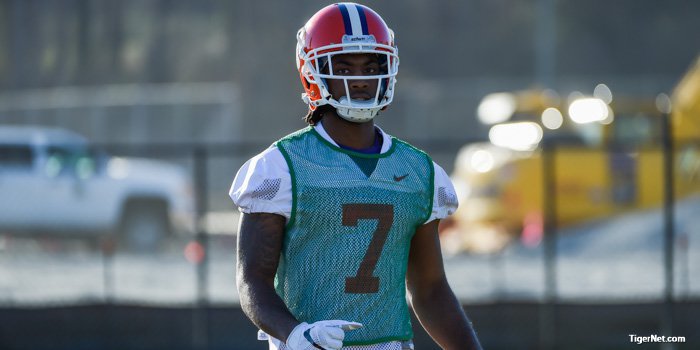 | | |
| --- | --- |
| Williams learned from sitting out last season | |
---
The plan was for Mike Williams to be a big part of the 2015 Clemson offense, but that plan changed dramatically when Williams was injured on the Tigers' first series of the season.
Williams caught a 4-yard touchdown pass to finish that series, but he also suffered a fracture in his neck and missed the rest of Clemson's season.
Now back with the team and going through spring practice, Williams said he learned plenty from watching the Tigers' 14-1 season from the sideline.
"Watching from the sidelines is much different," Williams said. "Being on the field, you're in the action and can't really see much. But on the sidelines, you see everything. So from the sidelines, you read the defense better, so I'm just taking that into this season to learn to read defenses and make us a better team.
"Watching a lot of film, watching defenses. Not playing, you've just got a lot more time to do a little extra, and that's what I was doing."
Williams' return should make the Clemson offense even more potent. He has 77 catches for 1,346 yards and 10 touchdowns in his career. Fifty-seven of the catches, 1,030 of the yards and six of the touchdowns came in Williams' sophomore season, and he appeared poised to have a big junior season.
"It was scary. It was something when it first happened," Williams said of the injury. "There was some pain, but I didn't black out. I actually wanted to get up and walk off the field, but Danny Poole told me with what I was feeling he didn't want me to get up and walk. It was hard. I wanted to be out there helping my teammates. We lost the last game, and I wanted to be there to help my teammates. But now, just being back, it's real good.
"I was trying to get back out there as fast as I can. I was doing a lot of things on my own, but they were telling me to slow down a little bit."
Now, Williams is back and working out with his teammates through spring practice. The first week is in the books as the Tigers continue to work toward the Orange and White game April 9.
"Sitting out last season was hard, but just to be out here with my teammates these first six days, I feel like we had a great week," Williams said. "My first fall was a little scary, but I popped right back up. I went for a little deep ball and fell and popped back up. Everything was good.
"The first couple of days, I was getting winded. But after that, I was getting my wind back and running real fast."
Back to full speed, Williams is ready to get back in the mix at receiver and be a big part of the Clemson offense again.
"I thought we did pretty good last year," Williams said with a laugh about an offense that had more than 7,000 yards last year. "I think the deep ball threat, another deep ball threat, another offensive weapon, that's just about it. There ain't no pressure. I've been playing this game since I was a little kid, so I feel like everything is just going to fall in place. It's just football."
Williams also said there is no pressure on the offense, which again will be led by quarterback Deshaun Watson, who threw for 4,104 yards and 35 touchdowns last year. Watson also rushed for 1,105 yards and 12 touchdowns.
"I don't think it's no pressure. We just go out there and just play ball. That's the main thing, just go out and play Clemson football," Williams said. "We've been in this offense for a long time, so it's just go out and play it. That's what this offense is built for, to score a lot of points. That's the goal this year, to score a lot of points and run it up.
"I played a few games with Deshaun my sophomore year, and you've seen what we can do. Next year, we're looking to do even better."
Daniel Shirley is the sports editor of The Telegraph in Macon, Ga., and co-host of The Morning Show on FoxSports 1670 AM. Follow him on Twitter at @DM_Shirley and read his blog at macon.com/peachsports.

Upgrade Your Account
Unlock premium boards and exclusive features (e.g. ad-free) by upgrading your account today.
Upgrade Now