| | |
| --- | --- |
| Wide Receiver U: Scott loves potential of 2015 group | |
---
| | |
| --- | --- |
| Thursday, August 6, 2015 1:51 PM | |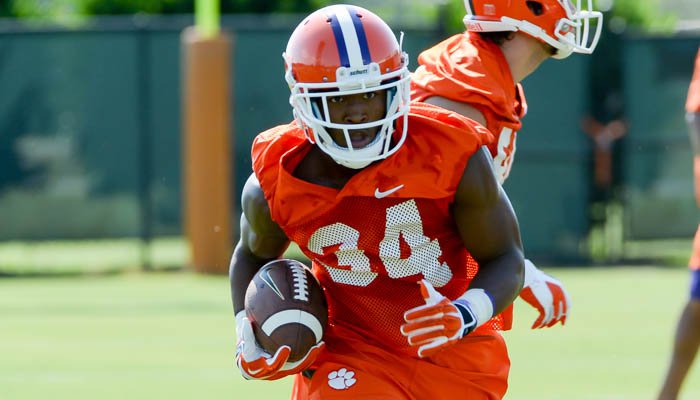 CLEMSON – Jeff Scott

Jeff Scott
Co-Offensive Coordinator / WR
View Full Profile has seen more than one talented, NFL first-round wide receiver come through Clemson, but he thinks the 2016 group has the potential to be his best.
Scott – who serves as the offensive coordinator and wide receivers coach – has coached the likes of Jaron Brown

Jaron Brown
Wide Receiver (2008 - 2012)
#18 6-2, 205
Cheraw, SC
View Full Profile , Nuk Hopkins and Sammy Watkins

Sammy Watkins
Wide Receiver (2011 - 2013)
#2 6-1, 205
Fort Myers, FL
View Full Profile . While each of those were superstars in their own right, Scott has never had a group as talented and as deep as what he currently has on campus.
The Tigers opened up fall camp Tuesday afternoon with Mike Williams

Mike Williams
Jr. Wide Receiver
#7 6-4, 210
Vance, SC
View Full Profile , Charone Peake

Charone Peake
Gr. Wide Receiver
#19 6-2, 205
Moore, SC
View Full Profile , Artavis Scott

Artavis Scott
So. Wide Receiver
#3 5-10, 190
Oldsmar, FL
View Full Profile , Trevion Thompson

Trevion Thompson
RS Fr. Wide Receiver
#1 6-2, 195
Durham, NC
View Full Profile , Germone Hopper

Germone Hopper
RS Jr. Wide Receiver
#5 5-11, 175
Charlotte, NC
View Full Profile , Deon Cain

Deon Cain
Fr. Wide Receiver
#8 6-1, 190
Tampa, FL
View Full Profile and Ray-Ray McCloud

Ray-Ray McCloud
Fr. Wide Receiver
#34 5-9, 175
Land O' Lakes, FL
View Full Profile on the roster, and Scott said that at this point he has eight receivers who can all make an immediate impact.
"Yeah, it has the potential to be [the most talented and deepest group]," Scott told the media following Wednesday's practice. "That's something that we talk about. There are eight guys right now that all have the potential to go play and be difference makers. We obviously had some very talented guys in the past, but this has the potential to be the deepest group we had. Obviously we've got a long way to go. A lot of that depends on the young guys' development, but it has the chance to be a special group."
Not only do Clemson and Scott have a talented group of wide receivers, there is also a good mix of youth, leadership, and experience within the group, helping to ease the transition of guys like McCloud, Cain and Shadell Bell

Shadell Bell
Fr. Wide Receiver
#11 6-3, 190
Decatur, GA
View Full Profile from high school to college football.
"That's one thing that I have been real pleased with is the retention of the young guys," Scott said. "Usually that is the biggest thing with the young guys is knowing where to line up, what to do, the routes, the changes with the hots and all that. All of those young guys have done a good job. I think it says a lot about our older guys spending time with them this summer in the skills and drills when the coaches can't be out there. Charone Peake, Mike Williams, Artavis Scott, those are guys that I think really took those young guys under their wings starting in June.
"I can tell just going through our meetings that these guys already have a great foundation. So I give those older guys a lot of credit. The young guys are really sharp guys and have good football knowledge. That is something you don't really know on your young guys until they get here. It is hard to tell in the recruiting process how quickly they will pick those things up. But I've been very pleased with both of the young guys."
Peake has battled injury after injury, but Scott said the lone senior of the group looks better than he has at any point during his five years in a Clemson uniform.
"He looks good. You can tell just watching him walk by," Scott said of Peake. "What he looks like physically. He is confident. He looks like he is running really well and it has really added a lot because a lot of people obviously haven't been talking about him with the injury, but he is just another guy that has a chance to have a big year this year. Nobody wants it more than him and the coaches because he has been here five years. He has worked extremely hard and had some bad luck along the way. I think he has a chance to come out and be very productive this year if he can stay healthy."
Williams is a guy who made a big splash during the Tigers 2014 campaign, but Scott said the sky is the limit for what the Vance (SC) native can do in 2015.
"He can get better and he knows that," Scott said of Williams. "When DeAndre Hopkins

DeAndre Hopkins
Wide Receiver (2010 - 2012)
#6 6-2, 205
Central, SC
View Full Profile , Sammy, and those guys were here, they had things they knew they needed to improve on that was probably going to take them to the next level to get there. Mike has done a lot of things, but he knows specifically some of the things he needs to improve in and he is working on that and I think the strength that he got this summer has really helped him become a more physical guy and a more physical presence for being a big body. I have been pleased with what I have seen from him the first two days. He has the potential to be special, but he's still got a good bit of work to go before he gets there."
Redshirt freshman Trevion Thompson has been the surprise of fall camp, but Scott said he began seeing the transformation during spring practice.
"I started seeing what he could during the spring. I was very surprised and impressed this spring," Scott said of Thompson. "He came out with a great attitude. I think he has had a great summer. Just physically he looks really good. There are times like yesterday whenever I am watching the video I am trying to figure out if that is Mike Williams or Trevion Thompson. That's a good thing when you are sitting here having to replay to see which one. But he has gotten faster, stronger, more confident and made a bunch of plays. Still has some development to go in the mental aspect, figuring it all out. But it is definitely a lot of good competition in the boundary with Mike Williams, Trevion, and Deon. Those are three special guys. It keeps Mike on his toes every day that's for sure."
Then there's Ray-Ray McCloud, who jumps out at any on-looker.
"He is very smooth. We knew that in the recruiting process that he was going to be a talented guy, but what we didn't know is how quickly he could pick things up," Scott said of McCloud. "And that probably is what I have been most impressed with. The athleticism really hasn't surprised me, but his knowledge, retention, and being able to go at the tempo we are going at is probably the most impressive thing for him and Deon so far."

Tags:
Jaron Brown
,
DeAndre Hopkins
,
Charone Peake
,
Germone Hopper
,
Sammy Watkins
,
Mike Williams
,
Trevion Thompson
,
Artavis Scott
,
Ray-Ray McCloud
,
Shadell Bell
,
Deon Cain
,
Jeff Scott