| | |
| --- | --- |
| Whenever. Whoever. However. Tigers compete for title | |
---
| | | |
| --- | --- | --- |
| Thursday, November 10, 2016, 1:27 PM | | |
CLEMSON – Whenever. Whoever. However. Have no fear.
Those are the words the Clemson men's soccer team have lived by in 2016, and it has carried them all the way to the ACC Championship Game.
The Tigers defeated Boston College 1-nil in the semifinals Wednesday night at Historic Riggs Field and will now take on Wake Forest Sunday at 2 p.m. in Charleston for a chance at a conference title.
Head coach Mike Noonan said a trip to Charleston has been the goal since the start of the season and he couldn't be more excited to compete for a championship in the Tigers' home state.
"I'm ecstatic. I think the players feel the same way. From the beginning of the season, we pointed our ship toward Charleston," Noonan said after Wednesday night's victory. "When that flag came down in Columbia a year-and-a-half ago, I suggested to the conference office that Charleston would be a great place to host a championship. Fortunately, the conference did a great job and the people down in Charleston did a great job in getting the venue. The players have now done a great job in getting us down there to play for an ACC title - the first title that a Clemson team will play for in the state of South Carolina in a very, very long time."
Senior Alex Happi scored the game's only goal in the 88th minute off an Aaron Jones' free kick and he said he was ecstatic to be able to contribute to the Tigers' win and he's looking forward to competing with his teammates for a championship.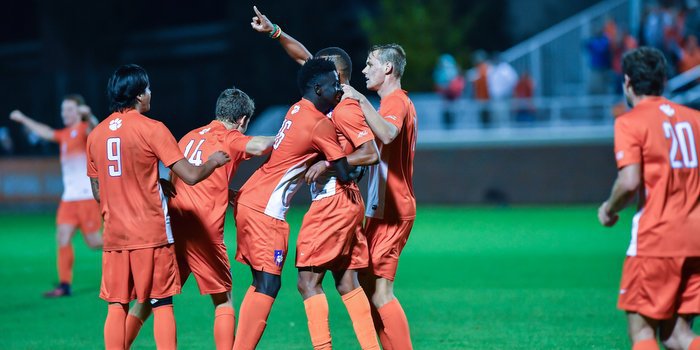 "I was really happy for the team, but I was kind of disappointed in myself because I didn't have a great game," Happi said. "It really lifted my confidence after the goal - I was really excited. It was for the team, that goal. I don't really care about the fact that I scored. I'm super excited to go to Charleston and play the final.
"We feel very confident. We have a strong group that came back from last year. We've prepared since preseason and since the spring we've been preparing ourselves to play one game at a time. We have a saying that whoever, whenever, however, we just have to make sure we take it one game at a time and stay together like we are. We have a great group and I think we're going to have a great run because we don't fear anybody in the country right now and I think that's a plus for us."
Freshman Patrick Bunk-Andersen said that while last year's team accomplished a lot, the 2016 squad has a bond like no other and when they take the field on Sunday they'll be playing for each other.
"The spring season gave us a chance to reset from what we had last year and what we had last year is over," Bunk-Andersen said. "We came in this summer with a whole new team. I honestly don't think any other team in the country has the kind of group and the kind of brotherhood that we have on our team. I think that's one of the factors that's let us go this far. We fight for each. We run for each other. We tackle for each other. We do everything for each other because it's a brotherhood on this team."
Clemson and Wake Forest played each other earlier in the season, with the Tigers taking a 1-0 victory, but Noonan said his team is up to the challenge of squaring off against the regular season champions.
"Any team in the ACC can beat any other team on any given day," Noonan said. "Obviously, we have a great deal of respect for Wake. They were the regular season Atlantic Division champions. They've got an experienced, senior-laden team. We're going to have our work cut out for us, but we don't fear anybody."
When the Tigers take the field at MUSC Health Stadium Sunday afternoon, Noonan said it would be for all of the fans who travel the state to support the men's soccer team.
"This one is for you (Clemson fans). We go down there every spring and we play The Battery and the Clemson fans turn out for that and I know they're going to turn out in even greater numbers," Noonan said. "We watched our women's team play down there a week ago and all you could see is orange in the stands. We're looking forward to all of those Clemson fans not having to travel all the way up here to watch the Tigers play."