| | |
| --- | --- |
| What is FFRF's complaint against Clemson? | |
---
| | |
| --- | --- |
| Friday, April 18, 2014 9:54 AM | |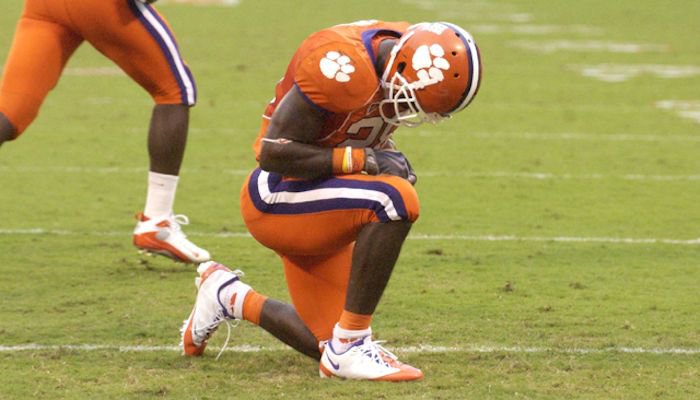 This article does not reflect the opinions of TigerNet. This article is simply to provide context for the FFRF complaint.
"Play not pray."
Those are the exact words the Freedom From Religion Foundation and its co-founder are sending to Clemson University and its football program.
The FFRF formally lodged a complaint with Clemson University earlier this week stating that they have "constitutional concerns about how the public university's football program is entangled with religion."
Fox Carolina's Aaron Cheslock spoke with Annie Laurie Gaylor – FFRF's co-founder and co-president – on Thursday about her foundation's intentions and how they would proceed should Clemson choose not to comply with their demands. Cheslock provided TigerNet with an unedited copy of the audio.
TigerNet has written this article in an effort to provide Clemson fans with an insight into the organization's concerns and to provide both sides of the argument.
Gaylor said that Clemson head coach Dabo Swinney

Dabo Swinney
Head Coach
View Full Profile and his coaching staff are guilty of coercing its football players into participating in religious activities – something she called unacceptable.
"What we are expecting to accomplish is to stop the proselytizing and the religious devotion that seems to be interwoven into Clemson's football program," Gaylor said earlier Thursday. "This is a public university, so it shouldn't be entangling religion and government and coercing players to pray, go to Bible study, go to church and making it seem as though they are a Baptist university instead of a public university."
Despite former players saying that participation in such activities is strictly voluntary, Gaylor said the only thing that matters is that the football program is providing a channel for players and coaches to participate in Christian activities.
"It doesn't matter if they are mandatory," Gaylor said. "They should not be conducted at all at a secular university and a secular football program. It isn't coercion that we are claiming and coercion is not a test that we have to meet to show that the Constitution is being violated. Every court that you go to will agree with us. They are establishing religion. There is a climate of Christianity and piety as if to be a player you have to go to church, you have to pray, you have to go to Bible study, and you have to meet with a chaplain and on and on and on.
"This is not appropriate at a public university and it has to stop. These players can become part of prayer clubs and student clubs and go to church and go to spiritual advisors, but it shouldn't be a football coach or other paid or designate officials of Clemson University. There is full freedom of religion. This is not student speech. This is proselytizing by the football department. It's utterly inappropriate."
The University responded to the FFRF with an official statement Thursday saying, "We believe the practices of the football staff regarding religion are compliant with the Constitution and appropriately accommodate differing religious views."
However, Gaylor said the response is not sufficient, citing the mountains of evidence that the FFRF has in its possession.
"The response today is not satisfactory," Gaylor said. "We are not guessing about the practices. We conducted an open record requests and we've got pages and pages of documents that show inappropriate entanglement of religion and the football team, including a paid chaplain and including – it looks like most or all of the coaches involved leading prayer and baptism in the athletic building, requesting full attendance at prayer breakfasts, taking them to church and on and on. In fact, Bible study in between drills. It is almost hard to believe."
Gaylor went on to say that Clemson University should thank her foundation for pointing out its improprieties and unconstitutional behaviors.
"They [Clemson] say in the third paragraph [of the official statement] that we will evaluate the complaints raised in the letter and we will respond," she said. "They haven't had time to properly investigate the whole thing, but we have. We have open records. We have all of the evidence we will need. We have smoking guns galore that there is an unconstitutional and inappropriate entanglement of religion between the football department and Christianity and it has to stop. We expect leadership from the regents or chancellor or the administration of Clemson University. They should be stopping this. They should be thanking us for calling this to their attention. They need to take action."
Gaylor said that she expects Clemson University to comply with the demands of the FFRF, but that they have yet to speak to a current or former player that is taking exception to the practices of the football program. However, should Clemson decide to continue business as usual, Gaylor said that her foundation is not above suing the university, but the FFRF needs a "victim" – or a plaintiff – to take the case to court.
Clemson said in statements that it believes the FFRF is mistaken in its assessment and continues to supports Swinney. The University also said the Supreme Court has expressly upheld the right of public bodies to employ chaplains and has noted that the use of prayer is not in conflict with the principles of disestablishment and religious freedom.
Faith and Football: Former Players Speak Out
Clemson's official statement on FFRF complaint