| | |
| --- | --- |
| What flag? Boulware's love of the game shines through on the field and off | |
---
| | |
| --- | --- |
| Wednesday, October 7, 2015 1:01 PM | |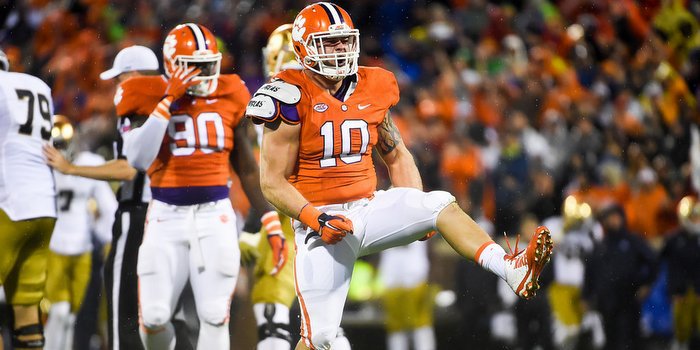 Clemson linebacker Ben Boulware

Ben Boulware
Jr. Outside Linebacker
#10 6-0, 241
Anderson, SC
View Full Profile said Monday the flag "probably" was thrown in his direction, but the penalty wasn't one he earned on purpose.
The Tigers were called for an unsportsmanlike penalty after their game-clinching two-point stop against Notre Dame at the end of Saturday's 24-22 Clemson win. In the celebration, Boulware tumbled across the field but said he tripped, although he tried to make the roll look graceful.
"I tripped on Jayron (Kearse), I think," Boulware said. "I played it off because everyone thought it was on purpose, but I totally tripped."
Still, it was an enjoyable moment at the end of an enjoyable night for Boulware and the Clemson defense.
Notre Dame quarterback DeShone Kizer was stopped cold on a quarterback run on the two-point attempt in the closing seconds after Notre Dame made a furious comeback in the fourth quarter. And Boulware, as usually is the case for Clemson's defense, was right in the middle of the action.
"My role, after seeing the play and seeing all the angles, was really just to sacrifice my body and put my body in front of their running back because their running back was their lead blocker," Boulware said. "It was kind of like a QB zone play. I think, their intentions were to do a little option, like outside of the hashes, but when he tucked it up and the running back was coming to me, I was like, 'Screw it. I might as well just throw my body in there and just try to make a wall.' In simple terms, just make a wall and sacrifice my body."
Clemson led 21-3 only to see the Fighting Irish score 19 fourth-quarter points in a pouring rain that only added to the drama. But in the end, Notre Dame needed two more points to force the tie.
For three quarters, the Tigers' defense dominated the Fighting Irish, who entered the game in the top 10, showcasing a powerful offense and running game. But Notre Dame managed just 116 yards on 33 carries, doing most of its damage through the air during the comeback.
Boulware, who is third on the team this season with 22 tackles, had 10 in the win.
"The rain was probably only a factor in the fourth quarter because you're starting to get bogged down. That's when my cleats started getting really heavy. But for the first half and probably the third quarter, it really wasn't that big of a factor," Boulware said. "When you're playing out there, you really don't worry about it. You try to block out all the distractions and noise, obviously the rain. Having it be a physical game, I knew they were going to run the ball a lot more than they were going to pass it. Of course, I love that. I like playing between the hashes. As many tackles as I can get, I love. The rain, the whole atmosphere, it was fun to be a part of that.
"We shut them down completely through three quarters. We just started playing soft and having some mental errors, but they shouldn't have even scored. Those three touchdowns were easily correctable on mental mistakes."
This week, Clemson's defense turns its focus to a different kind of challenge: Georgia Tech's option offense. The Yellow Jackets beat the Tigers 28-6 last year.
"I don't really care. At the end of the day, it's football. It's a little different from the whole spread type of offense," Boulware said. "At the end of the day, it's just football. Whether it's triple-option, spread or any other type of offense, I love going out there and just playing. I don't really care what the other team is doing; I'm just focused on playing sound defense and getting the win at the end of the day."
Clemson got a bit of a primer in the season opener against Wofford. The Terriers run a similar offense to Georgia Tech's, albeit at the FCS level.
"I think our whole defense does (feel playing Wofford helped)," Boulware said. "It's definitely good to have a good foundation in. They kind of run the same offense. All of us as a whole feel a little bit better about it, since playing the first week of the season and playing that type of offense. That's really all it is; we just have a good foundation. But we've still gotta come in here and work. There's a lot of different things that Georgia Tech does than what Wofford did."
And the offense is really different from what Notre Dame wanted to accomplish.
"I think it's definitely more difficult, just because it's so quick," Boulware said. "Obviously, you're expecting it because that's just what they do. But that's a lot more difficult to defend than just getting around a big 6-foot-7 dude. If they're smaller guys, more agile, quicker, it's a lot harder to get off those blocks, and they can just knock you to the ground. It takes a lot longer to do that and get up than to just shed a block."
Whatever happens this week, Boulware hopes the defense, and the Clemson team in general, has shed the underdog label in big games. He said the Tigers, who moved up to No. 6 in this week's AP and coaches polls, have earned more respect than that.
"I would hope so. I feel like we should have gotten respect long before this," he said. "We've beaten a lot of good teams, and we've played in a lot of big bowl games and beat those teams. I'm not really sure why we're just getting respect now. We've deserved it a lot before now. It's kind of annoying, and it pisses a lot of guys off on our defense that people are saying, 'Oh, we're just now getting respect.' We should have had respect."
Daniel Shirley is the sports editor of The Telegraph in Macon, Ga., and co-host of The Morning Show on FoxSports 1670 AM. Follow him on Twitter at @DM_Shirley and read his blog at macon.com/peachsports.