| | |
| --- | --- |
| Wednesday update: Swinney says people doubting Tigers is nothing new | |
---
| | |
| --- | --- |
| Wednesday, December 2, 2015 7:33 PM | |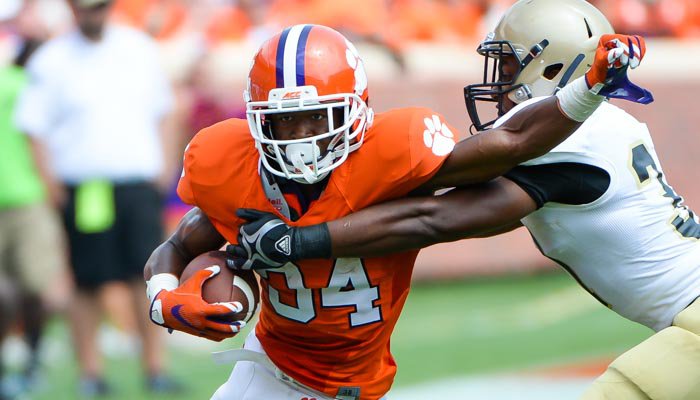 CLEMSON – Many in the national media are calling for North Carolina to defeat Clemson in Saturday's ACC Championship Game in Charlotte, but head coach Dabo Swinney isn't paying attention to the press clippings because he's seen them all before.
Clemson is undefeated and ranked number one nationally while North Carolina sits at 11-1 and has no wins over any team ranked in the Top 25. However, many around the country look for the Heels to pull off the win Saturday, something that doesn't surprise Clemson's head coach.
"I don't know the press clippings. But that is par for the course," Swinney said after Wednesday's practice. "Every week we are expected to get beat. That's the way it's been all year. About every week everybody expects us to lose. I am glad those people aren't playing between the lines. We can certainly get beat - this is a championship team from the Coastal that is capable of beating anybody in my opinion. They can beat anybody in the country, but so can we. You have to play. You don't win a game like this if you don't play well, but we are dialed in on what we have to do to play well. People have been doubting this team all year long."
The Tigers practiced for two hours Wednesday and will have one more practice Thursday before heading to Charlotte Friday morning.
"It's nice to be practicing, and I think our guys have practiced that way," Swinney said. "They have an understanding and appreciation for the fact that there are only two teams practicing right now in our league. We are happy to be one of the two, and we will have to another great day tomorrow. It's another opportunity to get ready, and we will dial it up and play Saturday night."
Swinney then said he won't be surprised to see more orange than baby blue in the Bank of America seats Saturday.
"That is Clemson. That is who we are. Clemson travels. It's only a couple of miles up the road," he said. "There are people that drive seven, eight and nine hours to come to a home game here at Clemson. I think we will have an awesome crowd, and I think North Carolina will have a good crowd, too. Hopefully, we can give them something to cheer about."
OTHER NOTES
Ray-Ray McCloud injury update
"He was ready to go last week. He's gotten better and better each day, and he will continue to get better. He still has to play in that brace this week, and he will have next week off. He will need that, and then when we start bowl practice, he will be in a stepped-down version of the brace. But he's getting better and better every day."
On having Charone Peake, who played in 2011 ACCCG
"It's helpful having Charone Peake. He is the only guy we have that has played in this game, but we have a lot of guys on this team that have played in a lot of big games. I think from that standpoint, and our guys understand that. We have that championship mentality every week. But this one - there is no next week. This is truly the last four quarters of the season and these players understand that moment and the opportunity."
On Deshaun Watson winning ACC Player of the Year
"I think it's awesome. I really do. He's a young player, but six of our seven years we've had a player of the year and I think that's really special. I think that's awesome that we've been able to be that consistent. It's a credit to their teammates and their coaches and the job that they've done in developing these players. Every facet. You earn those things. You don't just look up, and you're the player of the year. It's a game of performance. Deshaun has performed at a high level with a consistency that is rare. He has certainly been an elite player not only in this conference but throughout the country. We need four more good quarters from No. 4."