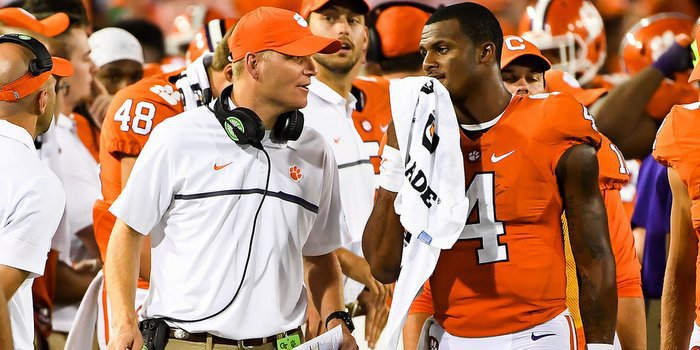 | | |
| --- | --- |
| Watson talks dual-threat, matchup with Louisville | |
---
CLEMSON – Two of the nation's best dual-threat quarterbacks will be on the big stage Saturday night in Death Valley, and while Deshaun Watson doesn't mind the label, he just wants people to understand that he considers himself a passer who can make plays with his legs.
Watson and Louisville quarterback Lamar Jackson will be front and center during Saturday night's primetime matchup in Death Valley. During the 2015 season, Watson became the first quarterback in college football history to throw for 4,000 yards and rush for 1,000 yards in the same season.
Over the summer, Watson did an interview with Bleacher Report in which he said he felt like he was being stereotyped as a dual-threat quarterback because of his race.
"People think, 'Oh, he's a black quarterback, he must be dual-threat.' People throw around that word all the time. It's lazy," Watson said to Bleacher Report. "The one thing I learned early on as a football player is people have their opinions, and I can't change them. But I can show them what they're missing."
During Monday's interview session with Clemson media, Watson was once again asked about his view on the matter, especially with Jackson and the Cardinals coming to town.
"First, the issue wasn't anything about being racist or because I'm a black quarterback who is dual-threat. It was a one-on-one interview with me and the guy from Bleacher Report," Watson said. "It was just talking about different things. He brought it up about how most quarterbacks are black, it's easy for them to say that they're a running quarterback and they can do a lot of things. It wasn't so much of being racist. My favorite quarterback growing up was Tim Tebow and he ran the ball plenty of times and he threw the ball, so he was a dual-threat.
"None of that had to do with being racist or being labeled because I'm African-American. Some things people grow up and that's how it looks. In this day and age, guys use their feet to get out of plays and be able to run. There are a lot of quarterbacks that people consider to be pocket passers that get out of plays and can run the ball. It's not so much that I had to prove anything. I know I can throw and that's all that matters. If I know I can pass the ball and sit in the pocket and my teammates know the same thing, then I don't have to prove anything to anyone. People have their own opinions."
MORE FROM WATSON
On his overthrows
"It's just the timing and things like that. People are going to have overthrows. I throw so many balls, and every ball is not going to be perfect. Nothing major that I can't fix."
Offensive identity
"It's hard because each and every week is different, but this team is going to play hard regardless of who we're playing against. We're going to do what we do, and best is the standard. We're going to compete, and you're not just going to walk over us. You have to bring your A-game each and every week, and that's what we're about. We love to compete at the highest level and win games."
The importance of this game
"Every game you should feel that way. You want to win each and every game because you're a competitor and you want to win. At the end of the day, it's still the next one and we want to be 1-0. For us to try and improve and be 5-0 we have to be 1-0 this week. We just have to continue to do what we do and focus on the task at hand. We can't worry about what the future brings or anything like that. At the end of the day, we still have to go out there and play our best."
Getting the running game going
"Just continue to do what we do and things are going to open up. The defense has to stop one of them so they've either got to stop the pass or stop the running game. Most teams want to take away the running game and make us pass. If you do that then we're going to pass more. It just depends on what the defense is scheming and what they want to take away."
Talk about Louisville's defense, pushing the pocket
"They have a pretty good front seven. Very active, very aggressive. Whatever their scheme is, they're trying to perfect their craft and play their keys."
Difference between '16 Louisville D and '15 Louisville defense?
"I guess all of those guys have been in the system before, so they know what they're doing. They have experience in doing the things their coach wants them to do each and every week. That's pretty much it."
Talk about the lack of offensive success against Louisville
"First, we had success and we won on the road. So I take that back. We had success, especially Thursday night at that place, that's hard to do. But there's nothing there. We just didn't take advantage of the plays to (put) games away. The first year, I got hurt, so I couldn't finish the game. Of course, I didn't have success because I didn't get to play. Last year, we won. So that's all that matters. At the end of the day, we've just got to do what we do and just be Clemson."
College GameDay and the atmosphere
"Just trying to be 1-0 this week. That's pretty much it. We have the same energy that we had before, preparing at the same high intensity, high level. We want to go out there and be 1-0 this week and try to move on from there."
Will you be more involved in the run game Saturday?
"We'll see. Just depends on how the game plays out. If I have to run, I'll run. If I don't need to, we won't force that role, because we've got running backs to run. We'll see what happens, how we gameplan and throughout the course of the game. It all matters of what type of defense they want to play against us."
Review of the offense at GT
"It was pretty solid. We started off fast, and then the third quarter, Georgia Tech held it for 10-11 minutes, so we only had two possessions. Then the fourth quarter, we did what we did to seal the game and get out there with a win. It was a pretty solid performance, but there's always room for improvement."

Upgrade Your Account
Unlock premium boards and exclusive features (e.g. ad-free) by upgrading your account today.
Upgrade Now