| | |
| --- | --- |
| Watson earns the starting job | |
---
| | |
| --- | --- |
| Sunday, September 21, 2014 2:16 AM | |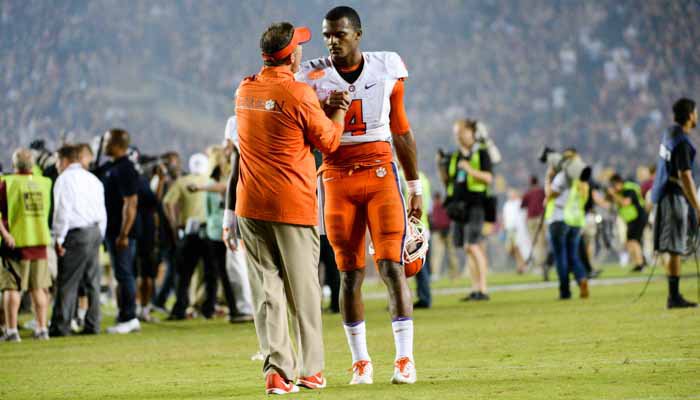 TALLAHASSEE, FL – Deshaun Watson

Deshaun Watson
Fr. Quarterback
#4 6-3, 204
Gainesville, GA
View Full Profile never sat on the bench as the second string quarterback at Gainesville High School and he certainly didn't intend to be Clemson's backup for very long.
The true freshman has only played in three games where he wasn't the starter – the first three of his Clemson career – but after a performance in front of over 82,000 in Doak Campbell Stadium Saturday night in a game that saw him make plays with his feet and sensational throws Watson has been handed the keys to the Clemson offense.
Watson entered Clemson's 23-17 loss to Florida State on the fourth drive and would never come out, completing 19-of-28 passes for 266 yards - the most by a Clemson true freshman since Patrick Sapp threw for 273 at Maryland in 1992.
Watson stared down 82,000 maroon and gold clad faithful and the nation's number one team and didn't blink, never faltering under the pressure of trying to lead the underdog Tigers to the win on the road. The performance on the field was enough for head coach Dabo Swinney

Dabo Swinney
Head Coach
View Full Profile to give Watson his opportunity as the starter for next week's game against North Carolina.
"Hats off to number four," Swinney said after the game. "That was an incredible performance and I don't think anyone can say anything different than that. Disappointed for Cole [Stoudt] but that's [taking him out of the game] the decision we had to make based on what I saw at that time. Had Cole played well like he played the first couple of games or Deshaun didn't play well when he went in, we would have continued to evaluate.
"But, Deshaun really separated. He made some big-time plays. A true freshman in that environment, he made some great plays - made some awesome runs, extended some plays. I'm proud of him. He gave us a chance to win the game. As far as where we go from here, we'll continue to evaluate but I think after tonight's performance he's earned the right to have a chance to go be the starter next week."
The plan for Watson was the same as the previous two games – bring him in for the fourth series – but this time Swinney and offensive coordinator Chad Morris

Chad Morris
Offensive Coordinator / QBs
View Full Profile couldn't pull him out of the game.
"He [Watson] played great," Swinney said. "As I've said many times, it's unfortunate for those guys that we have to do it the way we do but you have to go to the games and evaluate performance. That's kind of the next step in evaluation - game performance - when all you have is practice. I really hurt for Cole. I thought he played really, really well the first two games but just missed a couple of opportunities during those first two series.
"We knew we were going to go with Deshaun on the fourth series. We missed a wide-open touchdown pass in the second series. The first series was on the offensive line. They got pressure and we had to get rid of it quick and missed Jordan Leggett

Jordan Leggett
So. Tight End
#16 6-5, 251
Navarre, FL
View Full Profile on a wide open shot. We missed a chip shot kick, too. Deshaun came in on the fourth series and took us down the field and he made a few plays with his feet. We stuck with him and he continued to bring a good spark."
Watson gave the Clemson offense – and bench – the exact lift that they needed.
"Deshaun got in and it seemed like he made some plays and re-energized the feel on the sidelines and him being able to move the football," Morris said.
Watson said that he is happy with the coach's decision and he's ready to prepare like the starting quarterback of the Clemson Tigers.
"You could say that," Watson said. "I don't take the backseat to no one. I just go out there and work every day. If it's my time and that's what they want to do then I'm up for it. I'm getting ready to prepare for next week."
However, Swinney said that Watson will have to continue to play well and that Stoudt will continue to play.
"Cole will still play. We're not writing Cole off," Swinney said. "We've got a long season ahead of us and we've got to give Cole the opportunity to compete, too. Tonight played out the way it did, but who know what next week will bring. That's where we are based on tonight's performance and that's just the nature of the business."