| | |
| --- | --- |
| Watson: "You'll see us in Tampa next year" | |
---
| | |
| --- | --- |
| Tuesday, January 12, 2016 2:03 AM | |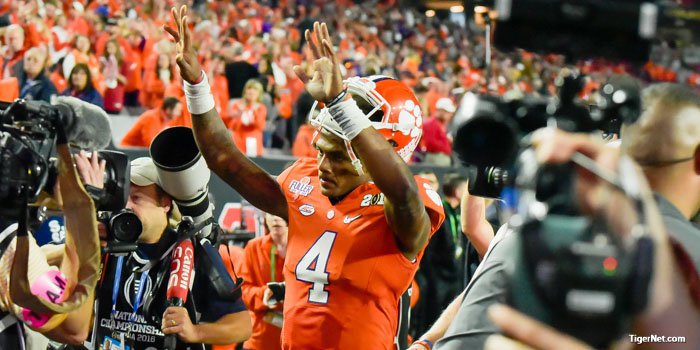 PHOENIX, AZ – The nation's best player wants to go to Tampa.
Clemson quarterback Deshaun Watson put on a show during Monday night's College Football Playoff National Championship Game, cementing his place as not only the best quarterback heading into the 2016 season but maybe the best player regardless of position.
Watson was 30-of-47 for 405 yards and four touchdowns in Clemson's 45-40 loss to Alabama, and in the process became the first player in FBS history to record a season with 4,000 passing yards and 1,000 yards rushing.
The Tigers came up short in their bid for a national title, but Watson said the stats don't mean anything, and he isn't concerned about awards – he's concentrating on getting his team to Tampa, the site of next year's championship game.
"Not at all. At the end of the day, I wanted the W. All the stats don't really matter to me," Watson said. "I just wanted to get the win and do something that we haven't done in 34 years. But at the end of the day, I love my teammates, love my brothers, and you'll see us in Tampa next year."
Watson said his expectation was that Clemson would defeat Alabama.
"I mean, going into this game, I was expecting to win. I thought we should have won," he said. "But like Coach Swinney said, there were a few plays that we didn't really capitalize on, and I missed some throws, we dropped some balls, and just had some missed miscues. Just some little things like that are going to really force yourself in a hole, and it's hard to beat a team like Alabama if you make those mistakes."
Clemson head coach Dabo Swinney said there's no question in his mind that Watson is the best player in the country.
"No question. No doubt about it. That's an easy answer for me. He's special. He really is," Swinney said. "Like I say, we out-gained them. We had 550 yards of offense. Really pleased with how he played. That's one of the things Coach (Nick) Saban was talking to me about after the game. This guy, he's special. Again, he's got great toughness, great heart, a great mind for the game, and just made some huge plays all the way to the end. What a great throw and catch by he and (Jordan) Leggett at the last touchdown there."
Watson said he still has plenty of things to work on.
"Just my whole game. I mean, it will really start when we get back to school, start watching this film, fix some of the mistakes I made, and just getting back rolling," he said. "Putting on some weight, getting in the weight room some more, and taking that next step in my game and level. I talked to Derrick Henry after the game, and we're going to try to link up after the off-season and learn from him and just really build that relationship. He's the Heisman winner, national champion, so I'm trying to do the same thing and just learn from guys that have been there and done it."
Swinney said setting the sights on Tampa is easier when Watson is in the picture.
"I'm glad he's on our team. Glad he'll be back next year," Swinney said. "Where is this thing next year? Is it in Tampa? Is that where it's at? We'll see if we can reload and go do it again."