| | |
| --- | --- |
| Want to know who the starting QB is? You may have to wait a while | |
---
| | |
| --- | --- |
| Wednesday, April 2, 2014 2:27 PM | |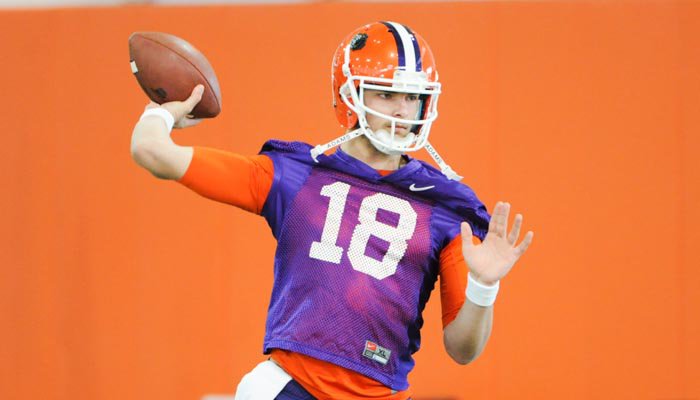 CLEMSON – The question is the same, no matter which way I turn.
Who is going to be the starting quarterback when Clemson plays at Georgia in the season opener?
The questions flow through on social media, in person, via email and even by phone and text message as fans try to get the inside word on who the starter will be once the season starts. The truthful and quick answer: I don't know. I have an idea who it would be if the season started today, but that's all it is, just a hunch.
I am sure the coaches have the same kind of hunch, but there are almost five full months until the season begins and a lot can happen in that timeframe. In the meantime, why tip your hand to your opponent about who is going to start? Why give a player an entire summer to think about reasons to leave?
Chad Kelly
Chad Kelly
RS So. Quarterback
#11 6-2, 210
Buffalo, NY
View Full Profile was all smiles following Monday's scrimmage when he took the early reps with the first team offense, but he smiled even wider when he was asked about the competition and who he thought he had the upper hand.
His answer tells you all need to know.
"It's up to the coaches. They tell y'all how it is, but they tell us something totally different," Kelly said. "They are just giving y'all something to write a story about, I guess. But everybody is doing a great job, like I said. It's a healthy competition."
In other words, the coaches are playing this one – excuse the cliché – as close to the vest as possible. Kelly is perhaps the best runner of the three right now, Cole Stoudt

Cole Stoudt
Sr. Quarterback
#18 6-4, 205
Dublin, OH
View Full Profile is an accurate pocket passer with experience who can run when he has to, and freshman Deshaun Watson

Deshaun Watson
Fr. Quarterback
#4 6-3, 190
Gainesville, GA
View Full Profile is a combination of both. Watson is finally beginning to feel comfortable, and his talents are beginning to shine through.
Stoudt also smiled when he was asked who had the upper hand.
"That may have to be a question for Coach Swinney," the rising senior said with a grin.
I asked him if he felt like the job was his to lose, and he said that his experience sets him apart before adding that all three are on the same page as the coaches.
"I've had a few more plays and a few more games," Stoudt said. "We are in competition mode, and we are all going out there helping each other and focusing on what we have to do to make us all better. Whoever the guy is, we all have to be on the same page and getting that guy better. We all have to be on the same page so the team can be better. I motivated Tajh – we battled it out my freshman year and then after that I motivated him."
He then said that he is preparing as if he would be the starter, and added that even the quarterbacks would love to know who the starter will be before giving a nod to the fact that that isn't likely to happen.
"I am going out there preparing to be the guy," he said. "We would all like it to be resolved at the end of the spring, so that's one thing less (to worry about). But you never know how it's going to go, and in college football you compete constantly. Even if you're the guy, you have to be competing. The coaches are always trying to bring in the next best guy out of high school, so you're always competing. I have an idea in my head (about whether he would start), but you have to keep working every day."
He then smiled the same kind of smile as Kelly, and said, "Maybe Coach Swinney and Coach Morris can elaborate more on it."
Despite the thirst for information in this internet, Twitter, Facebook, Instagram and tell-me-now age we live in, this battle will last into the summer. Like I said before, if you're the coaching staff, why would you name a starter and perhaps challenge the psyche of one of the younger reserves? Why would you tip your hand to your opponent? Yes, everybody wants to know the answer, even the players, but one isn't likely to be forthcoming before August, and maybe not even then as preparations ramp up for Georgia.
And that's ok. I am ok with the coaches handling it this way. It's kind of like the CIA and all of the other spy agencies who handle files on a "need to know" basis. Right now, we want to know. But we don't need to know. We'll know soon enough, and in the meantime the competition will make them all better players.