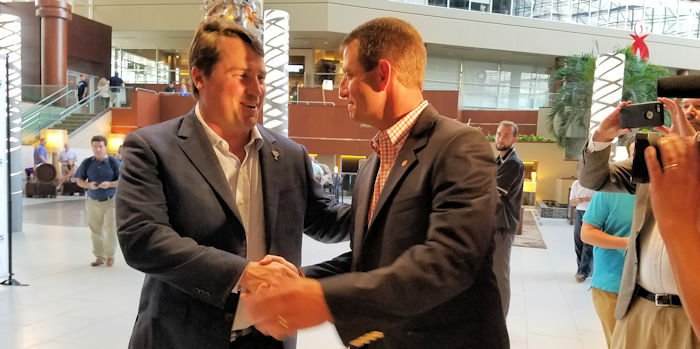 | | |
| --- | --- |
| Verbal war? Swinney and Muschamp say no to jabs | |
---
| | | |
| --- | --- | --- |
| Tuesday, July 26, 2016, 7:52 PM | | |
GREENVILLE - Don't expect Dabo Swinney and Will Muschamp to provide the kind of verbal fireworks seen between Swinney and former South Carolina head coach Steve Spurrier.
Muschamp, hired last December to replace Spurrier, and Swinney were each in Greenville Tuesday afternoon for the Coaches for Charity fundraiser, and Swinney said it's one of the few times he's seen Muschamp in the last year.
"I was telling someone earlier it is kind of crazy to be honest with you because I would see Coach Spurrier a lot," Swinney said. "I saw him a lot of times. But we both have been incredibly busy this spring. I did have the opportunity to have dinner with him one night at a different event. He's hitting the ground running, trying to get the foundation in place like he wants at South Carolina and, of course, we have been incredibly busy as well. But I have known Will a long time. We go way back. I have always had great respect for him and the job he has always done."
Muschamp was asked if he was concerned about Clemson - especially in recruiting - and he tersely replied he was only worried about the Gamecocks.
"I'm worried about South Carolina. I don't worry about anybody else," Muschamp said. "(I worry about) What we need to do to be successful. It's very important to recruit our state and identify the guys that we feel like fit in our program."
Swinney laughed when he was reminded about the verbal jabs and barbs he traded with Spurrier, but he admitted he didn't enjoy it and will be glad to concentrate solely on playing the game.
"Will and I are a little different. We come from a different background," Swinney said. "I never really enjoyed all that, but that is just kind of Coach Spurrier. It was never personal. You can go back 25 years ago with Coach Spurrier. That's just the way he kind of had fun I guess. No, I think my focus is Clemson and trying to make us the best program, and I know Will's focus is trying to do everything he can to make South Carolina a great program. I think both of us have a good healthy respect for one another. I don't see that ever changing."