| | |
| --- | --- |
| Venables says there were too many negatives for him to be happy with scrimmage | |
---
| | |
| --- | --- |
| Thursday, April 2, 2015 7:01 AM | |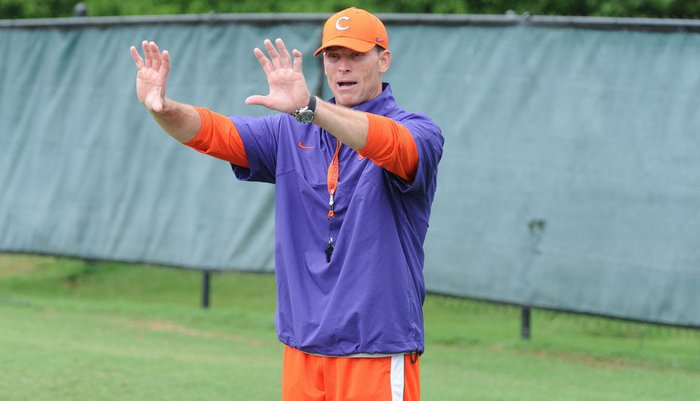 CLEMSON – Every spring practice brings out the good and the bad in a football team, and that's exactly what happened with Brent Venables

Brent Venables
Def. Coordinator / Linebackers
View Full Profile ' defense during Wednesday's stadium scrimmage.
Clemson held its second full scrimmage of the spring inside Death Valley Wednesday afternoon, and while head coach Dabo Swinney

Dabo Swinney
Head Coach
View Full Profile and offensive coordinator Tony Elliott

Tony Elliott
Co-OC / Running Backs
View Full Profile were very complimentary of the defense, Venables was quick to point out the negatives.
Venables – Clemson's fourth year defensive coordinator – said that he liked the competitiveness that he saw out of his group, but didn't like fundamentals at times during Wednesday's scrimmage.
"I thought we were good in parts. We were also sloppy - sloppy tackling, gave up some big plays in some critical situations," Venables told the media following the scrimmage. "In the two-minute drill we gave up a touchdown off of a missed tackle and let them out on the one yard line on a missed tackle in the hole. Those are things that you can't do. We have to execute the fundamentals. I thought there were some good plays. We weren't quite as sharp. I did think we were very competitive. When we were a little bit sloppy, we came back and responded. We've got next week to correct some mistakes and get better with our fundamentals."
One positive to come out of the spring has been the play of the defensive ends.
"Shaq [Lawson] has been real strong. He's had a strong spring," Venables said. "I've seen him get better. Kevin Dodd

Kevin Dodd
RS Jr. Defensive End
#98 6-5, 275
Taylors, SC
View Full Profile has come to work every day. I haven't seen him really have a bad day from an effort and work ethic standpoint. I've seen Ebo ( Ebenezer Ogundeko

Ebenezer Ogundeko
RS So. Defensive End
#1 6-3, 250
Brooklyn, NY
View Full Profile ) grow and improve. He's gotten better. Albert Huggins

Albert Huggins
Fr. Defensive Line
#67 6-3, 280
Orangeburg, SC
View Full Profile has gotten out there and done a few good things for a young guy - learning the speed of the game and learning his responsibilities and technique. Richard Yeargin

Richard Yeargin
RS Fr. Defensive End
#49 6-4, 225
Lauderdale Lakes, FL
View Full Profile is starting to play faster and stronger. He's playing more sure of himself and getting more comfortable. He still has to take another step, but I've been pleased with some things with him as well."
Chris Register

Chris Register
RS Fr. Outside Linebacker
#45 6-2, 245
Browns Summit, NC
View Full Profile has only been at defensive end for about week after deciding to switch from linebacker and Venables said that the redshirt freshman has all the tools and potential to be an impact player at that position.
"I think today is only the third practice," he said. "I think that's a position that's going to suit his skills well and when he learns the little things - where to put his eyes, how to get into a stance. He's a worker. He cares. He wants to play. He can tackle and he can run. He's intelligent. He'll come along. He'll make a big jump over the course of the summer and fall camp."
Venables also likes what he sees out of a couple of players in the back end of the defense specifically Jayron Kearse

Jayron Kearse
Jr. Safety
#20 6-4, 210
Fort Myers, FL
View Full Profile .
"Who said he was a standout? He had a great play in cover two," he said. "The quarterback threw it right to him, so he made a play he was supposed to make. He dropped one, so he's 50 percent. That will get you beat. He's had a good spring. He's improved in some areas and he's still got some things he's got to get better at. He's got some flexibility in things that he can help us and create some depth. He's competitive. He's uniquely long. He's tough and he's physical. He's got good cover skills. He plays multiple positions for us and does them all pretty strong. I've been pleased with the spring he's had."
Venables also pointed out the potential of true freshman defensive back Van Smith

Van Smith
Fr. Defensive Back
#23 6-2, 170
Cornelius, NC
View Full Profile .
"He's done some good things. You can see that he understands the game," Venables said. "He's not overwhelmed schematically or physically. He's not playing with his ears pinned back every snap either, but he's got a pretty good understanding of where he's supposed to be, his responsibilities, positioning. I think we've got him in a good spot. He'll tackle. He can cover. He's got good instincts."
However, Venables isn't quite ready to make any assumptions about the interior of Clemson's defensive line, saying that he is taking a wait-and-see approach about whether this year's group can bring the edge, focus and aggressiveness that the 2014 unit had.
"We've got a few months before I really have to say. I don't want to really judge that right now, because they did it every day," he said. "I can't say every day yet because we haven't gotten to every day yet. We haven't made it to the first game without those guys yet. I think they're capable of it. Hopefully they will. If they will we'll be just fine. If they decide not to - that's the beauty of it, it's a choice - then we'll have a substantial drop off."