| | |
| --- | --- |
| Venables on recruiting: "Everybody knows the paw" | |
---
| | |
| --- | --- |
| Tuesday, December 9, 2014 7:01 AM | |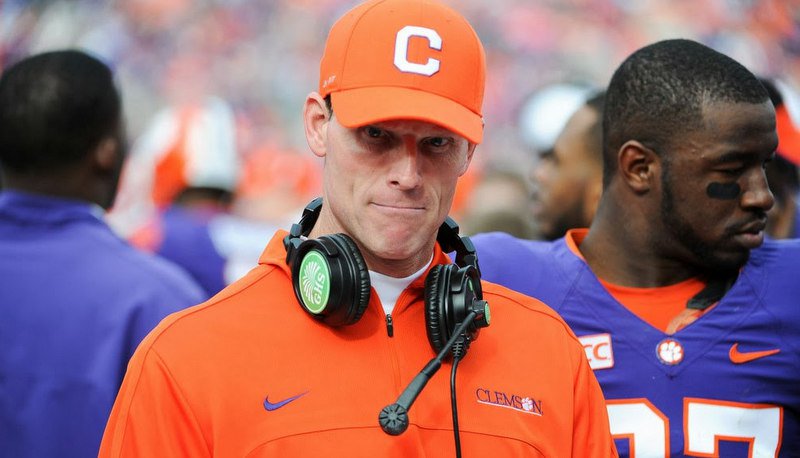 CLEMSON – The view that defensive coordinator Brent Venables

Brent Venables
Def. Coordinator / Linebackers
View Full Profile had of Clemson while he was at Oklahoma wasn't much different than your average college football fan, who thinks of Clemson's iconic paw and players running down the hill before every home football game.
Since he's been at Clemson, however, those perceptions have changed and he takes those perceptions with him when he goes on the road recruiting.
Venables has been recruiting up and down the East Coast this week, hitting spots from Florida to Connecticut and points in between. He has checked in on prospects and commits alike, and he told TigerNet recently that during the season he has to spend a part of each day recruiting.
"You feel like you are doing something every day, and you have to do something every day. We have got a fabulous staff - not just our full-time staff but our recruiting staff that helps do everything they can to make that part easy," Venables said. "It's endless, the things that they are constantly doing to keep Clemson in sight and on the radar of guys we are targeting. Whether it is messaging guys at six a.m. on the treadmill or calling them on the way home at 10 o'clock at night or you're writing letters in the morning or still trying to look for another defensive lineman in the 2015 class you're always doing something. You are trying to do what you can do and get kids on campus. It's no different than it was ten years ago but it's different than 15 and 20 years ago. There is a real urgency in regards to the whole recruiting process and the timeline and the fight to get kids on campus and get them to respond to you whether it's on social media or calling you."
Venables was at Oklahoma from 1999-2011, and he said that while he was with the Sooners he thought of Clemson as the school that always beat Florida St.
"They always had athletes, and there was never a loss for players," he said. "You always think about the paw and seeing guys rub the rock and run down the hill and that intimidating home venue. I always saw them beating Florida St."
That perception changed once he accepted the job as the Tigers' defensive coordinator, and it was then he realized how a small place like Clemson could recruit big-time athletes.
"Then once you're here you see the beauty of the place and the purity of the campus and the community. There is simplicity and there is pride in the rich tradition from what's happened on the field to the coaches and players alike," he said. "There is a long, long history of Pro Football Hall of Fame and College Football Hall of Fame kind of players. And here, there is access to so many players throughout the southeast - there are so many big, long guys in this part of the country. Skill guys, you can find skill guys anywhere but these big, long and athletic guys that can run and move are hard to find. In this area there is an abundance of them, up and down the East Coast and they are within arm's reach here. Those are all things that since I've been here I have been able to find out so to speak."
I asked Venables if it's easier to recruit at a place like Oklahoma, and he said that wasn't necessarily the case.
"Every place has its own challenges. People believe that, but Oklahoma was recruiting against Texas and Southern Cal and Florida St. and Ohio St. At Oklahoma, you're not recruiting against Iowa St. and that's just how it is. It doesn't mean it is better. But it's the product you have to sell and it's the people. If you've been somewhere that's never won, you aren't going to be Johnny Supercoach all of a sudden. If a place is a dump, kids are smart and there are too many places that have really nice facilities so you wouldn't have a chance if you were recruiting to a dump. This place is as special as any place there is in the country - the game day atmosphere and pageantry is as good as there is anywhere. We don't take a backseat to anybody that way."
Venables finished by saying that Clemson's recent success has made recruiting a little bit easier, and that there is even more recognition with the signature tiger paw.
"I think we have a very strong reputation but it still takes work. Again, the guys we are going against all have great products, too," Venables said. "We are recruiting against Georgia and Florida St. and you can go down the list. They all have tradition and good coaches and facilities, so what sets you apart? What is it that can make you unique? But do we have that name recognition and credibility that can get you in the door? Absolutely. Everybody knows the paw, and when we have played on the big stage we haven't been perfect but we've held our own and when you look at it from a comparative standpoint we are in the upper echelon both on the field and in the classroom. From a totality standpoint we have a lot to offer, and it's among the elite in college football."