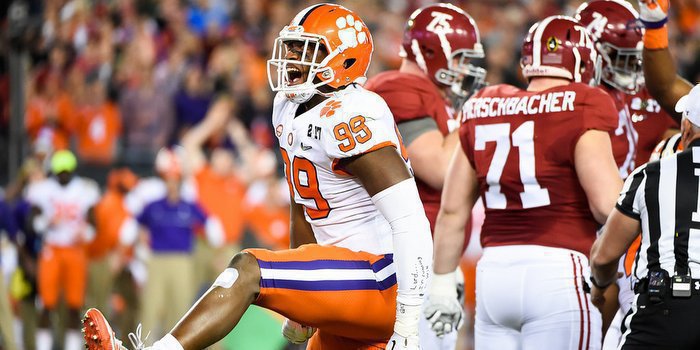 | | |
| --- | --- |
| Venables on playing Alabama: "You're not gonna out-trick these guys" | |
---
| | | |
| --- | --- | --- |
| Sunday, December 17, 2017, 8:01 AM | | |
CLEMSON – Brent Venables has never backed down from a challenge, and he isn't about to start now, not with Alabama on deck.
Top-ranked Clemson takes on No. 4 Alabama in the Allstate Sugar Bowl on New Year's Day with a trip to the National Championship in Atlanta on the line, the third consecutive year the teams have met in the playoffs.
Alabama has totaled 32 first downs (16 in each game) and 849 yards in the two games against Clemson but is just 11-for-33 on third down. Venables knows Alabama will be a challenge this time around – Alabama ranks 20th nationally in total offense.
"I'm not gonna tell you what I really thought (on seeing Alabama's name appear at four) but it was like hey man, if you wanna be the best then you've gotta beat the best and I think for most of the year they're at number one," Venables said this week. "They've recruited better than anybody. It's easy to get our guys up for them because our guys have more respect for Alabama than anybody. You're not gonna out-trick these guys. The mental toughness that they make you play with at all three phases is where you go against the best. Our guys are excited."
Alabama has quarterback Jalen Hurts back, but the offense is a little different this time around.
"Another year of maturity. They've got more receivers in their arsenal," Venables said. "Calvin) Ridley is just another year older and really good. Their quarterback is playing really well. Everyone has their own flavor. Players are all very talented with good schemes that put them in advantageous positions. They can take shots with their receivers and their o-line knows how to protect. Their quarterback has another year of maturity under his belt.
"They've got a bunch of great players starting with their running backs, they're a nightmare. 34, 9, and 8 and then quarterback as a runner too. They're getting the ball to the backs in both the run game and passing game and do a good job with that. Some great young receivers that are fast and athletic."
The Tide offense struggled in the second half of last year's 35-31 Clemson win, but Venables wishes he had a week to prepare (like last season) instead of almost a month.
"We didn't reinvent the wheel when we played them last year. You have to execute and play well in critical situations," he said. "You have to think about playing them a little longer instead of playing them a week later. I'd rather have two days and not have to think about it as much. It's exciting and I know they're looking forward to the opportunity.
"Not bad for us being a rebuilding year finding a way to get back to this point. Hopefully, we represent our team the right way