| | |
| --- | --- |
| Venables focusing on Clemson, not Oklahoma, as bowl game nears | |
---
| | |
| --- | --- |
| Saturday, December 20, 2014 7:01 AM | |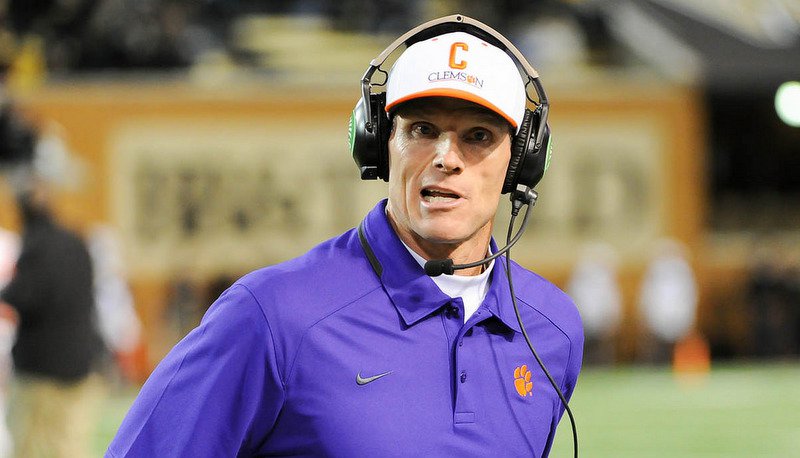 CLEMSON – Brent Venables

Brent Venables
Def. Coordinator / Linebackers
View Full Profile walked into the meeting room in the WestZone this past week and made his point fairly quickly.
Clemson's defensive coordinator faced the media and was prepared to talk about facing Oklahoma – his former team – in the Russell Athletic Bowl in Orlando at the end of the month. Venables walked to the podium, smiled for the cameras and gave what he hoped would be a short press conference.
"How is everybody doing? That all you got? Ok, see ya later," Venables said as he turned to leave the room Still smiling, he went back to the podium and talked about facing the Oklahoma, where he coached from 1999-2011.
He admitted that he is running the gamut of emotions as the Tigers prepare for the Sooners.
"You're facing people that you care deeply for," Venables said. "At the end of the day you sit in your meeting room and your whole goal is to beat somebody's brains in. From an alpha male football coach standpoint, that's what you want to have happen at the end of the day. You really want to dislike your opponent. It's hard to dislike them."
He then smiled again and said, "For a few hours, trust me, I'll find a way."
Clemson's defense is ranked first nationally this season, a senior-laded group led by All-American Vic Beasley

Vic Beasley
RS Sr. Defensive End
#3 6-2, 236
Adairsville, GA
View Full Profile and all-conference performers in Grady Jarrett

Grady Jarrett
Sr. Defensive Tackle
#50 6-1, 290
Conyers, GA
View Full Profile , Robert Smith

Robert Smith
Sr. Safety
#27 5-11, 211
St. George, SC
View Full Profile and Stephone Anthony

Stephone Anthony
Sr. Linebacker
#42 6-2, 244
Polkton, NC
View Full Profile . That wasn't always the case – Venables was hired not long after the Tigers gave up 70 points to West Virginia in the Orange Bowl.
He arrived on Clemson's campus to find a bevy of playmakers on the offensive side of the ball, and a bunch of young defenders still trying to make their way.
"In the spring, I got baptized with Nuk Hopkins, Sammy Watkins

Sammy Watkins
Wide Receiver (2011 - 2013)
#2 6-1, 205
Fort Myers, FL
View Full Profile and Martavis Bryant

Martavis Bryant
Wide Receiver (2011 - 2013)
#1 6-5, 200
Calhoun Falls, SC
View Full Profile and Jaron Brown

Jaron Brown
Wide Receiver (2008 - 2012)
#18 6-2, 205
Cheraw, SC
View Full Profile and (Andre) Ellington," he said. "I'm just miserable in my own skin. Just pure torture every day. Then we start fall camp and Garry Peters

Garry Peters
RS Sr. Cornerback
#26 6-0, 194
Conyers, GA
View Full Profile is sitting there in the front like a little puppy dog and he looks and says, 'Coach, you think we can be an elite defense?' I'm going through the expectations, here's the goals, and here's what we have to do and he goes, 'Can we be an elite defense?' And I'm thinking, 'No, we can't be, and especially you.'"
Peters, like the rest of the defense, had a breakout season in 2014.
"I think Garry's improvement has been incremental for him and kind of reflective of what we've done as a defense," Venables said. "He's been so much more consistent and improved in so many ways, fundamental, technique, confidence, strength, size, speed, all of that and grown up in the system and become a really good player."
Clemson's numbers nationally bear repeating – the Tigers lead the nation in total defense (259.6 yards per game) with the school's best marks in 20-plus years in yards allowed (1990, 219.2), passing yards allowed (161.9; 161.3 in 1988) and yards per play (4; 3.5 in 1990).
"Sometimes statistics can be misleading," Venables said. "But our guys have really earned being an elite group and it's not just doing one thing well. We've defended the pass well and defended the run well."
Venables then said that while he cares more for performance rather than just the basic numbers, he has had fun with this season's group.
"You never beat your chest but you recognize performance," he said. "We're in a performance-based profession and our guys have worked hard and been really consistent. It's been a process to get here and pride is in watching how our guys play with toughness and relentless effort, discipline and I know that the pride that the Clemson football family and constituency has for watching these guys play. Not for what the stats might say – and I'm sure there are people proud for that – I am and so do those that love Clemson football for how they play this game with respect, discipline and toughness and relentless effort."