---
| | |
| --- | --- |
| Wednesday, November 12, 2014 7:01 AM | |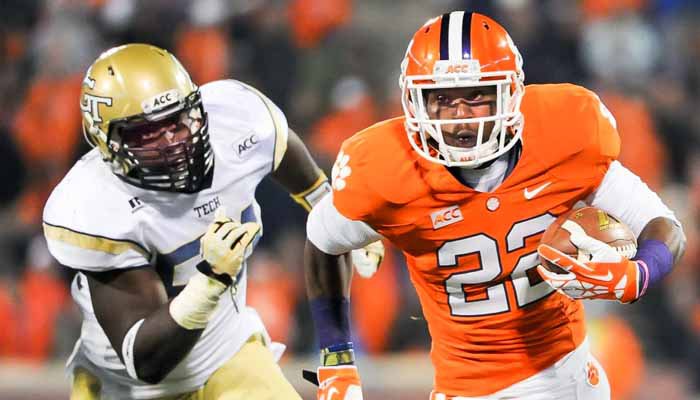 Saturday's noon kickoff at Georgia Tech is about more than just another win, it's about a prime bowl slot and it's about winning in a place that has seen its share of Clemson heartbreak. But it's also about validation.
I wrote before the season that while this would be a rebuilding year in many ways – new quarterback, replacing Sammy Watkins

Sammy Watkins
Wide Receiver (2011 - 2013)
#2 6-1, 205
Fort Myers, FL
View Full Profile , new kicker, new starters on the offensive line – the mindset of the players and the coaches was that this was a team that could contend for an ACC title and perhaps make some kind of a run at the four team playoff.
For that to happen, however, the Tigers needed to reverse a disturbing trend – losing to two out of the three best teams they played. The Tigers beat both Florida St. and Virginia Tech in 2011, but lost to South Carolina and then West Virginia at the end of the season.
In 2012 and 2013, Clemson managed to lose to both Florida St. and South Carolina and while bowl wins over LSU and Ohio St. lessened the sting of those losses, the stigma is still out there that Clemson needs to rise up and finally knock off Florida St. or South Carolina.
That took us to 2014, and the three toughest games – at least at the beginning of the season – appeared to be Georgia, Florida St. and South Carolina. The Tigers lost to both the Bulldogs and Seminoles – the latter in heartbreaking fashion – but still have the chance to win over South Carolina. However satisfying a win over the Gamecocks would be to Clemson fans, that isn't enough to say that Clemson didn't take a step back this season. A win over Georgia Tech AND South Carolina in two of the season's last three weeks would say that.
Georgia Tech is Clemson's last shot at a ranked team until a bowl game – the Jackets are ranked 22nd in the College Football Playoff rankings, 23rd in the Coaches Poll and 24th in the Associated Press Poll. It's a tombstone game, it's in a stadium in which Clemson hasn't won since 2003 and it's against a team that has seen its share of success against the Tigers.
Who can forget Kerry Watkins' grab in the back of the end zone in 2000? The game in 2004 where the Tigers blew a 21-point lead and a bad snap on a punt attempt helped the Jackets win? The two holding calls in back-to-back seasons on Thomas Austin

Thomas Austin
Sr. Offensive Guard
# 6-4, 310
Camden, SC
View Full Profile

Thomas Austin
Offensive Line
# 6-4, 310
Camden, SC
View Full Profile

Thomas Austin
Offensive Line
# 6-4, 285
Camden, SC
View Full Profile that each nullified Jacoby Ford

Jacoby Ford
Wide Receiver (2006 - 2009)
#6 5-9, 175
Royal Palm Beach, FL
View Full Profile catches? The flag on Austin in 2008 was his only holding call that season, and the one in 2009 was his first since, yep, the one in 2008. And who can forget the ACC Championship Game in 2009?
Yes, it's about hate with the Bees. But more importantly, it's a Tombstone game against a ranked team with a shot at a trip to the Orange Bowl on the line. Win out, and as long as Florida St. takes care of business the Tigers will spend New Year's Eve in Miami. Lose Saturday and the bowl destination is anybody's guess.
If you throw the human rankings out the window and take a look at the RPI, Florida St. is ranked first, Georgia is 17th, Georgia Tech is 23rd, South Carolina is 63rd. Other than those first three teams, the highest-rated RPI team is Louisville at No. 30. If you look at Strength of Schedule, Georgia Tech is once again Clemson's first (since FSU) and last gasp against a good team – Georgia is 10th. Florida St. is 14th, Clemson is 23rd and Georgia Tech is 35th.
A loss to Georgia Tech and win over South Carolina in a down year won't cut it – if this team wants to make the Orange Bowl and continue to gain national prestige it all starts Saturday in Atlanta. If you listened to last Thursday's ESPN broadcast of Clemson at Wake Forest, you realize that the Tigers are beginning to gain ground in some places and shed the "Clemsoning" image. Twenty-five consecutive wins over unranked teams will help boost that image, but the Tigers need to add some marquee wins in the regular season. South Carolina won't be that marquee win – even though it is an SEC team it's still in the SEC East – and while Georgia Tech isn't the kind of national power that consistently ranks in the Top 25, they're next on the schedule. Wins over Boston College and Syracuse and Wake Forest are nice, but they don't impress anybody.
Impress me Tigers. Beat Paul Johnson and Tech and bring that tombstone home. Then finish out the season by beating a South Carolina team – unranked – that you should beat. Win those two and you'll show that what head coach Dabo Swinney

Dabo Swinney
Head Coach
View Full Profile said prior to the season is true- this team will be better at the end of the season than they were at the beginning. It all starts Saturday in the aluminum jungle that is Bobby Dodd. Despite the fact that this is the first game between ranked teams for the Jackets since 2011, their fans have not sold out the stadium and ticket prices are dropping faster than the temps in the region. They don't care. We do.
Bring that tombstone home and earn a small measure of validation.