| | |
| --- | --- |
| Tuesday Senior Bowl practice nuggets | |
---
| | |
| --- | --- |
| Wednesday, January 21, 2015 12:23 PM | |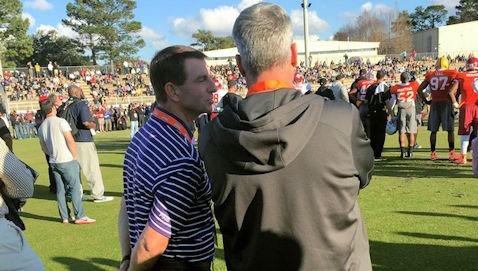 Grady Jarrett

Grady Jarrett
Sr. Defensive Tackle
#50 6-1, 290
Conyers, GA
View Full Profile and Stephone Anthony

Stephone Anthony
Sr. Linebacker
#42 6-2, 244
Polkton, NC
View Full Profile have spent the last four years anchoring a Clemson defense that underwent an incredible resurgence throughout their careers. Their first year on campus ended with West Virginia hanging 70 points on the Tigers in the 2012 Orange Bowl.
Their final year on campus the Clemson defense finished first in the nation in total defense, third­ down defense, and tackles for loss. Jarrett and Anthony comprised the core of what was arguably the most talented front seven in all of college football. Leading by example, overcoming adversity, playing every snap with relentless motor, and being men of high­character are just a few of the qualities which garnered these two so much adulation among the Clemson fan base and coaching staff.
This week, at the Reese's Senior Bowl, Stephone Anthony and Grady Jarrett will have the opportunity to display those aforementioned characteristics to prospective NFL employers and rise up NFL draft boards.
This week also offers potential NFL draft picks a unique opportunity unlike any other during the pre­draft process. Jarrett and Anthony will have a chance to compete against some of the best players available in this year's draft class, in front of representatives from all 32 NFL clubs. As part of the South roster in this year's game Clemson's tandem will be coached by the staff of the Jacksonville Jaguars who are led by a defensive minded head coach, Gus Bradley.


GRADY JARRETT

Scouting Source	Position Rank 

Drafttek	14

Walter Football	16

SB Nation	7

ESPN		8

NFL.com		5.7/10

STEPHONE ANTHONY

Scouting Source	Position Rank 

Drafttek	8	

Walter Football	11

SB Nation	6

ESPN		5

NFL.com		5.3/10 
National Football Scouting Weigh-­Ins Result
Grady Jarrett 6'0 7/8" 288 lbs
Stephone Anthony 6'2 245 lbs
*Note: Many scouts and media members I spoke with prior to the start of the event were very interested in the results of Jarrett's measurements. The biggest knock on Grady among NFL draft analysts are the concerns about his size. I had also heard a lot of speculation that he would measure out closer to 5'11. Coming in at just a hair under 6'1 was certainly good news for his draft stock.
Practice Evaluation
*Two prospects who have been generating quite a bit of buzz in Mobile are Dillion Day (C /Mississippi State) and Ty Sambrailo (OT / Colorado State). During 1­on­1 position drills Jarrett's explosion and ability to utilize leverage were too much for Day to handle the two times I saw the matched up against one another. Grady also got the better of Sambrailo in the 1st team offense vs 1st team defense segment of practice. Sambrailo allowed Jarrett to get his hand inside his pads, gain control, and eventually drive him to the ground freeing up a linebacker to make a play in the offense's backfield.
*The one prospect I saw that was able to consistently get the better of Jarrett during 1­on­1 drills was La'el Collins (OT / LSU). Collins is one of the highest rated prospects attending the Senior Bowl and will in all likelihood end up being selected in the first 15 picks of round one. It is believed the competition for who will be the first offensive lineman selected in this draft is between Collins and T.J Cummings (OT / Pitt) another Senior Bowl attendee who has been dominant during the North team's positional drills.
*I was unable to evaluate Stephone Anthony during position specific drills because the LBs and the DLs were on opposite ends of the field. I did observe Stephone taking part in special teams drills, specifically punt return and punt coverage. Having not seen very much time on special teams for Clemson the last few years it was beneficial for Anthony to have this "refresher course". The majority of rookies in the NFL will be called upon to be a factor on special teams before earning significant playing time on either offense or defense. The major question among evaluators of Stephone Anthony seem to be his ability to help out in coverage on the NFL level and scouts would reportedly to see how fluid of an athlete he can be in space. During special teams drills he seemed to be every bit athletic enough to handle the coverage responsibilities bestowed on ILBs in today's NFL.
*Being on the same roster, on the same side of the ball no less, is definitely an advantage that Jarrett and Anthony have seemed to realize and be taking advantage of their familiarity with one another
Other Clemson news from Tuesday
*Clemson head coach coach Swinney and defensive coordinator Venables were in Mobile to take in the opening day of practice. Swinney and new Buffalo Bills head coach Rex Ryan chatted during the majority of the South team's practice.
*Former Clemson defensive end Corey Crawford was invited to participate and accepted the invitation, but was a no-show for the event. Defensive end Vic Beasley was also invited, but withdrew so he can concentrate on the NFL Combine.
Story by Nick Trist. Follow him on Twitter at @NickTristSGD.