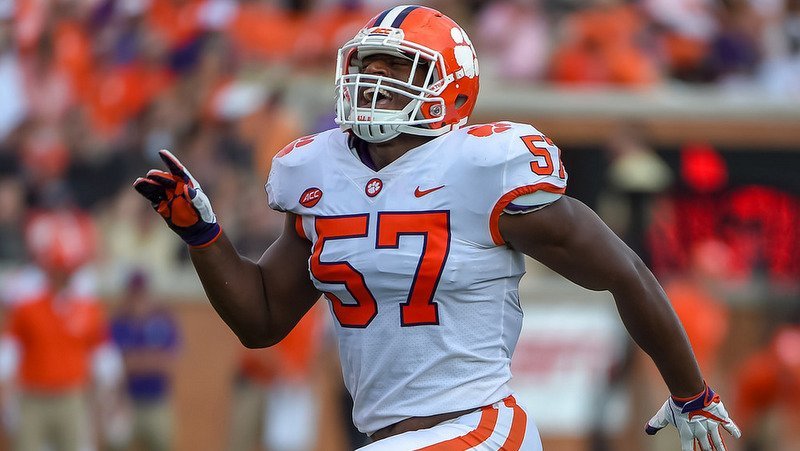 | | |
| --- | --- |
| Tre Lamar: Defense on 'upward trend' heading into second half of the season | |
---
| | | |
| --- | --- | --- |
| Sunday, October 14, 2018, 7:01 AM | | |
CLEMSON – Clemson is coming off a huge 63-3 win over Wake Forest last weekend. The Tigers dominated both sides of the ball and showed the nation what they can do when everything is clicking.
"It was a lot of fun for everyone involved," Lamar said. "We practiced really hard for this game and I feel like we really went out there and played free."
The Clemson defense is known for the star power on the defensive line, and rightfully so. But most of the nation has questioned if the rest of the Clemson defense can step up to help the monsters up front.
The Texas A&M game was eye-opening for most as the Aggies passed for over 400 yards. But linebacker Tre Lamar believes that the Tigers' defense is only getting better as the season goes on.
"I feel good about our performance so far," Lamar said. "I feel like overall our defense is just getting better and we are on an upward trend."
Clemson goes into their bye week with a win, which is always satisfying. But what is most important is that everyone gets healthy, so the Tigers can make their final push to the Playoff.
"For one, just to get everyone back healthy this next week. (We need) to work on our intensity throughout the game and make sure we finish out all four quarters," Lamar said.
It has been a rough couple week for this Clemson team with the departure of Kelly Bryant and the unexpected passing of former running back CJ Fuller. This week gives the team a chance to decompress.
"With this week, we can kind of decompress and get ready for the rest of the season," Lamar said. "We are a solid group and we can keep moving forward."
After facing three option style teams and two fast-paced offenses, Clemson will now get to see a more "conventional" offense in NC State. The difference in offense does not change the approach for the defense.
"Playing all the option offenses was difficult in its own right," Lamar said. "NC State has a lot of great players and a great quarterback, so you have to approach the game with the same type of focus."
The homecoming game is a crucial one for both teams involved, as an ACC division crown is on the line. The Tigers will need to bring their A-game to take down the Wolfpack and it is great to know that the defense is finally starting to click on all cylinders.