| | |
| --- | --- |
| Travelin' Man: Tavien Feaster on a quest to be the best | |
---
| | |
| --- | --- |
| Monday, July 6, 2015 7:47 PM | |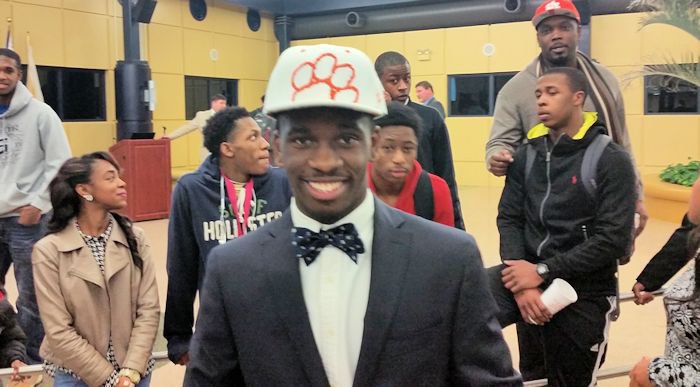 Tavien Feaster

Tavien Feaster
Running Back
6-0, 190
Spartanburg, SC
ESPN:


View Full Profile is traveling the country in an effort to prove he is the best, a quest that will take him to Beaverton, Oregon this week for Nike's The Opening.
The 2016 Spartanburg (SC) standout running back and Clemson commit has seemingly been all over the country in the last month, traveling to Columbus, Ohio to participate in one of Nike's Opening events in an effort to earn the Oregon invite and traveling to New York for track's Adidas Grand Prix. At the Grand Prix, Feaster finished in second place in the Dream 100M race at Icahn Stadium on Randall's Island in New York with a time of 10.45 seconds.
Feaster was busy on the track scene in the spring, capturing two individual state titles at the Class AAAA state meet. Feaster won the 100-meter dash with a time of 10.42 seconds, which ranked as the nation's No. 10 performance among prep competitors in 2015 at the time of his selection, and finished the 200 in a state-record 21.11. He also won the 100 and 200 at the state meet for a second straight year.
Now his attention turns to football, a transition that he admits takes its toll.
"It's very difficult. I am just trying to catch up on sleep most of the time," Feaster told TigerNet. "It's fun when you get there and you're doing all of the different things and stuff. But then when it's over with and you're tired and wore out you realize it's time to get back to weightlifting and school football."
Feaster will leave out Tuesday morning for Oregon, where he hopes to prove that he is the nation's best running back.
"It's just proving I am the best. Honestly, I have been waiting on this opportunity," he said. "I've been keeping quiet and I've been focused and been training hard just so I can go out there and do what I need to do. I know some of the other guys that are out there will be trying to prove they are the best and do the same thing, but I believe if I come out and just do what I do I will prove I am the best. I am going to go out there and put up numbers. I feel good. I go out there and I've been training and I feel fast. It's just playing football and then do what you do."
What is he looking to improve at Nike?
"I want my Sparq rating to go up," he said. "I think I would have had the best Sparq rating in the country if my power ball was right. It was my first time doing the power ball and it just wasn't right."
He will be traveling to Oregon without the in-person support of his family, and he says that while he knows they will be cheering while watching on television he isn't scared of making the trip alone.
"The first time I went by myself I was like whoa," he said. "But now I am used to going by myself and going to places and I've very disciplined. I know you have to mind your p's and q's at all times or something could happen."
Feaster said he also knows he has the support of Clemson offensive coordinator and running backs coach Tony Elliott

Tony Elliott
Co-OC / Running Backs
View Full Profile .
"I talk to Coach Elliott a lot. We just catch up on life," he said. "He gives me some advice but he doesn't try to bombard me with too much football stuff. He just tries to help keep me focused on everything."
As a junior on the gridiron, Feaster had 133 carries for 1153 yards and fifteen touchdowns and 45 receptions for 1016 yds and eleven touchdowns despite having an injured shoulder for most of the year. In the 2014 state title game, he rushed for 130 yards and two touchdowns on 26 carries. He also had five receptions for 132 yards and a touchdown and a 44 yard interception return. As a sophomore, he had 171 carries for 1429 yards and 15 touchdowns on the ground and 44 receptions for 723 yards and 12 touchdowns.