| | |
| --- | --- |
| Tony Elliott knows much more than rivalry bragging rights on the line | |
---
| | |
| --- | --- |
| Saturday, November 28, 2015 12:15 AM | |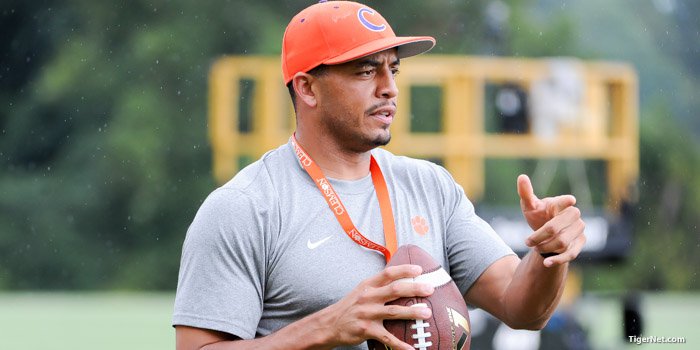 CLEMSON -- Tony Elliott knows the Clemson program as well as anyone. He was a wide receiver from 2000 to 2003, even playing under Dabo Swinney during his senior year, and has progressed in his career to be the team's co-offensive coordinator.
The rivalry game against South Carolina was always a big deal as a player, but Elliott didn't truly realize the game's intensity until he had graduated. These experiences have primed him to prepare his players for the Tigers' next game.
"As a player you don't realize that people plan their weddings, family reunions, the entire budget for their household around football season. And for them, they love every game, but they really, really mark this one on the calendar because it is an opportunity for bragging rights.
"After you're done playing you realize the significance because of the impact it has on the economy and state, the relationships people have, the bragging rights. As a player you knew you wanted to win this one because it was a rivalry game, but it wasn't necessarily a dislike because you had in-state friends that played on the other team."
Prior to the final regular season game of the year, Elliott plans to stay consistent with the plan that's been so successful for Clemson all season – treat every game like the biggest game on the schedule. However, he knows that players, especially those in-state players, realize the urgency of the Tigers' next game.
"Obviously we know this is a rivalry game with a lot of implications in terms of bragging rights for the year, but most importantly they're in the way of us accomplishing something that we've set out to do all year," he said.
The Gamecock seniors have only lost to the Tigers once, so Elliott and the rest of the coaching staff know that they'll be playing their best football of the year. Coaches aren't looking at the records of each team for this meeting.
Elliott hopes to see the offense have a more consistent execution throughout the entire game. Clemson has started games strong and then stumbled to the finish, and vice versa, during games throughout the 2015 season, and coaches are still waiting to see the offense play up to their potential.
"When we put it all together where we can run the football when we want to and throw it when we want to, dictate to the defense what we're going to do on offense instead of making the adjustment and taking what's there. That's when I say we'll play our best football. I think we're working towards that," Elliott said.
There are plenty of distractions for the coaching staff prior to a rivalry game as well.
Elliott's younger sister and aunt both have degrees from USC – he's outnumbered over this Thanksgiving holiday and feels the pressure.
Additionally, the coaches have empathy for the difficult situation South Carolina coaches are facing after the sudden departure of Steve Spurrier. And like the players, many Clemson coaches are friends with the staff on the opposite sideline.
"As a coach, when you're in this profession, you make friends with guys on other staffs and I have good friend on the offensive side of the staff down there. So, your heart goes out to them in that situation because at the end of the day this is their livelihood, so you feel for them. But at the same time, you're looking at a situation where their seniors are playing for the last time in a rivalry game…Those coaches have enough pride in what they're doing to honor the kids by putting together the best plan. They're going to put aside whatever is going on outside and off the field to give these guys an opportunity."
Overall, Elliott has seen growth in strong players like Deshaun Watson, Deon Cain, Charone Peake, and Wayne Gallman. The offense has built a special chemistry and each player is challenging his teammates to be better. Experience and success after being battle tested has helped Elliott's group gain confidence.
"I think our team overall has a lot of confidence but we understand that confidence it not what wins a game by itself, so we have to go out and prepare. And the reason we are confident is because we go out and prepare each week."
Now the offense's goal is to keep from getting distracted by the holidays or the December 5 game against North Carolina. They just need to zone in on Saturday's noon kickoff.
"We can't look ahead, that's not been part of our plan and we can't allow that to come into our focus right now. We need to stay dedicated to the plan. The biggest game is this game, and then North Carolina will take care of itself when we get there next week."