| | |
| --- | --- |
| Tigers utilizing revolutionary virtual reality system at practice | |
---
| | |
| --- | --- |
| Monday, August 10, 2015 5:33 PM | |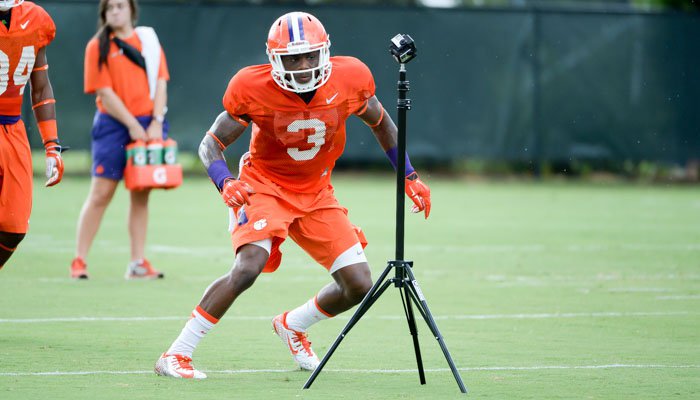 CLEMSON – Clemson head coach Dabo Swinney

Dabo Swinney
Head Coach
View Full Profile and Stanford head coach David Shaw have become close friends, with Swinney spending time in Palo Alto and Shaw spending time in Clemson this past spring. The relationship may soon begin paying dividends for Clemson on the field.
Through Shaw, Swinney found out about a revolutionary new technology called STRIVR, a virtual reality system that allows players to get real game experiences without being near the field. Strap on the goggles and you can look to your front and see the MIKE linebacker faking a blitz. Look to your right and you can see your tight end and wide receivers waiting on the snap. Look to your left and you can see your left tackle making corrections at the line and the other receivers. Look behind you and you will see your running back staring you in the face.
The STRIVR cameras have been a constant presence at Clemson's first six practices and offensive coordinator Tony Elliott

Tony Elliott
Co-OC / Running Backs
View Full Profile told TigerNet Monday that Shaw is the reason.
"That was Coach Swinney. He had an opportunity to visit with Coach Shaw out at Stanford, and I believe that is where the technology was developed," Elliott said. "So it came about because of that relationship. And then the folks who had developed that technology came in and gave us a presentation, and everybody on the staff believes it is a resource and tool that we can use to get us to that next level. Especially with the young guys. But it all came about because of the relationship between David Shaw and Coach Swinney."
The technology, developed by former Stanford kicker and graduate assistant coach Derek Belch, helped the Stanford Cardinal average 38 points per game over the final three games last season. Belch told TigerNet about the genesis of the product.
"This was my Master's thesis while I was coaching at Stanford the last two years," Belch told TigerNet Monday afternoon. "We developed it last year during the season and it was something that turned out to be pretty legitimate. Coach Shaw sat me down in December and said, 'You have to do this. Coaching isn't going anywhere. This is an opportunity that you can't pass up.' I went from having every intention of being a coach to running a startup and we opened for business on January 2nd of 2015 and here we are today."
Belch told TigerNet that Shaw let Swinney know about the system during the spring.
"David Shaw and Dabo have become friends over the last couple of years, and he was attending a coaching clinic in the spring and he was speaking at the clinic and told Dabo about what we were doing at Stanford," Belch said. "Dabo said, 'Well bring him back with you.' So I went with David back Clemson and spoke to the whole staff, and they pretty much decided right then and there that they wanted to do it. It was that simple. So we went back and did a couple of things for them before the spring game, and then I was there last week kind of getting all of the groundwork ready to go and getting their video staff trained in what we do. We will handle the back end and it will be a well-oiled machine all season."
The cameras can be set up anywhere on the field, but is beside the quarterback while he is taking snaps and reading the field. The film is downloaded, and the Tigers' quarterbacks can go in after practice and relive all of the snaps they took during a practice session by donning the virtual reality headset.
"You are able to see everything. It's just like you are standing right there," Elliott said. "It's 360 degrees and you see everything around you. You feel like you are there, and it will be a great resource for the quarterbacks to be able to take mental reps in place of maybe some physical reps that they weren't able to get. He can check himself and make sure his eyes are where they need to be. If he misses a throw, he can go back and see why. It's a great situation for him to continue to challenge himself to grow without physically putting the strain on his body."
Deshaun Watson said he likes using the system.
"Instead of going out in the field or going into the film room, we can just put on the goggles and see the whole play and take mental reps and not have to do really anything physical," Watson said Monday. "It's going to be very helpful for all of the positions. I think it will be useful.
"You can actually see everything. There are different angles that they can put the camera and make sure they get. Right now, we're making sure that we're getting the whole playbook and all of the different skills and jobs we're doing throughout practice. We're making sure we're getting all of the information."
STRIVR's NFL clients include the Dallas Cowboys, San Francisco 49ers and Minnesota Vikings. Clemson is just one of seven college programs using the service along with Stanford, Rice, Auburn, Vanderbilt, Arkansas and Dartmouth.
Elliott said it helps more than just the quarterbacks.
"It helps all of the positions. You have to build a library of information, but you have to tailor the information for what you want your guys to see," he said. "For instance, I will talk about the backs because that is my area. We can film the blitz pickup, and teach those young backs how to read a front and how to read a second level. How to read the linebackers. The safety fits on the run game. Backer fits on the run game. Safety alignments on blitzes. All of those you can use to grow their knowledge. All the guys are willing, they just need to know where to be."