| | |
| --- | --- |
| Tigers and Bulldogs in backyard brawl for recruits | |
---
| | |
| --- | --- |
| Wednesday, August 27, 2014 8:50 AM | |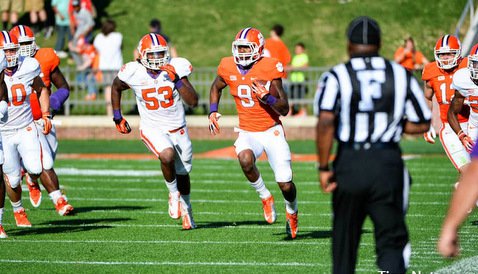 CLEMSON – The backbone of Clemson's great teams of the 1980s were players recruited out of the state of Georgia, and as Clemson head coach Dabo Swinney

Dabo Swinney
Head Coach
View Full Profile continues to build the Tiger program he is following in former head coach Danny Ford

Danny Ford
Former Head Coach
View Full Profile 's footsteps.
Swinney will take 19 players that hail from the Peach State into Athens Saturday evening and has four Georgia natives committed for the 2015 recruiting cycle. Clemson's lone remaining 2015 target Orangeburg (SC) Orangeburg-Wilkinson defensive lineman is thought be trying to decide between the Tigers and Bulldogs.
The Tigers and Bulldogs have gone head-to-head for several recruits over the years including Todd Gurley and Keith Marshall, who chose Georgia over Clemson. Deshaun Watson and Wayne Gallman both chose the Tigers over the Bulldogs.
Swinney said that the fact that he and Mark Richt's staff battle each other for top recruits should come as no surprise.
"It's just a natural thing that we are going to spend a lot of time recruiting against Georgia," Swinney said during his Tuesday press conference in the WestZone. "There's just so many in that state. I think we're similar in a lot of ways as far as the type of campuses that we have and things like that; whereas, you know, everybody thinks we recruit head to head against South Carolina. We really don't a whole lot."
Clemson's proximity to the state of Georgia is a big draw for prospects and an easy trip for Clemson's coaching staff.
"Well, I think we're similar programs in a lot of ways, but I just think location," Swinney said. "Where we are, obviously we are closer to Georgia. It would take me five hours to get to Myrtle Beach. I can be at my home in Alabama in five hours, less than five hours."
Add in the fact that Georgia has double the population of South Carolina – which means more prospects to recruit – and it's only natural that the Swinney and his staff spend a lot of time recruiting the state.
"So I think just the location, there's however many millions of people in Atlanta, two hours from here," he said. "So Georgia is a state that we recruit like it's in state. Georgia, South Carolina, North Carolina, we just treat that as kind of one state to be honest with you and try to really recruit very, very hard in that area. We've had a lot of success with Georgia kids that have come here."
Swinney said that despite Clemson and South Carolina's battles on the gridiron, the Tigers and Gamecocks don't often battle head-to-head for recruits.
"Every now and then, you'll have a kid in this state that truly is undecided, but not often," he said. "Most of the time, first of all, we don't have as many in this state, but most of the time a kid is either Clemson or he's South Carolina if he's going to stay in state, and it's usually pretty obvious.
"And then you have such differences in the campuses. I mean, they are just very different. Most of the time if a kid really likes Clemson, he's probably not going to like Columbia. And if he likes Columbia, he's probably not going to like Clemson. That part of it, we really don't recruit against them as much as we do Georgia. I think Georgia, again, the location, and then just the type of campuses that they are."
He then called it a natural recruiting rivalry.
"I think Georgia has a good staff," he said. "I think Coach (Mark) Richt does a great job. But I think it's just a natural recruiting rivalry. I think it's probably always been that way, not just now. It's way before Coach Richt and me."
A rivalry that predates both Swinney and Richt's coaching careers.
"I imagine when Coach (Danny) Ford was here in the 80s they probably recruited against Georgia pretty hard and heavy," he said. So I don't think that's a big shocker. (Clemson had 22 players on its 1981 National Championship team from Georgia)."