---
| | |
| --- | --- |
| Thursday, January 7, 2016 9:54 PM | |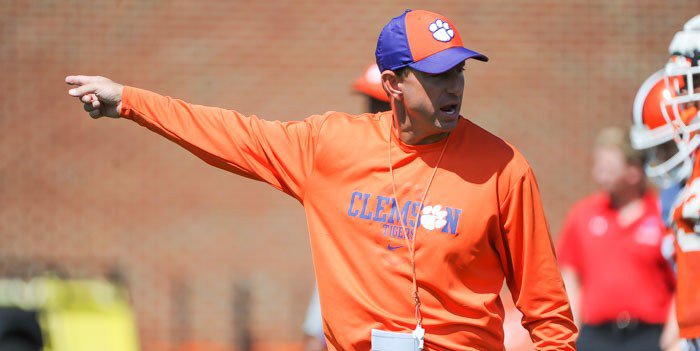 Clemson will continue to prepare for Alabama in the coming days, but head coach Dabo Swinney said on Thursday evening that the toughest portion of the preparation has been completed.
"The hard part is over. Today was our last day in pads," Swinney said. "Tomorrow we will have a light work-out in the morning and then a long trip out to Arizona, but it will still be a really important day. We've gone pretty hard four days in a row. Tomorrow will be a day we will actually practice in the stadium. Just have little more teach tempo and take a little off their legs for a day. Then travel out there and have a really fast practice, a Thursday type practice, out in Arizona. (We're) excited about it and ready to get on the plane and head that way."
Swinney said the Tigers are looking at this game as a business trip without all the extra activities usually found in the lead up to bowl games.
"This isn't like a bowl trip. They had the bowl experience in Miami. This is Championship experience. This is truly a business trip. It's a very tight itinerary as far as what we will do. They will have a function for us tomorrow night at the hotel. Saturday we got a media event and then we are going to the stadium and just try to let them get a good visual of where they will be playing. Probably take a nice team picture out there. We will come back and have practice at our practice site which is about 15 minutes from our hotel. Saturday night they have a function at the hotel, some type of comedy thing, just for the team. Sunday we will get in our Friday game prep routine. They will get some rest, and we will have meetings. Then we will come back that afternoon and have our game prep type practice and our normal Friday night routine and then it is gameday. Pretty tight itinerary. There will not be a lot of traveling around."
Even though there will not be much time for outside activities, Swinney said the team will try to sneak in some fun.
"Hopefully, they will get to enjoy the hotel," Swinney said. "They say it is a nice place. It has a big slide so maybe I can find my way over to that slide."
Also on Thursday, Clemson athletic department officials announced that its request for relief in regards to the football team's preparation for the College Football Playoff National Championship will be granted. Clemson's spring semester began with classes on Wednesday, beginning the limit on countable athletically related activity. Clemson requested permission to exceed the daily-hour limitation and for student-athletes to miss class Thursday afternoon with professor approval. Clemson will not exceed the weekly 20-hour maximum. Swinney said while he appreciated getting the waiver it will not have much effect.
"It hasn't affected us really. Maybe it would affect other people a little bit more," Swinney said. "We appreciate it. I think that is a smart thing for future games and stuff, but really not big of a deal for us. Sunday, Monday, Tuesday we didn't have any restrictions. Yesterday we might have had one more meeting, but I wouldn't have really changed our practice schedule and what we did yesterday. Today didn't change for us at all. We just continue on with the plan we had."
Other notes from Swinney:
Shaq Lawson injury update: "He's getting better. Today would be like a Tuesday in a normal week preparation. He's shown good improvement each and every day. We still got several more days so hopefully he will just keep better. Again, I'm still optimistic that he will have a chance to play."
On long distance trips: "You think we could have just met in Atlanta and settled this thing. It would have probably been a lot easier for a lot of people. But you know what, that's part of college football. I'm excited for our guys to see a different part of the country. I've only been out there once. Maybe touch down there twice. So I think it's great for our guys to get to experience that. That's the neat thing about college - seeing those guys get those experiences."
On mid year enrollees: "It's really crazy to see these guys out here practicing. It's bizarre. They look good. Big Dex (Dexter Lawerence) gets here on Monday. Unfortunately, he will not be able to practice with us unless we can find a way to play a 16th game. That's what I told Mac (Eric Mac Lain). We had Senior Day like seven weeks ago. All our graduates are like walk-ons right now I guess because they are graduates, but yet we got this game to play. It's pretty unique situation for us right now. But to see these mid years out there running around, it's been great for them to come out here and get a little bit of coaching."
On Ray-Ray McCloud: "I wouldn't say he is back to pre-injury form. He's in good shape.He's doing good and practicing well. We are still protecting him with that brace. Hopefully, by spring, he will be without the brace."