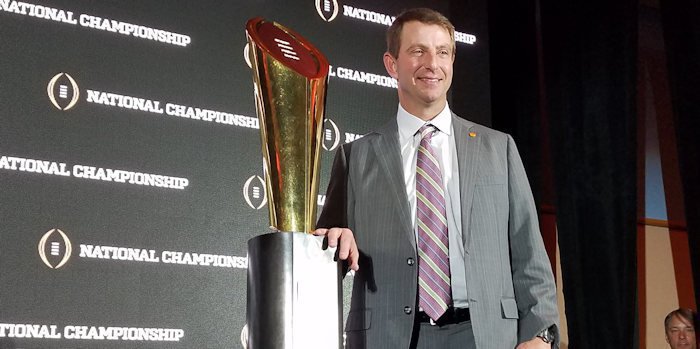 | | |
| --- | --- |
| The best is yet to come: Tigers are built to last | |
---
| | | |
| --- | --- | --- |
| Tuesday, January 10, 2017, 11:36 AM | | |
TAMPA, FL – Clemson football reached the pinnacle of the sport Monday night, winning the National Championship by defeating Alabama 35-31 in the College Football Playoff title game at Raymond James Stadium.
But don't think that's the end of the story. The best is yet to come.
Head coach Dabo Swinney met with the media early Tuesday morning to discuss the big win, and he said it was built on a solid foundation of recruiting.
"Well, we've been recruiting at a high level. That's not going to change certainly with this," Swinney said. "It just kind of solidifies what we're doing. Biggest thing for us is continue to do a great job of evaluating, recruiting guys that fit our program, fit our culture, and then developing them. That's the key for us.
"You know, not getting caught up in recruiting -- we're going to probably sign 14 or 15 guys this year. It's going to be a very small class next year, probably only 12 or 13 guys. We're a big freshman-sophomore team. We're not some heavy veteran team. We're a very, very young football team."
Swinney said the program's success in recent seasons needed one more piece – a national title.
"So I mean, it certainly doesn't hurt. The biggest thing was this just was the only thing we hadn't done. It was the next step for us. I mean, it just -- there was kind of -- when I got the job, there were like lids on the program like, okay, Clemson, you can only do this, but don't go any higher than that," Swinney said. "You can win nine but let's don't win 10. We just have slowly knocked off the lids off the program, and this was the last one. And to do it against Alabama, who's been the best, and the teams that we've played, the teams that we've beaten over the last eight years, there's just really -- I mean, we're selling results, bottom line."
In other words, the best is yet to come.
"You look at 135 seniors, 129 graduates, and we've got 21 more graduates fixing to add to that number, every one of these seniors will be graduated by May, every single one of them," Swinney said. "You know, that's -- we think that we have a great program to sell, and we're very proud of that. The best is yet to come for us. I mean, this is not -- this is not the end-all. It's a great moment, and it's something that we needed to get done. But you know, Thursday I'm going to have a team meeting with the 2017 team, and there will be a new group of seniors sitting in the front row, new challenges, new journey, kind of lay out the vision a little bit for next year, we'll celebrate this weekend, this championship with our banquet and the parade and all that stuff, and then we'll start over."
For those that think the Tigers have arrived, however, think again.
"You never arrive. You're always striving to get better," Swinney said. "What's next? For us it'll be, like I said, enjoying this moment, but getting excited about coming back and seeing if we can charge back up the mountain next year."
The National Championship Trophy will sit in the WestZone for a few weeks, and then it will move into the new football operations center at the end of the month, something that Swinney says is a dream come true.
"Yeah, it's crazy, man. I'll tell you, this is a dream come true. That's one of the things I told the team during the season. On our practice field every day we watched that facility get built, and that was -- I said, we're sitting here watching this -- this is something special being built right here, but we're also building something special on this field," he said. "They're putting the finishing touches, we're putting the finishing touches on this season, and to be able to move into that building in a couple weeks, I have not packed one thing, by the way -- oh, my God, I dread that.
"But to be able to move the national champion into that building, it's just incredible. To take this trophy and have that right there when you walk in this new spectacular building, it's just really surreal. It really is, and it's very fitting. Just a blessing."
Clemson waited 35 years for its second title, but Swinney says the wait won't be as long for the next one. Why? Because the best is yet to come.
"There's no doubt in my mind that the best is yet to come for us. I mean, we're going to continue to improve, continue to get better. Winning National Championships are hard. I mean, it's very, very difficult to do," he said. "It's been 35 years at Clemson. Like I said, in 2011, we had 30 years since we've been to the Orange Bowl. I'm like, listen, I don't know when we're getting back, but it ain't going to be 30 years, and now we've been to three Orange Bowls and won two of them. It won't be 35 years before Clemson will do this again.
"God willing, I'll be a part of it, but this program is built to last."