| | |
| --- | --- |
| The Heisman voters didn't get it wrong, they just didn't get it right | |
---
| | |
| --- | --- |
| Sunday, December 13, 2015 9:47 AM | |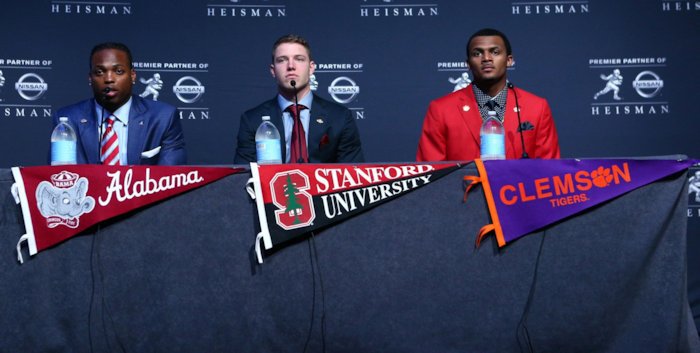 Deshaun Watson at the Home Depot College Football Awards Show in Atlanta Thursday and at the Heisman festivities in New York on Friday and Saturday,

All three are worthy of being considered for the Heisman, and all three are the kind of guy you can pull for. All have wonderful backstories that made the buildup to the Heisman announcement even better. But Derrick Henry isn't the best player in the country. And he isn't the best player on the nation's best team. He is a workhorse tailback who had a stellar season for a team that has a chance to play for the national title if they beat Michigan St. in the Cotton Bowl later this month.

Once upon a time, in a galaxy far away, I had the Heisman vote for the Greenville Piedmont. I took it seriously, and I studied stats and film in an effort to make an educated and well-informed choice. This was back before all the games were on television, and it was hard to see as many players in action as we do today. I wish some of this year's Heisman electorate took the same attitude.

Out of the invited media to the event, several were voters. I asked them why they made the choice they made, and it was up to them to tell me who they chose. I won't go into details, but it was obvious many of them made their choice because of who was on television the most.

If I had a ballot, I would have voted Watson first. And yes, I'm a little biased because I've seen the kid lead his team to a 13-0 record. I've seen him lose one game in his college career, and that was a game that saw him leave injured in the first half and his replacement throw three interceptions. I can say I don't think his team would be undefeated without him. I can't say the same about Henry, but I can say that McCaffrey also means a ton to his offense.

One voter stammered to me that Henry broke Herschel Walker's SEC rushing record, which is great. But he also carried it far more times than ANYONE else in the country (339 to 319 for McCaffrey, and the third place guy had 298. That's a lot of carries. And he broke the record in 13 games, whereas old Herschel set the record in 11 games. He was also a rather pedestrian 74th in the country in yards per carry at 5.85. Leonard Fournette was at 6.42 and Dalvin Cook was at 7.86.

If I had a ballot, however, Henry would be right there at the top. I would have had Watson, then McCaffrey and then Navy's Keenan Reynolds (yes, I would have chosen him as a career recipient kind of guy and because he plays for a service academy. Get over it). Henry would have been fourth, because at the end of the day he's a great back and seems like the kind of person that the Heisman can be proud of.

I won't get into the reasons Watson would have been my choice – if you're reading this you've seen him play and don't need the billion dollar publicity firm called ESPN to shape your thinking. You know he's the best player in the country.

But it will be ok. Shortly after the announcement, we talked to Watson and I saw the look in his eyes. He's a competitor, and he doesn't like to lose. He said he didn't want to go 13-0 and "fall short at the end." This kid is driven to be a champion, and I can only imagine that he will use this to fuel a championship run. I can also tell you that Clemson's players and coaches have seen since last Sunday that the national media isn't a believer in Watson or the football program. The masses that voted blindly for Henry have also already put Oklahoma in the title game. Clemson – and Watson – are an afterthought.

Saying they're wrong wouldn't tell the whole story. They're just misinformed, and the story isn't over. Not for Watson. Not for Clemson.