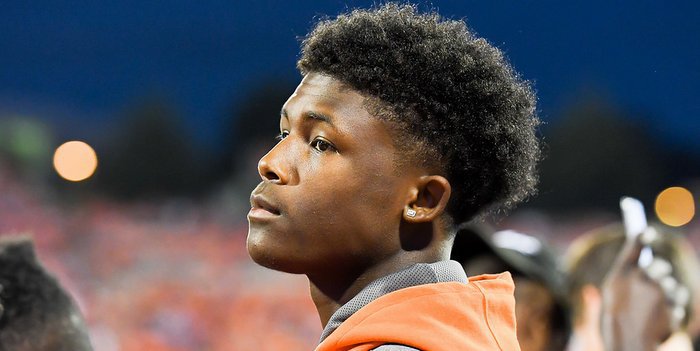 | | |
| --- | --- |
| Tennessee's best recruits headed to Clemson | |
---
| | | |
| --- | --- | --- |
| Wednesday, November 30, 2016, 9:56 AM | | |
The Tennessee Titans named 17 players Mr. Football for the state of Tennessee earlier this week, and three of them will wear orange and purple next year.
Memphis (TN) Trezevant running back Cordarrian Richardson (2A Back), Knoxville (TN) Catcholic wide receiver Amari Rodgers (4A Back) and Oak Ridge wide receiver Tee Higgins (5A Back) are all Clemson commits and were all named Mr. Football in their respective categories.
TigerNet caught up with Higgins and Rodgers earlier this week, and the both said the best thing about winning the award was that the Volunteer State's best were heading to the Palmetto State.
"It was great. It was a blessing just knowing that we three are going to Clemson to play together," Rodgers told TigerNet. "We've got the best in the state of Tennessee, so it's great to be able to represent the university you're going to and knowing that you're going on a list with the best in Tennessee history."
Higgins echoed those sentiments saying that he's excited to share the honor with his friends and future teammates.
"I've met him (Richardson) before. It was just great getting to share that moment with those two and just knowing that we're all three going to Clemson," Higgins told TigerNet. "Three big Clemson commits getting that type of award in the state of Tennessee is just great. We were just talking about how cool it was that three Clemson commits were getting Mr. Football in Tennessee."
Both Higgins and Rodgers have won the award in consecutive years, and Rodgers said it was his goal coming into his senior season to leave now doubt that he's the best in his class.
"I'm more of a team guy, but personally just knowing that all of the hard work that I've been putting in during the summer and the spring is finally paying off," Rodgers said. "Last year I won the award, so my goal this year was to repeat and stay at the top. I didn't want to fall off, so I think I accomplished that."
Richardson doesn't do interviews with the media, but Rodgers said the three of them have already bonded and can't wait to put on the Tiger Paw for Clemson next season.
"Cordarrian is one of my best friends. Me, him and Tee we talk almost every day," Rodgers said. "We're like brothers. It's like we don't even live far away from each other. Cordarrian doesn't like doing interviews and stuff. He's a very quiet guy but around his friends and the people that he knows, he's very outgoing and funny. You'll love him. He's a great guy, but he's just quiet around the media."
For Higgins, winning the award allowed him to glance into the future and think about what it might be like to play in the NFL one day.
"I think about that. When I walked in there I was just thinking, 'Man this could be me one day,' just walking in there one day getting ready for game day or getting ready to play against them," Higgins said. "You never know. I just know that I have to keep working harder and harder to get there."
Both Higgins and Rodgers have taken in several games in Death Valley this season, but they both paid close attention to Clemson's 56-7 victory over archrival South Carolina last week.
"It was a beat down. I loved it. They played great on both sides of the football," Higgins said. "They played their hearts out that night. I'm proud of the seniors. Hopefully, me and Amari can come in as freshmen next year and just fill in and help the team out. Of course, we all want to play, but we know we have to come in and work. If you come in and work then you might get to play and if not, as long as I help the team win, it's okay."
While Rodgers couldn't make it to the game, he said he simply could not turn off the game even after Clemson's rout of the Gamecocks began.
"It was wonderful. I loved watching every second and us whooping them. It's a rivalry game, so I just enjoyed watching us take care of business," Rodgers said.
One player that stood out to Rodgers was wide receiver Mike Williams, who was left off of the list of Biletnikoff finalists.
"That guy is a beast. I'm so angry that he's not up for the award for best wide receiver in the country," Rodgers said. "He's the number one wide receiver off the board this year, so that kind of upsets me that he's not up for that."