| | |
| --- | --- |
| Ten to Watch: Film study sets Jayron Kearse apart | |
---
| | |
| --- | --- |
| Tuesday, July 8, 2014 8:14 AM | |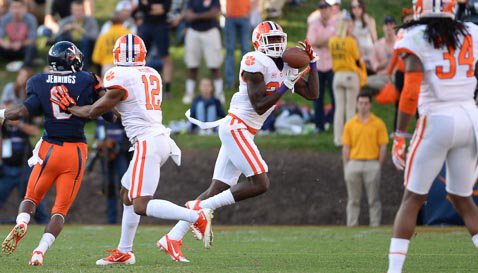 Jayron Kearse

Jayron Kearse
So. Safety
#20 6-4, 205
Fort Myers, FL
View Full Profile started just three games last season, but he put up some big numbers and if the Clemson defense is going to be as good as advertised in 2014, Kearse will be a big reason.
In the fourth in our series of "Ten To Watch" this season, TigerNet takes a look at the sophomore out of Fort Myers (FL) South Fort Myers.
Kearse had 55 tackles, 0.5 tackles for loss, a team-tying-high four interceptions for 62 yards, and one caused fumble in 444 snaps over 12 games (three starts). Despite the limited snaps, Kearse tied for fifth in the ACC in interceptions.
Replacing an injured Travis Blanks

Travis Blanks
Jr. Defensive Back
#11 6-0, 190
Tallahassee, FL
View Full Profile at the safety spot late in the season, Kearse saved some of his best work for last – he had three tackles, a 37-yard interception return, and a caused fumble in 27 snaps at Virginia on Nov. 2 and was named team co-defensive player-of-the-game ; he had seven tackles in 57 snaps against The Citadel on Nov. 23; he had 10 tackles and 0.5 tackles for loss in playing all 81 snaps at #9 South Carolina on Nov. 30; had nine tackles and a key interception in the third quarter in 72 snaps against #6 Ohio State in the Orange Bowl on Jan. 3rd.
With Blanks moving back to the Nickel/SAM spot he thrived in during his freshman season, Kearse will battle Jadar Johnson

Jadar Johnson
So. Defensive Back
#18 6-1, 180
Orangeburg, SC
View Full Profile for the right to start opposite Robert Smith

Robert Smith
Sr. Safety
#27 5-10, 210
St. George, SC
View Full Profile at one of the safety spots.
What sets Kearse apart from other members of the secondary, not including his height and freakish athletic skills? Film study.
Following Clemson's 51-14 loss to Florida St. last season, Kearse rounded up Johnson and Adrian Baker

Adrian Baker
RS Fr. Cornerback
#21 6-1, 170
Hollywood, FL
View Full Profile , and the three sat at the Clemson IHOP for more than a few hours, using salt and pepper shakers, plates and cups to diagram plays and diagram what went wrong.
"I just know what I have to do to have an edge over my competition," Kearse told TigerNet later. "That night, we lost and I just wanted to go through it with the guys and talk about what went wrong. We looked at what we did and what we could have done better, and why things happened like they did and how we can keep that from happening again. We just talked about what we saw in the game, what we could do better and how we can't let it happen again. "
Kearse said that film study is what separates the good players from the great ones.
"You know in your mind what you have to do, and you do that so you can come out in your next game and play better than you did in your previous game," he said. "That next game, you can come out and play stronger and harder and faster than you did in that last game.
"It has helped, because I am looking at things differently. Looking at film and learning about the quarterback's tendencies and the opponent's tendencies, that gives me an edge over my competitors. We watch a lot of film with Coach V (defensive coordinator Brent Venables

Brent Venables
Defensive Coordinator / Linebackers
View Full Profile ), but it's about watching film when we have free time and when we aren't with Coach V."
Kearse said that his big game against Virginia – when he forced a fumble and had an interception – came about because of his extra film study.
"I went back and watched all of his games and all of the interceptions he had thrown. I saw that he had a tendency to overthrow his receivers," Kearse said. "I could tell that all I had to do was get back deep and wait on him to make a mistake and I would capitalize. Just do what you are supposed to do and do your job, and don't try to do too much. "
*More on Jayron
Before Clemson: Rated as the #16 athlete in the nation by Rivals.com and 247Sports.com ... #7 outside linebacker in the nation by Scout.com ... top-300 All-American by PrepStar ... area defensive player-of-the-year at South Fort Myers High School ... helped his team to an 11-2 record as a senior ... #15 athlete in the nation by MaxPreps ... had 528 rushing yards and five touchdowns as a senior; averaged 12.3 yards per carry ... averaged 18.9 yards per reception and scored five touchdowns ... as a safety, he had 87 tackles, three sacks, and an interception ... had 1,600 rushing yards and 17 touchdowns as a junior ... came to Clemson from the same high school as wide receiver Sammy Watkins

Sammy Watkins
Wide Receiver (2011 - 2013)
#2 6-1, 205
Fort Myers, FL
View Full Profile ... played in the Offense-Defense Bowl in Houston, TX ... coached by Grant Redhead at South Fort Myers High School ... recruited by Tony Elliott

Tony Elliott
Assistant Coach / Running Backs
View Full Profile .
Personal: His uncle, Jevon Kearse, was an All-America linebacker at Florida and an NFL All-Pro ... his cousin, Phillip Buchanon, was a defensive back at Miami (FL) and played in the NFL ... majoring in communication studies ... born Feb. 11, 1994.
*From his official Clemson bio.