| | |
| --- | --- |
| Tech and Clemson? Always wacky, sometimes illegal, never boring | |
---
| | |
| --- | --- |
| Sunday, November 10, 2013 11:28 PM | |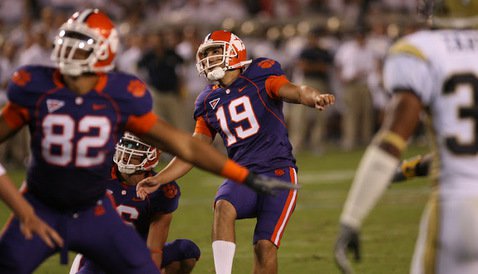 CLEMSON – This week, Monday is Wednesday and Thursday is Saturday, so that means it must be time to play Georgia Tech.
Why? Because no matter the records or the circumstances or time of year the game is played, games between the Tigers and Jackets always seem to feature something wild and wacky – game-changing plays, phantom holding calls and the specter of a sometimes scowling and always-smug Paul Johnson on the Tech sideline.
Twelve of the last 18 games have been decided by five points or less, including a six-game streak between 1996-01 in which every game was decided by exactly three points. That might be a first in college football history. Eleven of Georgia Tech's last 13 wins in the series have been decided by a touchdown or less.
This will be Dabo Swinney's seventh game against Georgia Tech, and he is 2-4 against the Jackets, including a 21-17 loss in his first game as head coach. However, Swinney has managed to win two of the last three meetings, and the Tigers will be favored Thursday night.
I have covered each and every one of those games, and it seems like something unusual or wacky has happened each game.
In 2008 in Death Valley in Swinney's first game, Clemson left guard Thomas Austin was called for holding – his only holding call of the season – a call that nullified a 27-yard, fourth-and-12 grab by Jacoby Ford with 2:42 remaining. Instead of a 1st-and-10 at the Jacket 20, Clemson had it 4th-and-22, and Cullen Harper's pass to Aaron Kelly was fumbled and Tech held on to win 21-17.
The next season in Atlanta, Clemson came out in all purple uniforms and promptly fell down 24-0 barely four minutes into the second quarter. Tech led 24-7 at halftime, but the Tigers eventually took a 27-24 lead on a 53-yard field goal by Richard Jackson with 11:33 remaining.
Tech got the ball back and drove to tie the game at 27 with a field goal, leaving just under six minutes on the clock. The Tigers got the ball back and were around midfield in a 3rd-and-11 situation when Kyle Parker completed a long pass down the right side of the field to Jacoby Ford for 38 yards, setting up Clemson at the Jacket 18. Except that Thomas Austin was once again called for holding.
Did he hold?
You can decide. An interesting fact that is that holding call by Thomas was his first since - yep - the game against Tech the year before.
The 10-yard penalty turned things around from Clemson having the ball in field goal range to having a 3rd-and-21 at their 34. Parker threw an incompletion and Clemson wound up punting, Tech takes the ball and drives down the field for the game-winning field goal.
Another interesting couple of things happened in that game – Georgia Tech ran a fake field goal in the first quarter that turned into a 34-yard touchdown.
The Tigers didn't spot Demaryius Thomas lingering near the sideline on the apparent field goal attempt, and the Jackets connected for the touchdown. Thomas wasn't on the field after the offense left and the special teams unit came, and then took one or two steps off the sideline and into the field of play just before the ball was snapped. The play was later deemed illegal by the league office. The Tigers also had the same type of play in the third quarter – a long completion – that set up a field goal, and the league office also later deemed it illegal. That was a crazy night.
Here is the crazy field goal that put Tech up 21-0.
Later that season, the teams played in the ACC Championship Game. I remember I saw then-defensive coordinator Kevin Steele down on the field before the game, and he was in good spirits. An hour later, he came back out on the field and had his hand in a cast, and it turned out he had punched a chair in trying to fire up his team and wound up breaking his hand.
That ACC championship game was a bizarre affair - neither team punted and both teams gained at least 300 yards rushing. It was the first game in Clemson history that both teams didn't punt, and the only FBS game in college football in 2009 in which both teams had at least 300 yards rushing.
The Tigers won 27-13 in 2010 in Death Valley, but 2011 was another disappointing and wacky night in the series. Clemson traveled to Atlanta undefeated and ranked 5th in the BCS, but allowed Tech quarterback Tevin Washington to run for a school-record (for a QB) 176 yards as Tech once again raced out to a 24-3 lead. This time, they began a late-season Clemson slide with their 31-17 win.
The Tigers won 47-31 last season in Death Valley, and Georgia Tech returns to Clemson this year. This is the first time since the 1993-94 seasons that a team has come to Clemson in consecutive years. Georgia Tech, Wake Forest, NC State and Maryland all came to Clemson for the 1993 and 1994 seasons. Clemson had to go to Florida State, North Carolina, and Duke in 1993-94. The strange schedule was due to Florida St. joining the ACC in 1992.
Of course, every time the Tigers have to play against the Jackets, it comes down to one thing – can the Tiger defense stop the Tech offense? This year might be the most comfortable I've felt going into a game against Tech. Which means we should expect something wild and wacky on a cold night in the Valley.