| | |
| --- | --- |
| Swofford addressed league financials, ACC Network and more | |
---
| | |
| --- | --- |
| Tuesday, July 21, 2015 7:47 PM | |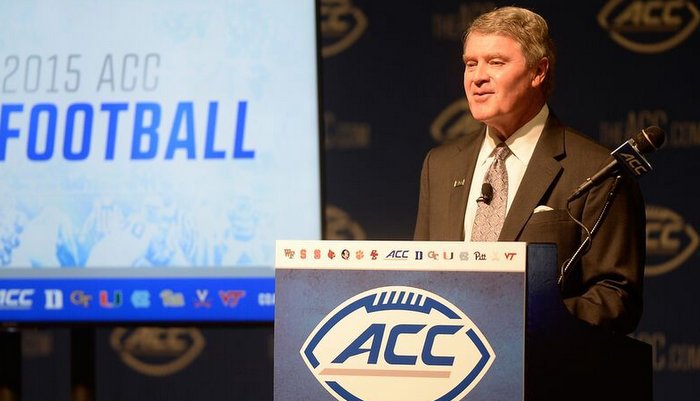 PINEHURST, NC – Atlantic Coast Conference Commissioner John Swofford took to the podium Monday afternoon to discuss the health and direction of the conference.
Swofford answered questions about the possibility of a 24-hour ACC Network, the financial viability of the conference compared to other conferences and the addition of a medical observer to the press box this season.
MEDICAL OBSERVER
"Yesterday, we determined that as a conference, each school will have a medical observer in the press box/press booth area of every football game. That medical observer will be there to observe players from their respective program. This team-specific medical observer will have the benefit of knowing the medical history of the players because it will be someone who is involved with them on an ongoing and day-to-day basis. They will travel with the team and observe every game, home and away, conference and non-conference. And the medical observer will not have the authority to stop the game but will have the ability to communicate with the medical staff that is on the sidelines. Each game that we play this fall, there will be two medical people in the booth, one from each school that will have the sole purpose of observing from up high, if you will, what's taking place on the field that somebody on the sidelines might not be able to see. But that person will be able to do it in the context of knowing the players and their medical history, and we think that's important and I commend our athletic directors for unanimously approving that yesterday."
Television partners
"I know you are interested in our television going forward and the potential of the ACC Channel. We continue to have quality discussions with ESPN, and ESPN is as good a partner as you can possibly have and they will be our partner through at least 2026-27. They along with our other partners bring outstanding exposure for our players, for our teams, for our schools and for our league. At some point, as we go through our analysis and discussions and we're being very thorough and deliberate about that, because it's an important long-term decision, but together we'll make a joint decision about the best route to go for the future of our television as we move forward.
"It's a very important decision as you know, and I think we have positioned ourselves extremely well as a league for future options, whatever those options may be. So those continue. Now, these days are filled with ACC football and I think there's a lot of reason to look ahead to this season with anticipation. Scheduling and I've talked about this in past years in terms of the importance of our school scheduling -- they have scheduled those games and we have won our share of those, playing quality teams and winning games is important, obviously, and the last several years gives us I think a platform and success. There is no shortage of specialty games Thursday night, Friday night, Saturday night, Monday night that give our programs outstanding exposure and we are tremendously pleased with the partners that we work with and the great job that they do in showcasing our coaches, our players and our teams; ESPN, the ACC network and the regional Fox Sports network, is as good as you can get and our ratings have been very strong with our partners. So we are very pleased with that part of what's happening with Atlantic Coast Conference football."
Disparity in cost of attendance
"I understand the concerns, and I think any time you take a step like we have taken, you're going to have some discomfort. And I think we're going to need to live with this for a couple of years before we truly see whether those differences impact the decisions that recruits are making. In a perfect world, would that number be the same? Probably, but we don't live in a perfect world and I think we know that. And from a legal standpoint, that cannot exist at the moment. Sometimes you need to do the right thing even though you know it has a few warts, and I think this is the right thing to do. I think we have taken the right step that is entirely appropriate and I think we took it with eyes open, understanding that it wasn't perfect. And we'll see. But I think it's the right thing to do, even with the concerns about the differentials that are there. You don't want good to be the enemy of perfect. And this was the right thing to do."
Seemed like for a decade we talked about the ACC Network -- why hasn't it happened yet?
"You mean a channel? We have a network. A 24/7 channel? I think that we had -- you have to evaluate your own league and where you are in the marketplace, and timing always comes into play, what's happening in the marketplace when your contracts are up. So far, at each turn, our best decision has been to do what basically we've been doing. It's changed over the years -- look at with our partners, and now have the league -- to enhance opportunities, more certainly than we would have otherwise. That's what I meant in my comment that we have positioned ourselves very well. These are long-term visions and I like where they are and I think we will continue aggressively in terms of these discussions to reach a point where our partners and us together, we've got the right format to take us into future decades, literally."
You mentioned the financials. Your most recent tax returns showed a large discrepancy -- for lack of a better word. Do you foresee a problem in the future? Is this going to become another arm's race for the amounts of money that are out there, and is there a plan or a need to keep up?
'I think there is. We want to keep up and there are different models. When you go in the channel direction, obviously translates directly to -- if that falls short, those revenue projections change and we've looked at a number of channels and some have started really, really slow and then evolved into something very good. Some have started right out of the chute very quickly and successfully. Some have a lot of fanfare and some -- you have channels that don't have partners and you have some channels that do have partners. We'll just have to see again. I don't think you can be any more analytical or any more thorough in our evaluation with our partners on that issue going forward."
"It's gotten in other ways, when you talk about television, you have some conferences that have really high expenses that offset those dollars coming in and then you have other conferences that are receiving those dollars straight up. You know, it's understanding the nuances of television -- and that industry from the outside looking in is not easy."
Would you like to see the College Football Playoff go to eight teams
"We almost got through this without a question. I'm thrilled that we are at four, and where we are, I think that's where we will be through the duration of this contract. I think it's where we should be because it fits the parameters that the presidents had given us in terms of a playoff. There are two bookends. One are the exams. They don't want a playoff going on during most schools's exams. The other book end is they don't want college football to become a two semester sport. You can say the Championship Game is but just barely, but the point is they don't want to go any deeper into January than they currently go. Let me emphasize that I like the four. I think it's where we should be at this given point in time and that's where I think we will be for the next 11 years and I think it's great. In a perfect world, by perfect world -- if you want to talk about football and only about a playoff and what would be best there, yeah, eight would probably be better. And you know, that way, in my mind, you have the five major conference champions and you have three at-large that are chosen and you remedy the -- everybody says one conference is going to be left out. Well it may be two. It isn't necessarily going to be one. But right now -- that's not in the cards right now. No, you would have to look at playing fewer games before then to do away with conference championship games or play 11 regular-season games instead of 12, something of that nature. It's probably doable. You'd have to adjust a lot of television contracts and maybe down the road, maybe that's something that this evolves into."
Early Signing Period
"We've been talking about that for years, and you know, I think where it is now, they this summer decided not to vote it up or down but to send it to the new NCAA committee on football. To put it in the context of the whole recruiting calendar, that the signing date -- we should not change the signing date as a one-off, but look at it in context of the whole recruiting calendar, and that's probably reasonable. It's gotten more support than I've ever seen for it, and obviously as a conference, we would like to see that happen and hopefully in the next year, that may be the case."