| | |
| --- | --- |
| Swinney wants Watson to pass biology before media sends the freshman to the NFL | |
---
| | |
| --- | --- |
| Wednesday, October 8, 2014 7:01 AM | |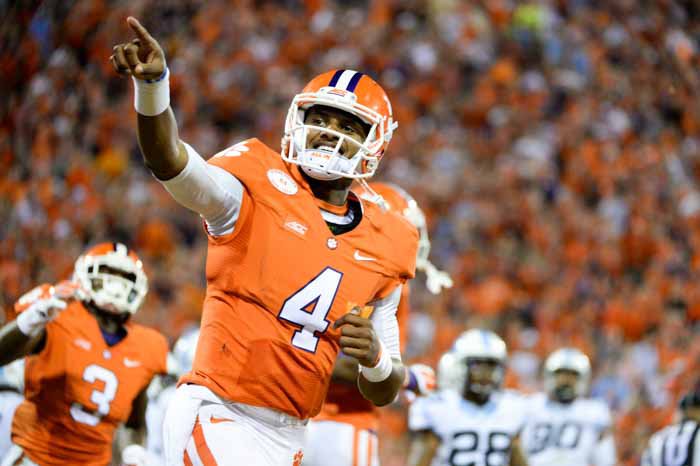 CLEMSON – One member of the media tried in vain Tuesday to go ahead and put freshman quarterback Deshaun Watson

Deshaun Watson
Fr. Quarterback
#4 6-3, 204
Gainesville, GA
View Full Profile in the NFL, but head coach Dabo Swinney

Dabo Swinney
Head Coach
View Full Profile made it clear he wants Watson around for a few more seasons.
A writer from the Associated Press asked Swinney if Watson was the type of player – like Sammy Watkins

Sammy Watkins
Wide Receiver (2011 - 2013)
#2 6-1, 205
Fort Myers, FL
View Full Profile – that will spend three years on Clemson's campus and then the coaches will shake his hand and wish him well in the NFL.
Swinney laughed and shook his head and said he wasn't ready to send the talented freshman packing just yet.
"Gosh, let him a win a few games first," Swinney said. "He hasn't even passed freshman biology. Let's just win a few games around here first. But if that happens, then that means we've won a bunch of games around here."
Swinney said that Watson first popped up on Clemson's radar when was just a skinny freshman in Gainesville, Ga.
"The first time that I saw him on person was when he came to our camp. I knew immediately that he was special and then meeting him and seeing the type of individual he was how he handled himself clarified that. He was the best guy at camp as a ninth grader and then February of his 10th grade year, he called me and committed to Clemson. "
Watson was all the more impressive with the way he handled his recruitment, sticking with Clemson even though several high-profile programs came calling.
"He was very focused and never got caught up in recruiting. This guy had the weight of the world on him during recruitment," Swinney said. "For two or plus years, he had to withstand all the reasons why not to come to Clemson because we were obviously the target. He had everybody in the world trying to recruit him. He is a special guy. He is a lot like Sammy Watkins as far as the recruitment process."
He then said that while fans find it fun to watch Watson play, the coaches also marvel at how Watson is becoming a special player even earlier than the coaches had envisioned.
"It is fun to watch him," Swinney said. "We talk about what he was doing three and four years ago and to see him now and see where he is and blossom in front of our eyes is very fun to watch."
Coming to town this week is the nation's top-ranked defense in Louisville, and the Cardinals are known for getting pressure on the quarterback: they rank fifth nationally with 3.5 sacks per game.
As a result, Swinney was asked if Watson will be coached to get the ball out quicker against the Cardinal defense.
"I think we want him to stay within the system. Our system is set up to where they take what they are given," he said. "Obviously, we don't want him holding the ball but he has done a phenomenal job at that. He really has. He took a sack last week. We had two sacks. One was one the offensive line and one was on Deshaun. For the most part, he has had a good instinct as far as when to run and when to create and extend a play. He has not done a whole lot of just holding the ball. He has a very good feel for his progressions."
Watson showed more than once last week that he isn't afraid to make a change at the line of scrimmage, further impressing his coaches.
"He had a check down last week. We have two check downs that were just tremendous. He knew right away that it was not there," Swinney said. "He has a good presence of where everybody is. He has done a nice job with that. The biggest thing is to just know where they are coming from and understanding where his protection is. He did a great job last week."
Swinney was asked if there was one thing he would like to see Watson do better, and he broke out in a big smile and mentioned he would like to keep him healthy.
"I'd like for him not to hurdle people," he said.