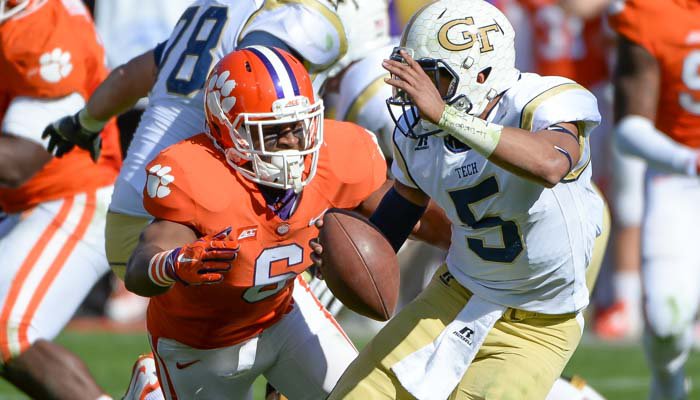 | | |
| --- | --- |
| Swinney says Tigers have to embrace Thursday challenge | |
---
| | | |
| --- | --- | --- |
| Tuesday, September 20, 2016, 12:27 PM | | |
CLEMSON – The eyes of the college football world will be focused on Clemson and Georgia Tech Thursday night, and head coach Dabo Swinney is looking forward to the exposure.
The Tigers and the Jackets renew acquaintances at 7:30 p.m. in Tech's Bobby Dodd Stadium Thursday night, and Swinney said it's important to embrace the challenge.
"I think it's fun. As a competitor you like opportunities like this to play and have a national audience," Swinney said during his Tuesday press conference. "As a coach I've always liked to watch the Thursday night games. That's kinda neat. It's good for our guys to get a couple of days break at the back end of it. It's a challenge - I don't like the short weeks, and I would rather have some time before but it is what it is. It's the same for both sides. This is a hard thing to do - two games in five days. But it's fun, too. We embrace it. At the end of the day, you like to play. And so we get to turn right around and play and that part of it is good.
"We are fortunate that we are pretty healthy. We embrace it, and I enjoy it more when we play well. We look forward to playing in front of the country Thursday night, and hopefully we continue to improve."
The game will be the first conference game for Clemson and the second for Tech – the Jackets played Boston College in Ireland in the season opener.
"Excited to get started in ACC play this week and chase our next goal, which is to win the division and that's what we're focused on," Swinney said. "Definitely have a tough challenge. It's a difficult turnaround for us – and them. It's hard for both teams to get ready really in three days. Today is a Thursday practice for us and we travel to Atlanta tomorrow. It's been a crazy few days getting ready. I love how our team has handled it and how they've responded from a preparation standpoint. Georgia Tech is always an incredibly difficult team to prepare for, but even more so when you've got a short week to get ready. Had a great practice last night. These guys are dialed in and excited about starting conference play, having to play our best game to this point. They know that's what it's going to take to have a chance to win this game."
The hallmark of the Jackets, of course, is head coach Paul Johnson's option offense, an offense led by standout quarterback Justin Thomas.
"Their offense is very good led by their quarterback. He's a three-year starter who knows all of the nuances of this offense," Swinney said of Thomas. "He knows where all of the crooks and crannies are, and he doesn't get enough credit for his ability to throw the football. You want to watch the tape and not see a good, accurate thrower, but that's not what you see. You turn on the tape, and he's making back-shoulder throws. They had a 4th-and-20 against Boston College, and he completes a seam route right down the middle, stops the receiver with the ball. Scored on the first play of the game against Vandy on an 81-yard touchdown pass.
"He's a little bit more accurate than you'd like to see as an opposing coach to go along with all of the other stuff he does in running their system. Very good football player, Justin is. I knew that when he was in high school. He's a great competitor that we have a lot of respect for and then you mix in all of the other pieces – No. 2 and No. 83 out on the edges, their guys in the backfield. They present a lot of challenges. It's going to be the biggest challenge we've had for our defense by far because of the type of discipline we'll have to play with."
The defense is led by linebacker P.J. Davis and has experience in the secondary.
"Their defense is an experienced group up front. Got three of their four starters back up front. I think the one guy got drafted, but three of those other guys are back. Two of the backers are back so it's really an experienced group for Ted Roof," Swinney sad. "The defensive backs - they did lose their starting secondary but they aren't starting over with freshmen. They're all juniors and seniors and one sophomore, so they've got some experience and not just guys who are starting out for them. That is definitely the one area they lost the majority of their starters. It's a good group. They got their punter back, kicker back.
"The biggest thing about playing Georgia Tech is you've got to figure out a way to win that turnover battle. By nature of what they do, they minimize and cut down on your offensive possessions anyway, so you can't give them extra chances. The field position battle is critical when you're playing these guys."
On being 3-0
"I'm proud of our team for being 3-0. I think we've improved in a lot of areas over the course of the first three ballgames and we've had to go on the road and win in a tough environment. We've had to win where we didn't play quite as well in certain areas. We've had some big moments on special teams. We've had some adversity. I think a lot of things have happened in our first three ballgames that will put us in a good spot from a mentality standpoint and opportunity to coach and teach these guys. I think our best football is in front of us for sure. I like how we played Saturday - a very clean game. We're just trying to win one game at a time, one week at a time and see if we can stay on track for our next goal and win the division."
On Deshaun Watson's leadership last week
"I think it says a lot about him. I think it was him healing and trying to deflect a little bit about some of the things we need to improve on. He sets the tempo for everything around here. He affects everything and that's why it's important that he doesn't let certain things affect him. That was my message to him after the Troy game - he was frustrated and so was I because the very basic things we just weren't doing and then that magnifies everything else. It magnifies it to the nth degree. It was good to see us get back on track in the fourth quarter and carry it on into the State game."
What he said to Ray-Ray McCloud after dropping the ball in the Troy game
"He's developing into what we knew he could be. Guys have to grow and they have to have some failure along the way to help with that process. Last year he had some moments but was immature and didn't understand what it took. He didn't understand how to work like he needed to work. But he took the coaching. The great ones respond to coaching and to failure and that's what he did. He worked his tail off and had a great spring and a great summer. First off, what a great run. Tremendous. Secondly, you are going to be on SportsCenter the rest of your life. You didn't hand the ball to the ref. I just had gotten on him the previous week at Auburn because he caught a punt and put the ball on the ground. He fair caught it and put the ball on the ground. Hand the ball to the ref - that's what we teach. It's mind boggling. His confidence is really taking off and he will continue to grow."