| | |
| --- | --- |
| Swinney says Notre Dame's history makes this one special | |
---
| | |
| --- | --- |
| Tuesday, September 29, 2015 1:30 PM | |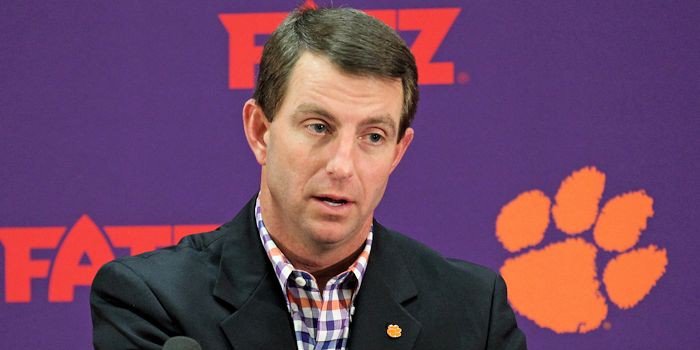 CLEMSON – Clemson's young football team might not fully appreciate the history of Notre Dame's football program, but head coach Dabo Swinney

Dabo Swinney
Head Coach
View Full Profile does.
The Tigers and Fighting Irish meet up Saturday in a primetime matchup in Clemson Memorial Stadium, with kickoff scheduled for a little after 8 p.m., and Swinney said the Tigers will add Notre Dame to a list of great programs the Tigers have faced in recent seasons.
"They are Notre Dame. They are one of those storied programs," Swinney said Tuesday. "Hopefully, in 50 years some other old boy will be standing at the podium in front of a whole new crew of media and they'll be asking that other program what's it like to play a storied program like Clemson University. That's what I hope. They've won 11 national championships. They're Notre Dame. I hope they don't bring Joe Montana with them. They're a great program that has had tons of great programs and great players and All-Americans and great coaches. They're a brand of their own."
The game is special, even though he says his players probably don't fully understand Notre Dame's place in college football.
"I mean, they don't know who Muhammad Ali is hardly. I'm serious. They don't have a clue," he said. "They really don't. I think they obviously know Notre Dame and if you live in this country because of their brand and media all that, everybody hears of Notre Dame. But as far their history they probably don't know a lot of it.Probably not many of them know Joe Montana played at Notre Dame. Very few know that Dwight Clark played at Clemson so that's just the world we live in with the young people today."
Swinney then said it's just another in a series of big games for the Tigers.
"To me, every week is the big stage. We sold out Wofford. It was a sellout for App. State. I don't know how you get any bigger than that," he said. "Every week to me is the big stage. I love playing the best of the best. We're supposed to beat Wofford and we did. We're supposed dominate App. State and we did. I love competing at the highest level. I relished that and always have. That's why I went to Alabama because I wanted to play at the highest level. It's the same thing as a coach. I love being at a place like Clemson where people care. I love where our program is. Now, it's not about winning anymore, it's about well we didn't win by enough. We go win a really difficult game at Louisville, and we have people who aren't happy because we didn't win by enough. I love that. I think that's awesome."
Swinney learned about Notre Dame at an early age.
"I learned to not like Notre Dame because Alabama was a great program under Coach Bear Bryant, and Notre Dame was a great program back in the 70's," he said. "The Four Horsemen, win one for the Gipper - that's what I grew up on. I grew up when you had to stand at the TV and turn the channel and you watched Howdy Doody or Bonanza, and Notre Dame football was on the TV."
The sixth-ranked Irish are as good as their ranking, according to Swinney.
"This is a great football team. This is a team I think is complete on both sides of the ball," he said. "We have talked a lot about them already in the last week or so in different formats in visiting with you guys. Really not a whole lot to add. They're disciplined, they're physical, they're fast, and they're well-coached. Offensively they're really complete. They're excellent on the offensive line and they've got great skill. They just keep coming up with quarterbacks. It's unbelievable these guys they've got playing quarterback.
"The Kizer kid has stepped up and done a tremendous job. They haven't missed a beat. Their running back #20 (C.J. Prosise) is averaging over 8.1 yards a carry. Tight ends are very physical and talented. This is as good an offensive line as we have seen in a long time. So it is just a complete group and they do great at how they call the plays. They do a lot of similar things that we do. They are going to pick their spots with tempo. A lot of speed sweeps. A lot of stretch zones. A lot of counters. A lot of power. A lot of designed quarterback run plays. A lot of zone read. A lot of boots. Big on the screen game. A lot of max protection. 1 and 2 receiver routes. They take a ton of shots down the field whenever they get man to man coverage. You got to make competitive plays. So it is a really good group offensively.
"Defensively same thing. They are a lot like us. They are aggressive. They force the issue with the way they play. They're physical up front, they're big and thick guys inside that gobble up people. Backers can run. No. 9 (Jaylon Smith) is an All-American. He's a great player. They're athletic and fast in the secondary. Bunch of junior and seniors in the secondary. Again, very similar when you just kind of look at them to how we play and how we try to play. This is one of those games that really comes down to competitive matchups. Your offensive line versus their defensive line. Your receivers versus their DBs. Their DBs versus our receivers. I mean it is who wins the plays consistently. Obviously the things that usually make a difference in ball games like this because games like this, it's usually just a few plays."
Those few plays will be the difference in who wins and who loses.
"I think you have pretty evenly matched teams. And that is the turnover margin. Playing special teams," Swinney said. "Stupid penalties. Discipline type things. So it's going to be a fun game. I'm excited to have the opportunity to play Notre Dame. I've never had a chance to coach against Notre Dame or play against Notre Dame. I have incredible respect for their program and who they are. Obviously everybody knows who Notre Dame is and the success that they have had. I have never met Brian Kelly but have I followed him and kept up with him from when he was at Central Michigan and Cincinnati. He's always been one of the best in the business. He's done a great job and that is why he is at Notre Dame and that is why they are having the success they are having."
OTHER NOTES
The Pope gives Notre Dame an unfair advantage?
"I do think it's a little unfair that they brought the Pope into town just in time for the Clemson game. I think that's kind of a low blow, but we do have Tim Bourret. Tim Bourret is 2-0 lifetime in these games. He's been on the winning bus both ways. When he was at Notre Dame in 1977 here and up there in 1979 so he was at Clemson at that time. So, Tim, we are hoping you can trump the Pope."
GameDay
"It's also great to have GameDay here in town. It's great for our program. As a competitor, you want to have opportunities to be a part of games like this for sure. It's great for our town- for the city of Clemson. For our university. So many things. I mean this is a small town and to have 100,000 plus people come in here is an awesome opportunity. We embrace that. Obviously there are some games that bring a little different sideshow with it and pazzazz and vibe if you will. A little bit more media coverage and so forth. This is the biggest game of the year and it is not because of GameDay here and it's not because it's Notre Dame. It's because it is the next game. And it's not any bigger than App. State. Had we lost to App. State we would all know how big that game was. It's really not any bigger.
One game season
"This is the best opponent by far that we have played. But the game itself is all-in-one game season. That's just the mentality that we have in our program. And when the game is over we move on to the next one. We don't sit around and cry for three days if we lose. We move on to the next one. If we win we don't sit around and stick our chest out for three days. We move on to the next one. That's a mentality we have put in place. We don't prepare any different. Our Monday practice is the same. Our Tuesday practice is the same. That's allowed us to build a lot of consistency in our program. Having said that there are things you have to deal with that aren't always the case from a week to week basis. So you got to address those things. But I'm fortunate that we have good leadership on our team. We got a bunch of guys that this isn't their first rodeo. They have played in a bunch of big games. I think this is my tenth top ten game since I have been the head coach and we are 6-3 in those games. So we haven't won them all, but we have won our fair share of them. And to win games like this you've got to play well. Just that simple. It's not rocket science. You've got give your guys a chance to play. You've got to prepare and do the same things that you do each and every week. But I think our guys will do a good job of managing that. Kind of understanding that the outside stuff, people wanting tickets and all that extra stuff comes with this game is really a distraction. So you have to kind of put that stuff to bed and stay focused on what it takes to play well. Because ultimately that is what is going to determine the game - who plays well and who doesn't. It should be a fun game. I'm looking forward to it."