| | |
| --- | --- |
| Swinney says 2011 game "irrelevant" as he previews Wolfpack | |
---
| | |
| --- | --- |
| Tuesday, October 27, 2015 1:26 PM | |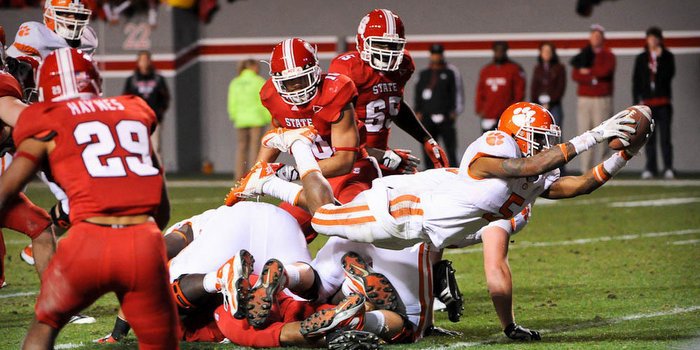 CLEMSON – Every week presents a new challenge for Dabo Swinney's undefeated football team and this week it's a road trip to Raleigh to take on the Wolfpack of N.C. State.
Swinney told the media during his weekly press conference that N.C. State (5-2 overall, 1-2 ACC) is a dangerous team, especially at Carter-Finley Stadium – the site of Clemson's last loss against an unranked opponent.
"Another tough challenge for us this week. This is a football team in N.C. State that I'm really impressed with watching them on tape," Swinney said Tuesday morning in the WestZone. "I think Coach (Dave) Doeren has done a fantastic job of recruiting and just getting his philosophies and system in place. It's easy to see from my perspective to see the improvement in their team, their belief in what they're doing. This is a well-coached football team in all phases. They are playing hard, tough, smart and confident. A big part of that is they have 18 starters back so this is a veteran team sitting at 5-2, playing at home with a sellout crowd and a top-ranked team coming in there. It's a great opportunity for N.C. State. We know we'll get the very best they've got. It's a big challenge for us."
Despite the debacle of 2011, Swinney said none of that matters to his 2015 squad.
"None of these guys were here. We might've had a few redshirt guys," Swinney said. "I think (Charone) Peake was here. He might have been hurt by that time. It's really irrelevant. It has nothing to do with this game, this team. If we go up there and get beat it ain't going to have anything to do with 2011. It will be because they beat us. They were better than us. They earned it or we went out and turned it over five times. That's why we lost up there. I think we had three straight turnovers in the second quarter inside our own 25. That's a recipe for us to get beat. If we go up and do that that's what will happen. 2011 has nothing to do with this group, this team for either side. This is all about this game on Saturday. We are just focused on trying to play our best game."
Swinney said the Pack presents a challenge offensively.
"Offensively, they are all over the place as far as what they do - formations, shifts, motions, alignments, personnel groupings," Swinney said. "They're kind of BC-type as far as how I would describe them as far as what they want to do with the presentation of their offense, but they have a better passing game. Their quarterback Jacoby Brissett is a really good player. He has just one interception on the season. All of the play-actions and the pop passes and the screens. They have a great power running game built with speed-sweeps and jets and options. They do a really, really good job of creating advantageous plays for themselves. It's a very big disciplined game for us in being able to line up, first of all. It's similar to BC in that regard. They are a run first, bloody-your-nose team. That's what they want to do. It's a game in the trenches. We have to play great inside and contain the perimeter because they do a great job getting outside of people. This is a really good challenge. When you look at them, they're averaging five yards a carry. They've run the ball a hundred and some times more than they've thrown it. They're second in the nation in time of possession which just tells you how they've been able to sustain drives. We're first in the nation in three-and-outs so this is a clash in that regard. We are a team that's been able to get off the field, and they've been a team that's been able to stay on the field, so a big contrast there and a good matchup. Their quarterback is big and strong and doing a good job of taking care of the ball.
"They do involve him (Brissett) in the running game. He's been very efficient. You can't one-arm his guy. He's probably 240+ pounds. He's a big, big guy and has made some really good throws. Their leading receiver is their fullback and their second-leading receiver is their running back. Their third leading receiver is their wide out, No. 85. That just kind of tells you how they're built and what they do. They're tough to stop. They've got a good scheme. A big, strong offensive line - four out of the five starters are back. Their tight end is back. They've got a little freshman in there - No. 7 - who we recruited. The Hines kid who's electric and has gotten better and better as the season has gone on. They've involved him a little bit more each and every week."
The Pack are ranked third nationally in total defense.
"Defensively, they play hard, physical, tough and they're where they're supposed to be," he said. "They don't make a lot of mistakes. This is a well-coached time. As a defensive line, they're active, disruptive and they have eight starters back on the defensive side. They have a lot of veterans there. These guys have done a great job, in my opinion, each and every week.
"Special teams they're sixth in the country in punt, 10th in the country in kickoff return and 11th in the country in punt return. This is a complete football team that is playing with confidence. It's also a tough place to play, as we all know here. We have great respect for N.C. State. I think their environment there is one of the best places in this conference and one of the better places that I've been to. They do a great job in supporting their team there. We know it will be jacked up for the Tigers to show up.
"For us it's having a great week of preparation and really getting dialed in. This is a game of the trenches and a game of precise execution because this is a team that will take advantage if you're not where you're supposed to be."
On keeping team focused
"Just do what we do. Show them the poll from this time last year. I think Mississippi State was number one in the country. They didn't even finish in the top 10. I'm not sure if Ohio State was even ranked in the top 10 at this time last year and won the national championship. So none of that stuff matters. It just really doesn't matter. Our focus is that. Win the division. That's all we are dialed in on. Win the division. If we are going to win the division, we got to beat our teams in this conference and especially those teams within our division. So that is all we focus on. Today is 'no turnover Tuesday.' We are going to come in here and have our team meeting. We are going to do what we do. We don't vary from our formula. We don't live in a cave. We only get them 20 hours. The world has them whatever 100 plus hours. They are not guys are oblivious to TV shows and all that stuff. I think the biggest thing is you just have to rely on the leadership of your team. We got a group of guys that are focused. They know we haven't achieved anything yet. Our goal was not to be 7-0. That wasn't our goal on the season. Our goal was to play 12 games and be the best we can be. We would love to win them all.
"We want to be 12-0, but you can't win 12 till you win 8. Our goal each and every week is you don't have to win them all let's just win the one we are playing. Let's be better than the team we are playing. That's been our approach and our focus. I think the leadership on this team deserves a lot of credit because they carry that message. They resonate that in the locker room and the dining hall and the buses and all throughout practice, meetings, etc. We are a very young team. You look at our team and say ok you got 39-40 freshmen. Those guys are just showing up like wow this is just the way it is supposed to be. Happy go lucky. This is easy. That's a danger if you don't have the right type of leadership in place and the right type of structure and culture and consistency. We have that in place. These seniors, juniors that we have they have had a ton of success. They haven't had much failure, but they have had enough. Pain is a great motivating thing. They have enough painful moments to where they have an understanding of how critical a play is. How small our margin for error is when you are trying to truly be the best. You can look at our season last year I probably can say there are five plays and maybe we are in the college football playoffs and maybe the same the year before. Our guys get that."