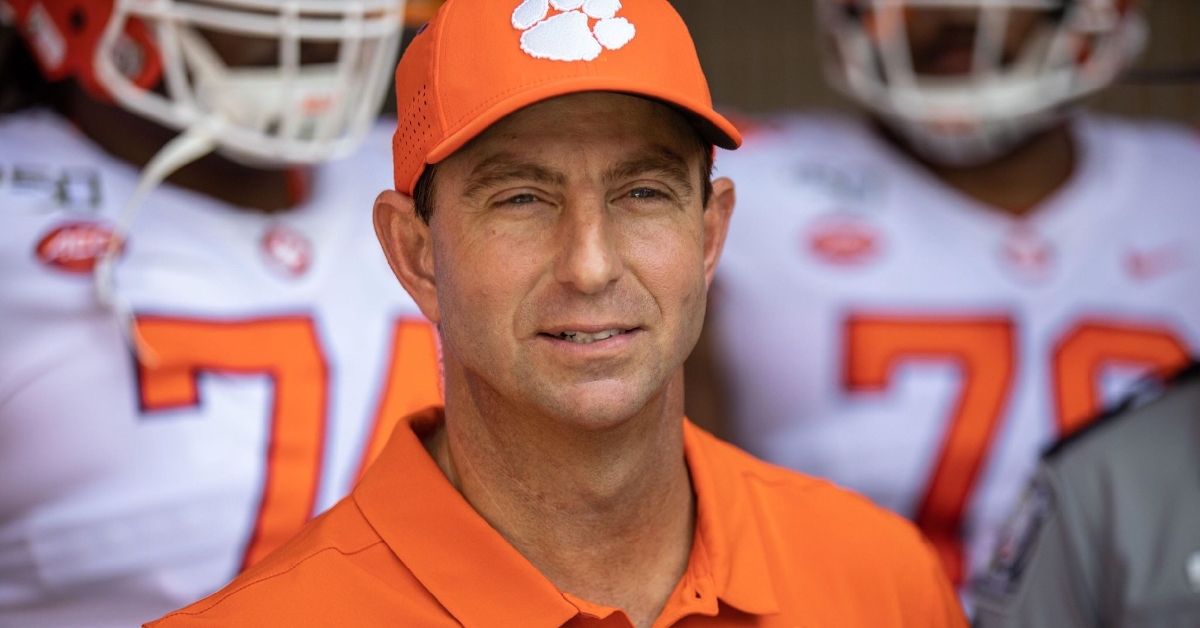 | | |
| --- | --- |
| Swinney proud of Tigers overcoming adversity in 'fistfight' | |
---
| | | |
| --- | --- | --- |
| Monday, September 30, 2019, 7:10 PM | | |
Clemson returned to the practice fields on Monday in an open week ahead of a home date with Florida State on Oct. 12.
The now No. 2-ranked Tigers, featuring a roster with 80 freshmen and sophomores, are 5-0 and faced some of their most issues on Saturday in a 21-20 close call at North Carolina.
"Coming in, we have a young team and I really felt like that it would probably be Texas A&M or at Syracuse early in our season but we really hadn't had much adversity," Swinney said Monday evening of his team going to Chapel Hill last week. "Then all of a sudden, you're on the road and you know it's coming somewhere along the way in your season but it happened the other night. We kind of got into a little bit of a fistfight and we outlasted them.
"I can't overstate how proud I am of our guys."
Swinney liked the mentality of his team despite an array of mistakes at key points.
"That was a heck of a ballgame -- physical. Just proud of our mental toughness, our courage and our fight and will to win and our perseverance and our belief," Swinney said, "especially when you don't necessarily play your best game and you've got a turnover and penalties and a lot of mistakes. The intangibles that it takes to win, it's just good to be able to see that in this team because we really hadn't had any adversity to this point. It's been a tough September...
"We certainly made a lot of mistakes and have so much to improved but we found a way to win and we're 5-0 after a tough September. There are a lot of positives that we can build on, especially having a game like that and you find a way to win it. If they would've got the two-point conversion, we would've still had the same mistakes, but I'm glad we were able to find a way to win the game and be able to correct from there."
Swinney and Clemson's coaching staff have a checklist to work on going into the return to division action against the Seminoles (3-2, 2-1 ACC).
"We've got to improve our precision," Swinney said, "our attention to detail. We've been losing the turnover margin here the last couple of games. Critical penalties. It's on all of us to get better and learn from it and just grow.
"The bad news is I thought they outplayed us. We made a lot of mistakes that could've cost us the game but the good news is that we made a lot of mistakes that could've cost us the game and we still won on the road. That's a great quality for a team to have. I'm super proud of that and there are a lot of lessons that we can take from the game, for sure. We're 5-0 and our best football is in front of us but this will be a game that we'll be able to grow."