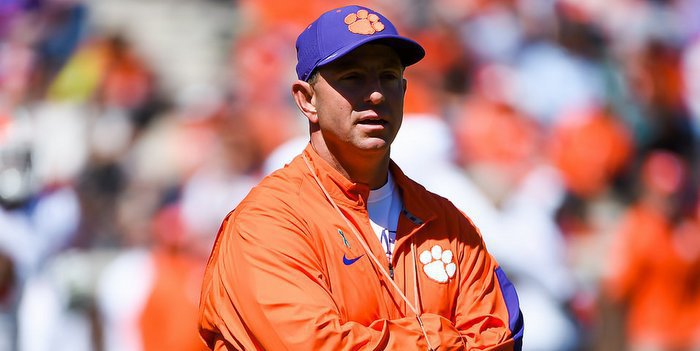 | | |
| --- | --- |
| Swinney apologizes to team for distraction caused by anthem remarks | |
---
| | | |
| --- | --- | --- |
| Tuesday, September 20, 2016, 3:52 PM | | |
CLEMSON – Dabo Swinney told the media last week that San Francisco quarterback Colin Kaepernick's kneeling protest of police brutality could be a distraction to his team.
Swinney's comments were spread nationally as criticism and support descended on Clemson's preparations for South Carolina St., and Clemson's head coach in turn apologized to his own team for creating a distraction.
He was asked about Kaepernick's protest during his Tuesday press conference last week, and he went on at length about his thoughts.
"We don't really have the national anthem (the players are in the locker room at Clemson during the ceremony), but no I wouldn't discipline my player for that," Swinney said. "I think everybody as a right to express themselves in that regard. But I don't think it's good to be a distraction to your team. I don't think it's good to use the team as the platform. I totally disagree with that. Nobody has asked me about Kaepernick or whatever, but I totally disagree with that. Not his protest, but I think there is a right way to do things. I don't think two wrongs make a right. Never have, never will.
"I think it creates more divisiveness, more division. I am saddened to see what's going on in this country. I think there's a better way - call a press conference and everybody will show up. Express your feelings. Talk about it. Express yourself. Go and be a part of things and protest them. I think that's great. Everybody has that right and I certainly respect that. But I think it creates more division and that's what I hate to see."
The uproar didn't die down as the week progressed as people spread their own thoughts through social media, and Swinney took the time to apologize to his players for the distraction, according to defensive tackle Christian Wilkins.
"He just said that he was sorry that he created a distraction for the team. We're trying to do a lot of different things and for him to be everywhere with it because they took what he said and ran with it, he said he was sorry for creating the distraction," Wilkins said Tuesday. "He doesn't want to do that. He talks to us all of the time about not being a distraction and not creating a distraction, so he was sincerely sorry that he was a distraction to the team."
Wilkins said the apology shows the character of the coach he plays for.
"I know what kind of guy Dabo is. He's a great guy," Wilkins said. "By no means is he a bad guy. I love him and that's why I wanted to be at Clemson and be here and play for him. It meant a lot that he was humble enough to apologize and do that for us."
TigerNet asked Wilkins if Swinney's statements caused a distraction.
"Just maybe. You have people asking about it but from a team standpoint, it didn't mess anything up or like make us worry about him or really create that big of a distraction within the team," Wilkins said. "Outside, there were more rumbles but really not anything with us. He feels how he feels about the situation and he has a right to voice his opinion about how he feels about it."