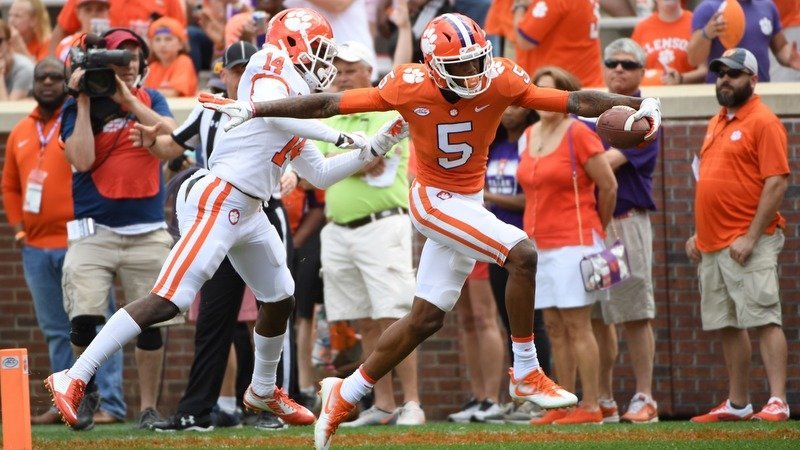 | | |
| --- | --- |
| Sweet Tee: Higgins' spring game performance was refreshing, and a sign of things to come | |
---
CLEMSON – Is there anything better than Sweet Tee on a warm spring day in Clemson?
Clemson wide receiver Tee Higgins caught four passes for 118 yards and two touchdowns in last week's spring game, and while his name (Tee) isn't spelled the same way as the popular drink we all love, his performance was refreshing. At times, his body took on an almost liquid form as he went up and over defenders with ease.
"Oh man, it was good. It was good to get my feet wet again and just to have the fans out there," Higgins said. "First of all, I want to thank them and thank God. I'm just coming out here having fun. Those guys (the quarterbacks) were just throwing it on point. This quarterback battle out there, they're all throwing good, all of them. It's great to see them out there competing against each other."
Higgins was on the receiving end of a 50-yard dart from Trevor Lawrence in the first quarter for the game's first touchdown, and he said winning those one-on-one battles has been a focus this spring.
"Coach just said make a play. I guess that's what I did, I didn't know if the defensive back was going to play better than what he did or something like that, but you know it was a great play," Higgins said. "Yes, the spring has been a battle, knowing the boundary. It's a battle. Me and AJ (Terrell) go at it almost every day in practice. It's just great to get the win. I just went out there and kept my head high and went out there and competed."
During the spring, Higgins showed why he was considered a 5-star coming out of high school. Wide receivers coach Jeff Scott isn't ready to say that Higgins vaulted to the top of the depth chart, however.
"We'll take this into consideration but today is really like an exam that's worth 20% of the 100% of the grade, it's about 20% so we'll definitely go back over the next couple days and watch it and grade it out," Scott said. "It's going to be a competitive deal all the way through the summer. We weren't going into the spring game saying we were going to name certain starters, it's an important day but still one day. I want to see where we are whenever these guys come out of summer."
Clemson missed the big-play ability of Mike Williams last season and many in the program hope Higgins can be the next great "9-man" receiver. Scott said Higgins improved as the spring went on.
"I just think his consistency in his releases. Probably the hardest thing for these taller receivers is guys get their hand on them, so they get pushed to the sideline and get wide," Scott said. "One of the nice catches on the sideline he made early on, last year he would've gotten pushed out of bounds right there. To be able to stay in bounds and get on the line where he needed to be to have a chance to field the ball, those are the little things fundamentally what I think he's focused on and improved the most this spring."
Higgins said he would use the summer to develop even further. He even wants to add a few pounds.
"Yeah, of course, I want to get stronger. That's the main thing this summer, just to stay in the weight room and focus on my academics," Higgins said. "I'm at 200, and I'm trying to hit at least 210."
Sweet Tee sounds good in the spring, but even better on game days in the fall.

Upgrade Your Account
Unlock premium boards and exclusive features (e.g. ad-free) by upgrading your account today.
Upgrade Now