| | |
| --- | --- |
| Suspension changes Germone Hopper's outlook on life and football | |
---
| | |
| --- | --- |
| Sunday, August 10, 2014 6:48 PM | |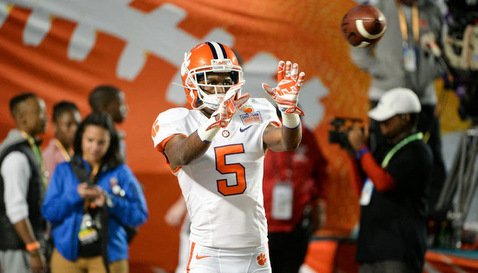 CLEMSON – Disciplining an athlete who has lost focus isn't always the easiest task for a college head coach simply because young players can react negatively to the discipline and careen even further off track.
Clemson head coach Dabo Swinney

Dabo Swinney
Head Coach
View Full Profile hasn't been afraid to discipline players in the past, and four of his players are suspended for the season opener at Georgia, a key game in what will be a rough opening stretch for a football team breaking in a lot of new starters on offense.
Fans who want to win now and win at all costs might even take issue with a coach suspending a player for any length of time, but in Swinney's case his players have always seemed to not only accept the punishment, but become better for having gone through the ordeal.
That seems to be the case with sophomore receiver Germone Hopper

Germone Hopper
RS So. Wide Receiver
#5 6-0, 175
Charlotte, NC
View Full Profile .
Midway through the spring, Swinney suspended Hopper for the rest of spring practice, and Hopper wasn't even allowed into the WestZone for team functions or meetings. At the time, Swinney said that Hopper needed to focus on academics and not football.
"He's a good young man, talented, but not very focused or committed to doing what he needs to do academically," Swinney said. "So I'm giving him some time to go focus at Vickery Hall (student-athlete academic center). That's what he's going to be working on these next few weeks."
Hopper's 23 receptions a year ago are the second-most for any returning receiver on the Clemson roster, and the speedster out of Charlotte will be counted on for valuable snaps this season. He told TigerNet following Saturday's scrimmage that the initial meeting with Swinney about the suspension was an eye-opener.
"He was basically saying that I needed to focus on school. He was saying I wasn't focused on stuff on and off the field, and I needed to fix that," Hopper said. "I got myself focused and I came back with a competitive edge and I came back ready. I was thinking that the on-the-field stuff was going to take care of itself. But like Coach Swinney always says, in order to have your stuff on the field right you have to be a disciplined player off the field. That is what I was focused on."
Hopper said he wasn't angry with Swinney, nor was he hurt. Instead, he used the experience to fuel a drive to be a better player and person.
"It wasn't anger or hurt at all. I took it as a learning lesson," Hopper said. "I took it that I need to focus more on my off the field stuff. There weren't any hard feelings. I knew he wanted what was best for me so I knew I had to change those things he was talking about."
Even his mother got in on the act.
"She was saying that it was a part of growing up. She said I needed to grow up and mature more and get my stuff fixed off the field," he said. "She has helped me with it as well, so I have to commend my mom on that."
Following Saturday's scrimmage, offensive coordinator Chad Morris

Chad Morris
Offensive Coordinator / QBs
View Full Profile singled out Hopper for a bit of praise, saying that the sophomore has come to camp and done everything he's needed to do to get noticed by the coaches.
"We always tell these guys, 'Be seen and don't be heard.' Germone Hopper, again, be seen and don't be heard," Morris said. "He's being seen right now. We'll see if that continues. That will be up to him."
Hopper said he feels like he is doing everything he can to earn playing time, and he's even taking the time to be a leader to the younger players.
"I feel like the process is going well and I'm trying to earn some playing time. You know, it's not going to be given so I came out with the mindset that I am going to have to earn it and that's what I am doing," he said. "I am just trying to help these younger guys. Sometimes the offense gets to going too fast and they don't know what they are doing so I just try to be there to help them. I tell them to ask me questions whenever they need to."
He then said that with his lesson learned, he is concentrating on helping his team in any way possible.
"Coach has told me I can help the team in a lot of ways, and that's what I've been trying to do is just help this team as much as I can," he said. "Right now I am just focused on the offense. If my name gets called for special teams then I am all for it. But right now I am just focused on the offense."