---
| | |
| --- | --- |
| Sunday, December 6, 2015 1:37 PM | |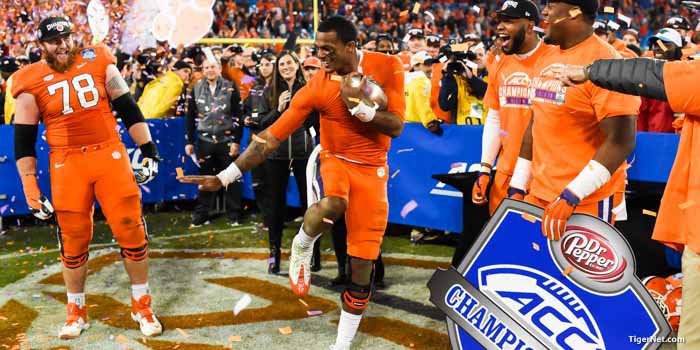 CHARLOTTE, NC – Deshaun Watson has always had dreams of holding up the Heisman Trophy even going as far as practicing the pose in the privacy of his own room.
Saturday night, he did his best Heisman impression for the entire college football world to see.
Clemson's sophomore quarterback led Clemson to a 45-37 win over North Carolina and an ACC Championship Saturday night at Bank of America Stadium. Watson was masterful and was named the Most Valuable Player after totaling 420 yards of total offense, an ACC Championship Game record. He accounted for five touchdowns in all, three through the air and two on the ground.
Watson's night ended shortly after midnight as he held the ACC Championship Trophy – a silver football – tight against his body and struck the Heisman pose, the first time he's ever done so publically.
"First time probably -- yeah, first time ever. I mean, when I'm sitting in my room I probably tried it, but like just in public, it's just having fun with it," Watson said. "If I get invited I'm going to enjoy it, just give all the credit to my teammates, especially these guys up here. Without them, I wouldn't be in the position I'm in, and just give God the glory and just see what happens."
Co-Offensive coordinator Tony Elliott has said that post season awards always take care of themselves, but after Watson's performance Saturday night Elliott said there's no doubt who the best player in the country is.
"I believe so. You're talking about the best player on the best team in the country. That's kind of what the Heisman has been about," Elliott said. "He's earned that right. He came back from an ACL last year not just to play but down the stretch I think he has dominated. Running the ball and throwing the ball he can beat you any you want to give him an opportunity to beat you. To me, he represents what the Heisman stands for - character, team guy, very unselfish. So if you're looking for the qualities of the best all-around player on and off the field, I don't think they come any better than Deshaun Watson."
Jeff Scott- Clemson's co-offensive coordinator – said Watson has meant the world to the Clemson team during this 13-0 season.
"I think if you look at what he's done for this team, he's taken us places that we haven't been in 35 years, and he's a big reason for that," Scott said. "I think he's the best player in the country. You look at all of these other guys who are having big years, but they've led their team that other players have done the same thing, maybe two or three years ago, but Deshaun is leading this team to a place that we haven't been in 35 years. Seeing him every day, being around him every day, he means so much to this team. He's a major reason we're having the success we're having and without a doubt he's the best player in the country."
Even defensive coordinator Brent Venables called Watson's inclusion in the Heisman festivities a "no brainer."
"Oh yeah. Absolutely. I think you'd be insane to think otherwise. Absolutely. That's a no-brainer," Venables said.
Senior offensive lineman, Eric Mac Lain took his coaches' sentiments a step further and said not only does Watson deserve to be invited to New York, but he also deserves to be Clemson's first-ever Heisman Trophy winner.
"He deserves to win it. He's the best player in the country on the best team in the country," Mac Lain. "There might be other guys out there that are pretty good - Christian McCafferey from Stanford and Alabama's running back. They are great players, but this kid is the most dominant force in college football right now."
Watson made his Heisman debut Saturday night in Charlotte, and maybe with a little luck he'll strike the post in front of the Downtown Athletic Club in New York City next weekend.